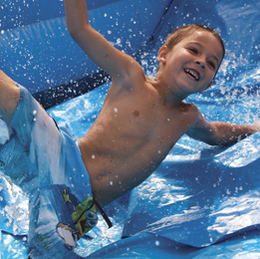 Liberty Lake Day Camp
A special place for summer fun and friendship
For the past decade, families have been sending their kids to Liberty Lake Day Camp to experience enjoyable activities and develop friendships that will last a lifetime. When Andy Pritikin opened the camp, located in Columbus, he wanted campers to be a part of a magical environment—a supportive community—that would give them a sense of purpose and importance in their lives. "When I was young, camp showed me that there's a lot more outside of your backyard, basement and local recreation program," he says. "I learned to play sports and to get along with others. It gave me a sense of responsibility and the confidence to persevere through the tough times that are inevitable in life. Camp is experiential education, and it's the way that children were meant to learn: hands on. This is what we strive for with all our campers at Liberty Lake."
The camp is situated on 60 beautifully wooded acres in Mansfield Township, with a sparkling seven-acre lake as its centerpiece. It is conveniently located minutes away from routes 295, 130, 206 and 537.
Creating a Program for Each Camper
As it marks its 10th anniversary, Liberty Lake has found so many creative ways to offer the best summer experience for children of all ages. Liberty Lake is a combination of a traditional camp program—a lake, pools, athletics, music, arts, special events, singing around the camp fire—with a modern twist of giving campers the ability to customize their schedules on a weekly basis. The children, together with their parents, choose the activities that appeal to them. They have the freedom to design their own camp schedule—called the "Freedom of Choice" program—for maximum summer fun. "This program distinguishes us from other camps that have a set schedule each camper must follow," explains Pritikin. "Our campers can choose activities they are most interested in on a weekly basis. The elective program consists of over 60 athletic, creative, adventure and waterfront activities, all of which are led by highly skilled specialists and group leaders."
Along with the "Freedom of Choice" elective program, the camp also offers daily special events throughout the summer, including watermelon seed-spitting contests, a Rodeo Day, Renaissance Day, Jello Tug of War, Color War, Gold Rush and Camp-a-Palooza. Campers also look forward to Spirit Events including Color War, Wet 'n' Wild Day and the Senior Dance.
Flexible Schedules for Your Lifestyle
For parents, one of the most appealing aspects of Liberty Lake Day Camp is its flexible scheduling policy. Parents can enroll children for anywhere from two to 10 weeks, a rarity for summer camps.
Extended care, which is included in the tuition and is available from 7 a.m. to 6 p.m., is convenient for working families. The program offers swimming, sports and games. Transportation, which is included in tuition, is provided through a professional bus company, and each bus is monitored by the camp's bus captains. Many families choose to drop off and pick up their children. These options give families the opportunity to save time and money.
For Cheryl Polios of Burlington County, choosing Liberty Lake for her son seven years ago was all about logistics. "Other camps that we had looked at were not as convenient. They were 30 to 40 minutes away from our home, in the opposite direction of our jobs, and the bus times didn't coincide with our work hours," Polios says. "Now, it is all about the quality of the camp that keeps both my son and daughter going back." She adds that the kids look forward to camp all school year. "They are very excited whenever we get mail from camp. They don't want too many snow days, because if school goes too late into June, they miss camp. My kids will tell you that camp is awesome. They make new friends, try new things, learn new skills and have fun, all in a safe place."
Good Eats!
Campers need good and nutritional food to get them through a day of activities and fun. Liberty Lake "caters" to campers throughout the day. The lunch program is prepared on site by a professional catering company and provides campers with numerous hot and cold choices. Campers make their lunch selection each morning with their counselors and, when lunchtime rolls around, their meal is brought to their table as ordered, tasty and fresh! Campers are also allowed to get seconds if they so choose. Additionally, bagels are available in the morning, fresh fruit is available all day, ice pops or ice cream is offered before dismissal and campers get slushies for special occasions. All food and snacks are included in the camp tuition.
Experienced and Dedicated Staff
The camp's team members must possess a serious work ethic, a commitment to teamwork, a positive attitude and the ability to adapt. There are limited positions available, as most of the staff returns each summer.
"All staff is interviewed and selected using specific criteria," says Pritikin. "We only want the best leaders for our children. We only hire energetic and motivated individuals who are truly interested in making a positive impact on the lives of our campers. In return, our team members will have a challenging and rewarding summer that they will never forget. And for those considering a career as a teacher or child care professional, they will find out if they have the patience, personality and skills for it."
New Offerings for 2011
There is always something new and exciting at Liberty Lake to enhance the camping experience. A Turtle Town Village is being constructed for the youngest campers, there are all new changing rooms, a 500-foot zip line and a ropes traverse course—just to name a few.
A gardening elective program will also be offered this summer, and will allow campers to grow their own vegetables, which will be enjoyed by all campers at lunch. There will also be a balloon art elective and a play-dough elective for those with creative interests. Six-year-old Alexa Majer of Burlington County is looking forward to choosing from some of the new electives this summer. Last summer was her first time at camp. "She raved about the food and told us about all of the different electives she could choose from.
We were so happy to see her enthusiasm," says Debbie Majer, Alexa's mom. "After a month or so of being at Liberty Lake, she learned to swim underwater, she had matured and was doing so many things for herself. Camp has changed Alexa. She is much more social and she was so proud of so many things she was able to learn and accomplish." Like Alexa, many other children have benefited from the wonderful summer experience at Liberty Lake. According to Pritikin, more than 600 children are in the five-year "Old Timer's Club," and even during this economic recession, they have had the same number of campers for the past four summers.
"Kids need camp now more than ever," adds Pritikin. "This past winter, I was outside shoveling snow. I live in a neighborhood with children in most every house, but not one snowman was being built. The children were inside in the warmth, playing video games, working the TiVo for their taped shows, on the Internet video chatting with their friends, or texting. Technology is a great thing, but children are forgetting how to organically play with each other outside. They are forgetting how to make friends, and what it takes to be a good friend. Camp is an antidote for modern society, a magical environment, a step back in time. There is actual outcomes data available that shows that children who go to camp get benefits that they can't get at school, and they return to school in September with more social and academic skills than kids who don't go to camp."
Celebrating 10 Years in the Community
Liberty Lake's "10 Year" Committee is working hard to come up with some surprises for campers for the summer, but at Liberty Lake, every summer is the best summer ever. "We hope to exceed all expectations, as we do each year," adds Pritikin. "Our goal for Liberty Lake is to make it a part of the community, a place that families see as a partner in the development of their children all the way up through being staff members."
The camp has plans to work hand in hand with the local school districts, to offer the camp's facilities for out-of-classroom education. It is also starting a foundation to help send more underprivileged children to camp. Its Teen Leadership Program had over 100 participants last year and is still growing.
"We hope to build a multi-purpose building for after-school and school vacation programs," Pritikin concludes. "Basically, we never stop coming up with new ideas at Liberty Lake. Just like camp, the possibilities are limitless."
For more information, call (609) 499-7820 or visit LibertyLakeDayCamp.com.
Published (and copyrighted) in Suburban Family Magazine, Volume 2, Issue 1 (March, 2011).
For more info on Suburban Family, click here.
For information about advertising in Suburban Family, click here.
To find out where to pick up your copy of Suburban Family, click here.