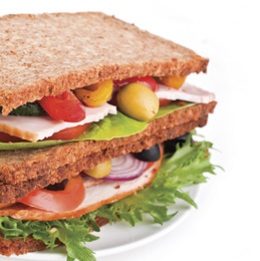 What's for Lunch?
High School cafeterias have come a long way since the slice of pizza and fruit cup you remember from your youth. These South Jersey high schools are serving unique, crowd-pleasing options in more variety than ever before. And what's even better, they are all $4 or less. Bon appétit!
Cherokee High School
The Cherokee cafeteria's NutriServe Food Management-prepared menu offers a focus on nutrition, with a variety of vegetables and proteins served daily. Menu highlight: Salad bar and homemade soup-of-the-day combo served with a whole-wheat roll. The salad bar includes field greens, homemade pasta salad, tuna, egg, buffalo chicken, cucumbers, broccoli and beans, along with a variety of low-fat dressings.
Cherry Hill High School East
Managed by Aramark, East's cafeteria is known for its variety of hot meals served with milk and fruit. Menu highlight: The made-to-order tortilla station with nachos, tacos or salad, each served with beef, chicken or beans, plus salsa, lettuce, tomato, cheese and peppers. Grab-and-go items include burritos with various fillings.
Cherry Hill High School West
West's Aramark-run cafeteria is known for its variety, but most especially for the made-to-order deli station, where students can customize their sandwiches with a protein, cheese and condiments. All made-to-order sandwiches are served with a side of homemade pasta salad, a pickle, fruit and milk. Menu highlight: Chicken, cheese and lettuce, on a tomato wrap with hot sauce and ranch dressing grilled on a panini press.
Eastern High School
Eastern High School's cafeteria, managed by NutriServe, offers a selection of deli sandwiches on torpedo rolls, served with fruit juice, chips and milk. Menu highlight: Student favorites include the triple PB&J, a triple-decker peanut butter and jelly sandwich, and the bagel boat, which comes with cream cheese, yogurt and string cheese.
Haddonfield Memorial High School
The menu, developed by NutriServe, includes deli options like imported ham, oven-roasted turkey breast, roast beef, capricola and buffalo chicken strips, served with chips or pasta salad, fruit or fruit juice, and milk. Menu highlight: Biweekly Asian Day is a favorite for items like tangerine chicken served with vegetable fried brown rice and a vegetable spring roll.
Lenape High School
NutriServe Food Management offers a variety of options, from deli sandwiches to Asian meals like fried rice with sesame chicken, a baked egg roll and steamed vegetables. Menu highlight: The grilled chicken breast on a whole-wheat roll with lettuce, tomato, onion, pickle and hot peppers.
Moorestown High School
The NutriServe-run cafeteria is known for salad entrées, each served with a dinner roll, fruit juice, chilled fruit or fresh fruit, and milk. The daily premium salad is a tossed salad with mixed greens topped with buffalo chicken, diced tomatoes, cucumbers and broccoli. Menu highlight: Tuesday's special salad is an Asian noodle salad with chicken, noodles and shredded vegetables tossed in spicy Asian sauce.
Shawnee High School
Shawnee's cafeteria, run by Nutriserve, is known for healthy options like a portabella mushroom sautéed in a balsamic vinaigrette with spinach, red roasted peppers, red onions and field greens on a French baguette bread (baked on premises) or on a whole wheat roll. Menu highlight: An all-veggie sandwich on whole wheat bread includes sliced cucumber, radishes, spinach, red onion, roasted red peppers, cheese (optional) and a side of bean salad.
Washington Township High School
The Washington Township school district's own lunch service places an emphasis on whole grain choices, served with low fat or skim milk. Skinny Water and Powerade are also available for purchase. Menu highlight: Chicken nuggets breaded with whole-grain breadcrumbs and cheese pizza with whole grain crust.
Published (and copyrighted) in Suburban Family Magazine, Volume 2, Issue 1 (March, 2011).
For more info on Suburban Family, click here.
For information about advertising in Suburban Family, click here.
To find out where to pick up your copy of Suburban Family, click here.