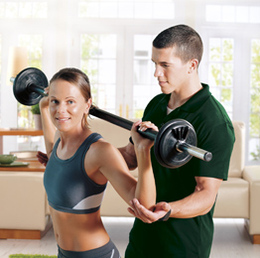 Hometown Trainers
Don't join the gym—get in shape at home!
Albert Einstein famously defined insanity as, "repeating the same behavior while expecting a different outcome." Well, throwing your money away at the gym is just that: insanity!
A Better Option
Hometown Trainers, LLC, has capitalized on a relatively new, innovative approach to exercising and sculpting muscle in a dynamic, proficient and convenient manner. Hometown Trainers provides fitness expertise in the privacy of your own home with highly skilled, internationally certified personal trainers dedicated to providing you with the most energetic exercise programs the industry has to offer. Moreover, Hometown Trainers utilizes the assistance of local medical professionals to evaluate clients who have numerous physical limitations and nutritional counselors, including a registered dietitian, to help those with a weight loss agenda. It's more than just personal training! They have established working relationships with hospitals and health care providers. They have even been recommended by physicians to support diabetic and obese patients.
Effective Fitness Training at Your Home
Educated in working with small apparatus equipment, Hometown Trainers' experienced staff uses exercise techniques that focus on using good form and control in fundamental compound exercises that work all the major muscles of the body, using methods that engage core stability muscles for a more effective workout. Their priority is to improve cardiovascular endurance, muscular endurance and strength, along with flexibility, balance and coordination, and the overall body composition of every client.
Limitations of the Gym
Unlike the gym—where membership fees are routinely collected for an eternity and members are set loose, aimlessly for the most part, to fend for themselves—Hometown Trainers brings professional personal trainers to clients' homes. This keeps their clients exercising in a manner that is consistent, safe and effective –all on their schedule. As opposed to using static machines, like the ones at your local gym, Hometown Trainers provides robust training, with a wide variety of exercises, working multiple muscle groups with each exercise. The resulting workouts combine good form, appropriate resistance, balance and variety, while accommodating any physical limitations. There are no worries of fighting rush-hour traffic to get to the gym or finding a parking spot. No need to corral the kids and unload them to the gym's poorly supervised child care center. The trainer comes to your house! Welcome to the sensation and convenience of in-home fitness!
No More Excuses
At the heart of this novel approach to fitness is Howard Schulze, President of Hometown Trainers. "Sustained weight-loss for our clients is our ultimate goal," Schulze promises. "The main reason people don't realize their fitness goals is a lack of consistency. They say, 'Oh, I couldn't make it to the gym. I don't have the time.' Well, we have an appointment with you to come to your house and work you out. There are no more excuses!"
Helping People With Special Needs
Hometown Trainers also works with people with all types of physical and developmental disabilities. The company's been a qualified service provider for the Division of Developmental Disabilities since 2006, providing personal training services to developmentally challenged people.
Family Discounts & Group Exercise Classes
Family discounts are offered to promote healthy families, and group exercise classes are available. "We see substantial results when the entire family is working together, motivating each other toward one common goal," says Schulze. Sports-related programs are also offered. They also bring group exercise classes to schools, businesses and organizations. Everything from Pilates and Yoga, to Cardio/Weight-Loss, Boot Camp and even Zumba is available through Hometown Trainers! They have trainers throughout the entire state of New Jersey and the Philadelphia region in Pennsylvania.
Now is the perfect time to get started! Through the end of March, you can earn "Hometown Cash" on select personal training programs, saving hundreds of dollars. Call 1-800-HOMETOWN or visit www.hometowntrainers.com for details. Losing weight has never been so rewarding! Hometown Trainers has a program for every budget.
Stop the madness and steer clear of the gym. This time, lose that weight once and for all with Hometown Trainers.
Call Hometown Trainers at 1-800-HOMETOWN to schedule a free consultation to discuss your fitness goals and get started on the most successful, convenient fitness program available—achieved in the privacy of your own home!
Learn more:
Call 1-800-HOMETOWN
(1-800-466-3869)
www.hometowntrainers.com
Published (and copyrighted) in Suburban Family Magazine, Volume 1, Issue 11 (February, 2011).
For more info on Suburban Family, click here.
For information about advertising in Suburban Family, click here.
To find out where to pick up your copy of Suburban Family, click here.