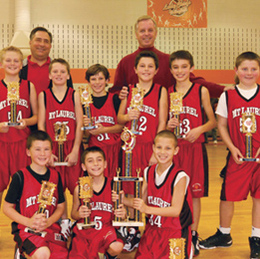 Star Teams: February, 2011
Mount Laurel A's Basketball Team (pictured)
The Mount Laurel fourth-grade travel basketball team took first place in the Chiefs Holiday Classic, going undefeated for three games and beating Marlton in the championship. Players include Mike Dunne, Stevie Matlack, Brian Hoversen, Danny DiSandro, Alex Matthews, James Segrest, Ryan Makaila, Matt Morello and Connor Thompson.
Marlton Sixth- and Seventh-Grade "B" Marquette Basketball Team
After playing eight games so far this season, the Marlton boys' basketball sixth- and seventh-grade in-town "B" team Marquette has gone undefeated, winning eight games against eight other Marlton teams. They have two games left in the regular season.
Hurffville Elementary School
The Hurffville Elementary School fourth- and fifth-grade choir won second place in radio station B101's choir competition. They were presented with a plaque and a $5,000 check.
Cherokee High School Football
The Cherokee High School Football team won their second consecutive state championship and went undefeated for the first time in 25 years. Starting with their first home game, the Chiefs won 12 straight games, a first in Cherokee history.
Moorestown Friends School Robotics
After successfully winning in regional competitions, three Moorestown Friends School robotics teams, the Foxes, the Hawks and an all-female team, the Falcons, qualified for the New Jersey First Tech Challenge State Championships in late February.
Haddonfield High School Wrestling
The Haddonfield High School wrestling team took first in the Colonial Conference Liberty Division Wrestling Championship, beating Collingswood. Since 1970, this is the Bulldawgs first Colonial title.
Lenape High School Girls' Winter Track
The Lenape girls' winter track team won the Group IV State Relay Championship, their second title in the last four years. The team defeated 46 other teams by scoring in eight out of the nine events to attain a total of 51 points, which is the third-highest point total in meet history.
Beck Middle School Science Team
The Beck Middle School Science team has qualified for the state Science Olympiad Competition. Beck placed in 12 of 14 events at the regional competition and will compete in the New Jersey Science Olympiad in March. Students include Angela Sun, Brent Britchkow, Dan Backal, Danielle Schweitzel, David Yang, Eric Kim, Grace Shen, Hannah Chen, Hannah Lam, Harrison Hones, Jake Rudin, Julie Le, Kaity Kim, Lamya Jaigirda, Lawerence Feng, Matt Nussbaum, Noah Podolnick, Philip Korth, Pranav Iyer, Richard Ni, Sam Yoon, Sarah Braeiszewski, Shyam Handa, Sumun Iyer, Tammy Stahl, Andrew Magnus, Liam Mahoney and Nathan Hengy.
Rancocas Valley High School Red Devil Marching Band
The Red Devil Marching Band of Rancocas Valley High School in Mount Holly took first place for Group III at the USSBA New Jersey State Championships, scoring 91.75 out of 100. This was the band's second-consecutive state title. At the USSBA National Championships, Rancocas Valley took first place in Group III with a score of 97.875, the highest score in the band's history and their second consecutive national championship.
Eastern Regional High School Basketball
The Eastern boys' basketball team beat Burlington Township, 89-81, in the Jeff Coney Classic at Rancocas Valley.
Published (and copyrighted) in Suburban Family Magazine, Volume 1, Issue 11 (February, 2011).
For more info on Suburban Family, click here.
For information about advertising in Suburban Family, click here.
To find out where to pick up your copy of Suburban Family, click here.