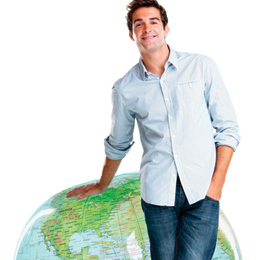 A Worthy Exchange
Moving abroad, or hosting a foreign student, may seem like an impossibly large step for teens. But South Jersey residents have found that such risks come with ample rewards.
Twenty-three years ago, Washington Township resident Eric Pisauro, 42, took his biggest risk to date: he moved 5,000 miles away, to study in Argentina for six months. The experience changed the course of his life.
Pisauro was 19 years old when he left, in the fall of 1988. Today, he says that decision turned his career as a Certified Public Accountant (CPA) into one that has been exciting, multicultural and fulfilling beyond his expectations.
"My worldview was absolutely influenced by that experience," he says. "Literally, the process makes you see that it's a big world out there."
During the 2009-2010 school year, nearly 2,000 American students went abroad to participate in foreign exchange programs, according to the not-for-profit Council on Standards for International Educational Travel (CSIET). Just 27 of these students came from New Jersey. New Jersey ranks last in terms of the households per capita that host students from other countries.
The U.S. hosted 28,000 foreign students in 2009-2010; only 181 of those students were hosted in New Jersey. However, this number represents a steady increase since 2003-2004, when just 126 foreign students were hosted here.
"New Jersey is the last—51st in the country—[with one foreign exchange student] for every 48,000 kids," says John Hishmeh, executive director of CSIET. "The mid-Atlantic doesn't tend to be a very big hosting region. Having said that, New Jersey [hosts the fewest students] of that group."
For those who do participate in foreign exchange programs—either by studying abroad or by hosting a foreign student—there can be substantial challenges. But, likewise, the rewards can be enormous.
The Language Barrier
One major obstacle for those contemplating study abroad is mastering the local tongue. For Pisauro, his lack of Spanish fluency upon arriving in Argentina proved to be an isolating experience. He had studied Spanish from seventh to 12th grade. Yet, while he had "a good academic knowledge of Spanish," he wasn't able to "put it together in a fluid conversation."
Medford resident John Laberee, 16, also felt isolated by his inability to speak Russian fluently when he lived there for six months in 2010. He received a merit schol­arship through the U.S. State Department's National Security Language Initiative for Youth so he could study abroad. The program provides funding for high school students or recent graduates interested in learning less-commonly studied languages.
Laberee was only 15 when he moved to Novocheboksarsk, a city about eight hours southeast of Moscow by train. When he arrived, he was shocked and a little scared. "I was living in the middle of nowhere," he says. His only prior international travel had been to Canada and, as a homeschooled student, the Russian high school he attended was the first time he had been in a formal educational setting since kindergarten.
"When I got there, I only knew a couple of sentences," Laberee says. "People were asking me questions and I had no idea what they were saying.… No one spoke English, which was scary—but it was also a big motivation to learn the language, which is why I went."
Organizational Support
At first, Laberee says, "the weight of everything that happened [on his arrival in Russia] came crashing down on [his] shoulders." Fortunately, he was able to lean on a volunteer from ASSE International, Inc., an organization that operates international student exchange programs, for support.
Any program that receives CSEIT accreditation is required to have a coordinator within a 120-mile radius of each placement. In order to receive accreditation, organizations must demonstrate compliance with nine standards, including screening host families, conducting student orientations and checking in with monthly visits. Pro­grams choose to be accredited "because they want to demonstrate to parents and families and school officials that 'We've taken the time to have an outside organization review our activities,'" Hishmeh says.
For parents who are considering send­ing a child as young as Laberee abroad, they can go to CSIET's website to find which programs have received "full listing" status—considered the highest accreditation—and which have partial status. Some organizations operating in South Jersey are not listed with CSIET. Hishmeh says this may mean only that they have not applied or they have not met all of CSIET's criteria.
One such program is Global Friendships, which places students from Spain and France into homes in South Jersey. It does not run a background check on potential host families—a requirement for CSIET accreditation. But the company does ask its coordinators to check online to see if anyone in the family has a criminal record, says Nikki Gazis, the organization's vice president. Parents who have hosted students through the company have enjoyed the experience so much that many of them continue to host year after year, adds Eileen Wallace, a coordinator for Global Friend­ships who screens host families in South Jersey.
"I would say nine out of 10 families have a good experience," she says. "I haven't really had any experience with parents [and] students not liking each other. Maybe in the beginning they're a little quiet, and we ask them to give them some time to just get in and get to know the family."
Families are not paid for hosting through Global Friendships. They provide a home for the students and three meals a day on strictly a volunteer basis. The students coming from abroad pay a fee to a company in Spain, in addition to covering their activities fees while in the U.S., Wallace says. This summer, approximately 60 students will come through the organization to South Jersey, according to Gazis.
Hosting an Exchange
Aniecea Williams, from Washington Township, says her first experience hosting a student was so "fabulous" that when it was time for him to leave she "was crying my eyes out as if this were my own child." Williams decided to host in part to teach her own teenage son about other cultures. As an African American woman, she was surprised to learn that one of the students she hosted from the Basque region of Spain experienced prejudice and racism as a white person.
"The civil fight they were fighting there, it was amazing to learn about something that's going on right now," Williams says.
Gloucester Township resident Carrie Yankauskas has also grown close with her Spanish students; she has hosted six of them since 2008. She looks at the girls as her own children, and keeps in contact with each one to this day. Her first student, Candela Fernandez, is returning to stay with Yankauskas for part of the summer; and her most recent student is also coming to visit in July. "I've gained another daughter or another friend," Yankauskas says. "I grow such a bond with my girls, when they leave, I'm devastated."
All the students who come to the United States through Global Friendships are required to sign a contract in which they agree not to drink alcohol or engage in drug use. They are also informed about rules and regulations, such as not being allowed to drive a car, before living with their host families. CSIET's Hishmeh says every student must undergo an interview at the U.S. consulate or embassy in their home country, and must be cleared by the State Depar­tment before entering the country—all standard procedure for foreigners seeking a months-long U.S. visa.
"The students are fully screened," he says. "They go through the U.S. embassy; when it comes to consular interviews and everything, that happens there. So we have every reason to believe these are qualified and screened and well-placed students."
Venturing Abroad
As for U.S. students going abroad, the State Department has a website that offers safety advice, such as not calling undue attention to yourself or not going out at night alone. For high school students who are interested in going to the Middle East, the State Department offers a scholarship program, the Kennedy-Lugar Youth Exchange and Study Program. This year, there are 50 American students in countries like Morocco, Jordan and Egypt. They are provided with sensitivity training on how to live and interact in Muslim countries, Hishmeh says.
After the Sept.11, 2001, attacks on the United States, Global Friendships experienced a dramatic decrease in the number of incoming students, from 1,500 students per summer to about 250. Now, that number has increased to 650 students going to areas from Rochester, N.Y., to Virginia, says Gazis. "The families overseas had more concerns than our families did, but it seems that things have now quieted down," she says.
Even though the prospect of moving overseas as a high school student was daunting for both Pisauro and Laberee, both of them say it was one of the best experiences of their lives.
Prior to arriving in Russia, Laberee had read all that country's classics—Tolstoy, some poetry—but what he imagined was not what he experienced. "I had a pretty skewed view, expecting everyone to frown and be drunk," he says. His stereotypes about Russian culture were quickly dispelled. Counter to the stoicism he expected, his host family embraced Laberee as one their own. He called his host mother "mom" and his brother "my brother." Nearly every week, he calls them on Skype, and plans are in the works for his host family to visit the United States soon.
Rich Rewards
For Pisauro, his journey abroad was more than a memorable excursion: it was a turning point. He had never left the United States before he went abroad. As the middle child of four, he had been seeking a way to differentiate himself from his siblings. Leaving his friends and family to live in Argentina accomplished this goal, and helped shape his view of global relations.
"My dad's a CPA, my brother was studying accounting, so I did accounting. But I'm the only one who did a study abroad program,"?Pisauro says.?"It was not typical for me. It was a chance for me to really go in a new direction, do it all on my own."
Pisauro was able to use the Span­ish-speaking skills he gained in Ar­gen­tina to secure a job at the Campbell Soup Company once he graduated from the University of Pennsylvania's Wharton School.
"Key to me being hired by Campbell Soup was my international experience," Pisauro says. "They loved my international and Spanish skills … and used me for their Spanish speaking engagements." With Campbell Soup, Pisauro went on month-long stints to Spain, Mexico, Puerto Rico and back to Argentina, where he visited his host family. "My family was impressed," he says. "They remember me as the guy who really couldn't speak Spanish."
Published (and copyrighted) in Suburban Family Magazine, Volume 1, Issue 11 (February, 2011).
For more info on Suburban Family, click here.
For information about advertising in Suburban Family, click here.
To find out where to pick up your copy of Suburban Family, click here.