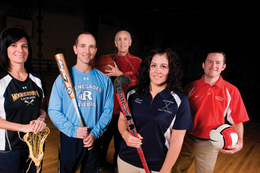 All-Star Coaches
We all know that coaches are the glue that holds a team together. But how often do they get acknowledged? From high school sports to youth leagues, South Jersey is full of superstar athletes. Now is the chance for us to highlight the all-star coaches who guide these amazing athletes and teams to victory.
Gerald Richardson
Lenape High School Girls' Track
Richardson has been honored as coach of the year two times by the South Jersey Track Coaches' Association. His team won the Group IV State Relay Championship and Group IV State Individual Championship in 2008 and the Group IV State Relay Championship in 2011. In December of 2010, the team became the large school division champions at the Merilli Invitational. This is the second year in a row that Lenape was the only New Jersey team invited to compete at the tournament.
Tony Roberson
Jets Gymnastics Trampoline and Tumbling Team
Last season, Roberson's Jets Gymnastics Trampoline and Tumbling team had 14 state champions and nine regional champions in Region VI. Roberson had nine girls compete at the Trampoline and Tumbling National Competition in San Jose, Calif. Three of his trampolinists (Eileen Priestly, Katie Alexander and Cherise Lee) have been selected to go to the USAG TNT trampoline clinic this summer held in Michigan.
Tim Fries
Cinnaminson High School Boys' Basketball
Cinnaminson High School boys' basketball coach Tim Fries has been coaching varsity for six years and junior varsity for five. He just reached his 100th career win. All told, Fries has won the most games as a coach for the boys' basketball team in the school's history.
Kevin Meder
Lenape High School Girls' Soccer
Kevin Meder of the Lenape girls soccer team has been coaching for the past six years. This past season, his team was the 2010 Olympic American Conference Champions, the 2010 SJSCA Coaches Tournament Champions, the 2010 South Jersey Sectional Champions and the 2010 New Jersey Group IV State Champions. Meder's team was also ranked No. 1 in the state of New Jersey and No. 4 by ESPN Rise. Meder was also named the National Coach of the Year for Girls Soccer by ESPN.
Dan Antonelli
Clayton High School Wrestling
Clayton High School wrestling coach Dan Antonelli reached his 200th career win during a Tri-County Conference match. Antonelli has been coaching at Clayton for 16 years.
George Passante
Kingsway High School Basketball
Former teacher and now assistant principal at Kingsway High School, George Passante is in his seventh year as the varsity boys' basketball coach. Passante just reached his 100th win and was presented a plaque.
Anthony Gallo
Cherokee Boys' Soccer
Cherokee boys' soccer coach Anthony Gallo has been coaching for the last eight seasons. This past season, the team was undefeated at home, advanced to the semi-finals of the Coaches Tournament for the second time in three years, defeated Shawnee High School on their home field for the first time in school history, won the Group IV South Jersey title for only the second time in school history and was ranked No. 3 in the state by the Soccer Coaches' Association of New Jersey.
Tom Perry
Mount Laurel Fleetwood Youth Football
The commissioner of the Mount Laurel Fleetwood Youth Football Program since 1994, Perry is deeply committed to growing the program. Perry grew up playing in the program, and became a coach in 1983. For the first time in Fleetwood Indians history, this past fall, five levels of youth teams from Fleetwood were represented in the South Jersey Independent Youth Football Association league championships. Four out of the five teams went on to win their championship games.
Joe Kessler
Shawnee High Schools Boys' Basketball
Coach Kessler of the Shawnee boys' basketball team was recently inducted into the South Jersey Basketball Hall of Fame. Kessler has led Shawnee to more than 500 victories in 23 seasons, five New Jersey state championships and nine State Sectional (South Jersey) Championships.
Danyle Heilig
Eastern Regional High School Field Hockey
For the 12th year in a row, Danyle Heilig has led her Eastern Field Hockey team to win the Group IV state championship. The team finished their 2010 season with a record of 26-1.
Renee Phelps
Shawnee High School Field Hockey
Renee Phelps has been the varsity field hockey coach since 2006. Her team is the 2010 Olympic-Patriot Conference Champions and the Group IV Central Sectional Champions. In 2007, she was named a Field Hockey Club Coach of the Year.
Jeff Holman
Haddonfield High School Girls' Tennis
The Haddonfield High School girls' tennis team, led by coach Holman, had a 31-1 record and won the state Group II title this past season. In the past two years, the team went 63-1, earning two state titles and one Tournament of Champions crown. Holman's career record over 34 years as the girls' coach is 934-121.
Tim Welsh
Medford Youth Athletic Association
Jim Welsh has been the assistant coach for Shawnee High School Varsity football and baseball for the past 20 years. He is also head coach of the Medford Renegades youth travel baseball team, with a record of 63-28-3 to date. He is also the 2011 Medford Renegades Travel Baseball Commissioner, the president and co-founder of the New Jersey Strength Coaches Organization and he was inducted into the NJSCA Hall of Fame in 2005.
Frank DeLano
Haddonfield High School Football
Haddonfield High School Football coach Frank DeLano is the Colonial Conference Liberty Division Coach of the Year, the Brooks Irvine Memorial Football Club Coach of the Year, the Touchdown Club of Southern New Jersey Coach of the Year and the New Jersey Football Coaches Association New Jersey Football Coach of the Year. His 2010 team had 11 wins and one loss, and are the Mayor's Cup Champions for the eighth year in a row. For the first time in 46 years, they also claimed the title of South Jersey Group II State Champions.
Spence Epstein
Medford U9 Youth Baseball
Epstein has been coaching the same youth baseball team for the past four years. His team won the state championship two years running. At age 8, they placed third in the Cal Ripken Middle Atlantic Region, and at age 9, they took first place in the Cal Ripken Middle Atlantic Regional Tournament.
John Valore
Cherry Hill East Boys' Basketball
Cherry Hill East Basketball coach John Valore has been coaching varsity since 1976 for the Cougars. Valore has more than 500 career wins and has been honored in the New Jersey Basketball Hall of Fame and the Al Carino South Jersey Hall of Fame. He is retiring this year.
Bill Mulvihill
Moorestown High School Girls' Soccer
Moorestown High School girls soccer coach Bill Mulvihill has claimed his 200th career win this past season.
Scott Atkinson
Moorestown High School Girls' Volleyball
This is coach Atkinson's 14th year coaching varsity volleyball for Moorestown High School. This past fall, his team won the fifth annual Moorestown High School Invitational Tournament, reclaiming the title last won in 2007. They finished the season with a 20-5 record.
Shelby Smith
Cherry Hill West High School Cheerleading and Dance
Shelby Smith has been coaching the Cherry Hill West Cheerleading Team for seven years and the dance team for six. In 2010, her team won a state championship dance title in Varsity Jazz and a national championship in Varsity Hip Hop and Jazz. Her cheerleading team is the 2010 Cheer Tech Champions in the large varsity division.
Deanna Knobloch
Moorestown High School Lacrosse
Lacrosse coach Deanna Knobloch has been coaching at Moorestown High School since 1992, racking up more than 370 career wins. Her team won the New Jersey Tournament of Champions 10 years in a row, and she was inducted into the U.S. Lacrosse, New Jersey Chapter Hall of Fame. She is the vice president of the Lacrosse Club of South Jersey.
Bruce Burdsall
Washington Township High School Girls' Track
Coach Burdsall has been coaching track and field at Washington Township High School for 23 years. His 2011 winter team won the distance medley and the sprint medley at the Group IV State Championships. He was a South Jersey Track Coaches Association Coach of the Year in 2000.
Tina Basile
Washington United Piranhas U14 Soccer
Tina Basile led her Washington United Piranhas U14 girls' soccer team to win the Washington Township Maps Cup Tournament in 2010, earning a statewide No. 5 ranking.
Mike Hudock
Washington Township High School Bowling
Coach Hudock has been coaching since 2006 and received the 2010 Sport Award from the New Jersey Interscholastic Athletic Association for his contribution to athletics. The girls' bowling team finished their regular season with a 20-0 match record and won the 2011 Group IV title at the South Jersey Sectionals, their first ever. Last season the boys' team won the 2010 Group IV State title and took home the Tournament of Champions title.
Judy Nelson
Washington Township High School Cheerleading
Judy Nelson has been coaching the fall and winter cheerleading teams for the past three years. The Washington Township Cheerleading teams are 11-time Olympic Conference Grand Champions, six-time New Jersey Group IV State Champions and seven-time National Champions.
Daniel Williamson
Doane Academy Boys' Basketball
Daniel Williamson has rebuilt the Doane Academy Basketball team (from a 70-student high school population) into a respectable high school program. The team, which had only earned one playoff slot prior to Williamson's arrival, has since made it to the playoffs five years running. Williamson also started a DeVry College boys' basketball team, which finished with an 8-10 record in its very first year. In addition, he is a motivational speaker and a mentor for troubled teen athletes.
Dennis Morrone
Medford Youth Athletic Association's Unlimited Football
Coach Morrone has led the Medford Youth Athletic Association's Unlimited Football team to a League Championship in 2001 and Conference Championships in 2001, 2002, 2009, and 2010. The 2010 team went 7-1 during the 2010 season.
Published (and copyrighted) in Suburban Family Magazine, Volume 1, Issue 11 (February, 2011).
For more info on Suburban Family, click here.
For information about advertising in Suburban Family, click here.
To find out where to pick up your copy of Suburban Family, click here.