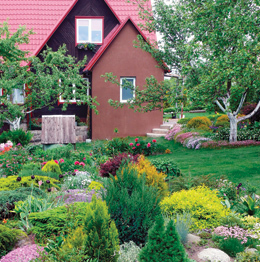 Curb Appeal
Spring is closer than you think! Here are 10 ways to make sure your garden and home exterior are ready to shine.
1 It's a good idea to get your gutters cleaned once a year to avoid build-up of leaves and branches. Forget climbing that ladder yourself; a pro can take care of it easily (and injury free).
The Gutter Guys
(856) 988-7700
TheGutterGuys.com
2 Part of the reason your new house was such a bargain was the color—cotton candy pink. So now it's time for a new paint job, to give the place a brand new look.
Rainer Painting Company
(856) 786-8121
RainerPainting.com
3 Landscaping is a huge plus for all homeowners—planting flowers and new trees, especially in the spring, will help your house stand out from the rest of the block.
Elite Landscaping
(856) 753-1944
EliteLandscaping.com
4 Go big and add a pool or spa in your backyard. You'll find yourself spending more time outside and hosting friends—not to mention adding a great deal of value to your property.
Jersey Pools & Spas
(609) 654-4886
JerseyPoolsandSpas.com
5 Is your driveway marred by scrapes and cracks? An easy repaving or repair job can make that old driveway as good as new within a few hours.
Adrian's Driveway Sealing & Repair LLC
(609) 291-1424
6 If you're hoping to entertain outdoors, a stone patio, a wood deck or even an outdoor fireplace can transform your backyard into the life of the party.
CK Construction, LLC
(856) 672-9293
CKConstruction.com
7 Keep your trees healthy and groomed by hiring a tree service. Don't leave dangerous and unwanted tree branches to fall and potentially cause damage.
First Class Tree Service, LLC
(609) 714-1202
FirstClassTreeService.com
8 To give your house more privacy, invest in a fence. Whether it's wood, vinyl or wrought iron, the fence will enclose your house and give your kids a safe enclosed area to play in.
Alenco Fence & Supply Corporation
(609) 654-6060
AlencoFence.com
9 Love the outdoors? A front porch is a great addition to the look of your house and perfect for those fall days when your kids are playing in the front yard.
Massimo Master Renovators & Custom Builders
(856) 234-8411
MassimoBuild.com
10 Spruce up the look of your house by adding lights to your landscape. In addition to making your property safer at night, lights add drama, make your yard look more appealing and add value to the house.
Botanical Lighting
(609) 953-5334
www.botanical lighting.com
Published (and copyrighted) in New Homeowner's Resource Guide, DelValMedia, January, 2011.