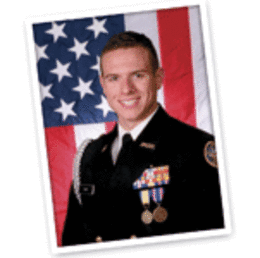 Star Students: December, 2010
Charles Sedor
Marlton
Cherokee High School senior Charles Sedor (pictured) has accepted an appointment and full scholarship to the United States Coast Guard Academy in Newport, R.I. Sedor is currently the Cadet commanding Officer of the Cherokee Chiefs Naval Junior ROTC unit. With only a 6 percent acceptance rate, appointments to the academy are highly selective. Sedor, who is salutatorian of his class, was also offered an appointment to the Merchant Marine Academy and a Naval ROTC scholarship to Penn State.
Rob Molloy and Nicole Puzio
Medford
Shawnee High School students Rob Molloy and Nicole Puzio, members of the Seneca-Shawnee interscholastic Iron Devils Robotics team, were tapped by Lockheed Martin in Moorestown to help lead a recent "Women in Engineering Day." They presented their robots to female students from high schools across South Jersey.
Darby Randall and Taylor Jones
Mount Laurel
Hartford Upper Elementary School sixth-grader Darby Randall and fifth-grader Taylor Jones won first place for their respective grades in a poster contest sponsored by Prevention Plus of Burlington County (Promoting Healthy, Safe & Drug Free Lifestyles) along with The Health Department of Burlington County. A calendar display will be created using their posters, which were selected from 250 entries.
Shannon Martin and Sarah Rhamey
Medford
Shawnee High School students Shannon Martin and Sarah Rhamey earned gold medals in New Jersey Family, Career and Community leaders of America (FCCLA) competitions. Martin's gold was in the "Tune into FCCLA" event, and Rhamey's was in the "Passion for Fashion Design Challenge."
Makamba Sackey
Cherry Hill
Cherry Hill High School East senior Makamba Sackey has been named one of 53 students statewide as a New Jersey Rising Scholar. Sackey is also a semi-finalist in the National Academic Achievement Program, has been commended by the National Merit Scholarship Program, and is a National Ventures Scholar. She has been offered several full scholarships by universities across the country.
Ian Grant and Dean Rotteau
Shamong/Tabernacle
Seneca High School students Ian Grant and Dean Rotteau have been named as National Merit Scholar Semi-finalists 2011. Less than one percent of the nation's entire high school population qualifies for the semi-finalist level.
Julia Finkel
Cherry Hill
Cherry Hill High School East senior Julia Finkel was the first East student to have ever been awarded first, second and third place awards simultaneously in the Garden State Scholastic Press Association's Top School Newspaper awards. Finkel, an editor of the Eastside, which won the state's top honors for Distinguished Newspaper, took all three awards for her opinion pieces.
Erik Schumalbach and Yacov Wittman
Washington Township
Cherry Hill High School West seniors Erik Schumalbach and Yacov Wittman have been named National Merit Scholars. Commended students placed among the top 5 percent of more than 1.5 million students nationwide.
Justin Falcone
Cinamminson
Holy Cross High School senior Justin Falcone of Cinamminson received perfect scores on the writing and verbal section of the SATs.
Katherine Baloff
Cherry Hill
Cherry Hill East music student Katherine Baloff has been nominated to the All Eastern United States Orchestra. Additionally, Baloff was selected to perform with the All Eastern Orchestra in Baltimore, Md., in April 2011.
Julie Wilkins
Cherry Hill
Julie Wilkins, a Cherry Hill High School East senior and volunteer with Habitat for Humanity, will travel to Kenya in July 2011 to help build a house for a family. Julie was featured recently on NBC10.
Zaxlee Jewel Martin
Cherry Hill
Rosa International Middle School seventh-grade student Zaxlee Jewel Martin, 13, apprenticed with the Ascalon Stained Glass Studios to create a stained glass window that is now on display in the school's main hall. Her work was inspired by a 17th-century Japanese haiku, as part of the school's independent learning project program.
Tanya Das
Mount Laurel
Country Side Elementary School first-grader Tanya Das spent the past year growing her hair out in order to donate it to "Locks of Love." Das donated a total of 10 inches of hair to the organization which creates wigs for people who have lost their hair due to chemotherapy for cancer treatment.
Published (and copyrighted) in Suburban Family Magazine, Volume 1, Issue 10 (December, 2010).
For more info on Suburban Family, click here.
For information about advertising in Suburban Family, click here.
To find out where to pick up your copy of Suburban Family, click here.