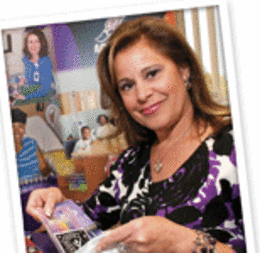 Star Citizens: December, 2010
Gisele DiNatale
Voorhees
Gisele DiNatale (pictured) has been chosen as the Voorhees Rotary Club Citizen of the Year 2010 for bringing attention to the plight of teens with cancer. DiNatale created the Alicia Rose "Victorious" Foundation in memory of her daughter who lost her battle with cancer at age 16. During her daughter's illness, they discovered that while hospitals made special accommodations for children, there were few accommodations for teens with the disease. Now, DiNatale works with hospitals to create teen lounges stocked with games, music, iPods, and comfortable teen-size furniture. DiNatale also was instrumental in the state's creation of Teen Cancer Awareness Week, which is slated for the second week in January.
Chuck Roney
Voorhees
Eastern High School biology teacher and former head baseball coach Chuck Roney has been inducted into the Hot Stovers Hall of Fame. Roney, who has been teaching for nearly 40 years, has won several teacher and coach of the year awards, including from The College of New Jersey and the National Federation of High School Baseball Coaches. The Hot Stovers, located at Campbell's Field, recognize the best of South Jersey baseball.
Keith VanDerZee
Medford
YMCA Camp Ockanickon chief executive Keith VanDerZee has been given the American Camping Association's New Jersey Recognition Award. Prior to running the camp, (one of the nation's oldest Y camps), VanDerZee was a stockbroker whose family founded a nonprofit camp for New York City foster children.
Christy Marrella-Davis
Cherry Hill
Rosa International Middle School eighth grade humanities teacher Christy Marrella-Davis was chosen as New Jersey National History Day Teacher of the Year for her work instilling a love of history in her students.
Vic Hunt
Marlton
Cherokee High School science teacher Vic Hunt recently attended a seven day workshop at the Goddard Space and Flight facility in Greenbelt, Md. Hunt was one of 120 teachers selected across the country for the program, which familiarized teachers with geospatial technology that can be incorporated into the classroom curricula.
Julianna Jones
Mullica Hill
Julianna Jones, 3, was chosen as this year's Youth Hero for the New Jersey Chapter of the Arthritis Foundation annual Jingle Bell Walk. Until being properly diagnosed with the disease just after her second birthday, Julianna was unable to walk more than a few feet at a time due to the pain in her joints.
Dominic Stratton
Mount Laurel
Dominic Stratton, 8, who suffers from cerebral palsy, brought many Mount Laurel community members together on Thanksgiving for the hand-over of the keys to his new, wheelchair-accessible home, funded, built and designed by local volunteers and community businesses. Prior to the efforts of the nonprofit Dominic's House, the boy and his family had been living in a converted chicken coop with no clean water.
Bonnie Lynn Schneider
Shamong
To honor her late friend Pam Schneeman, an avid baker who died of adrenal cancer in 2006, Bonnie Lynn Schneider began holding an annual bake sale to raise donations for the Pam Schneeman Loving Tribute Fund at Samaritan Hospice. Schneeman, a Samaritan Hospice patient, was able to attend the first annual event in her name. This year's event raised nearly $800.
Monica Timmins
Marlton After being diagnosed with juvenile diabetes, Monica Timmins got involved with the Juvenile Diabetes Research Foundation to help find a cure. This year, she participated in her first JDRF Walk for the Cure and raised over $1,000.
Mitchell Rosenberg
Cherry Hill
Kennedy University Hospital cardiologist and attending physician Dr. Mitchell Rosenberg is also a composer whose original chorale piece, "Candles of Freedom," will be performed by nearly 200 musicians during the William Penn Charter School's winter concert. Rosenberg's is the first original work ever to be performed at the concert. Another first is his album, Heart of Jazz, to be released soon.
Meredith del Rossi
Medford
This year's Jingle Bell Walk for the Cure sponsored by the New Jersey chapter of the Arthritis Foundation will have Medford resident Meredith del Rossi as its Adult Hero. Del Rossi's own struggle with the disease growing up greatly affected her eyesight and her mobility. The support from the people and resources in the Foundation inspired her to pursue a career in nursing to help alleviate the pain experienced by others afflicted with the disease.
Dawn Schafle
Cherry Hill
Kingston Elementary School teacher Dawn Schafle won a $1,000 grant from ING Direct to operate a student-run school store to help improve her students' financial literacy. Schafle was one of only five teachers statewide to receive the grant.
Published (and copyrighted) in Suburban Family Magazine, Volume 1, Issue 10 (December, 2010).
For more info on Suburban Family, click here.
For information about advertising in Suburban Family, click here.
To find out where to pick up your copy of Suburban Family, click here.