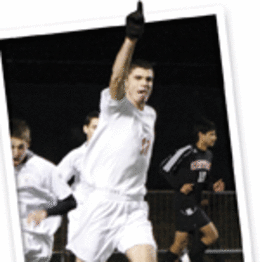 Star Athletes: December, 2010
Dave Schlatter
Marlton
Cherokee High School senior Dave Schlatter (pictured) teamed with junior Mike Ryan to give Cherokee arguably the best scoring tandem in South Jersey, as the Chiefs took the boys' soccer state title this season. Headed to the University of New Hampshire on a soccer scholarship, Schlatter scored 18 goals, including the game winner in the Chiefs' 1-0 victory over Hunterdon Central in the state Group 4 championship.
Kwasi Acheampong
Voorhees
Eastern Regional High School senior and boys' soccer team defender Kwasi Acheampong, who was named a second-team all-South Jersey selection by the South Jersey Soccer Coaches Association, helped the Eastern Regional High School boys' soccer team win the Olympic Conference American Division title.
Kenny Patrone
Washington Township
Washington Township High School sophomore Kenny Patrone has been selected as a member of the USA Field Hockey Junior National Team to play in Buenos Aires against the national teams from Argentina and Chile. In February 2010, Patrone earned a silver medal as a member of USA Field Hockey's Under 17 team, which participated in the 2010 Youth Pan American Championships.
Kate Walters
Mount Laurel
Lenape High School freshman Kate Walters was a key player on the Indians' state champion girls' soccer team. Walters had 21 goals during the season—the team's highest number. Her statistics have established her as one of South Jersey's top players.
Derek Strauss
Marlton
Cornerback Derek Strauss, 14, an eighth grader at DeMasi Middle School, was awarded the defensive MVP award during the Marlton's South Jersey Elite Youth Football All Star Game to end the fall season. Strauss intercepted a pass and ran nearly 40 yards before he was tackled just shy of the end zone. His team scored in the ensuing drive, before going on to win 38-6. Strauss' home team is the Marlton Chiefs Unlimited weight class.
Alison Fehl
Mount Laurel
Eight-year-old Alison Fehl took first prize in both the tumbling and trampoline events in her age group at the Head Over Heels 2010-2011 state gymnastics season opener, held in Middletown, N.J. last month. She obtained a nearly perfect score in the trampoline event with a 24.9 out of 25. For the tumbling event, she scored 58 out of 60.
Julianna May
Moorestown
Our Lady of Good Counsel seventh-grader Julianna May, a U.S. Figure Skating Junior Eastern Sectional silver medalist, will compete this month in the U.S. Figure Skating National competition in Salt Lake City, UT.
Lauren Anderson
Cherry Hill
Sophomore Lauren Anderson was this season's leading scorer on Cherry Hill High School West's girls' soccer team. Anderson scored 16 goals, including a goal in a 2-0 South Jersey Group 3 semifinal win over Ocean City, which helped West reach the South Jersey Group 3 final during a 13-7 campaign.
Ben Potts
Haddonfield
Haddonfield Memorial High School senior Ben Potts won the individual state Group 2 cross country title and also helped Haddonfield capture the team championship. Potts was also the highest finisher among South Jersey runners in the Meet of Champions, placing sixth.
Taylor Ng
Haddonfield
Haddonfield Memorial High School sophomore Taylor Ng has been the Bulldogs No. 1 tennis player for the last two years. She is 79-9 in her two seasons, as Haddonfield captured two state Group 2 championships and one Tournament of Champions titles in that span.
Ed Royds
Medford
Shawnee High School's wide receiver Ed Royds helped the Renegades earn a share of the WJFL National Division title while also gaining a South Jersey Group 4 playoff spot. Despite missing most of two games with a shoulder injury, Royds rushed for a remarkable 1,181 yards on 159 carries and scored 14 touchdowns for the 6-4 Renegades.
Jack Shea
Marlton
Eleven-year-old Marlton Middle School sixth-grader Jack Shea medaled in the AAU Cross Country Championships, placing in the top 5 percent of runners in the 5,000 meter race, with a time of just over 12 minutes.
Published (and copyrighted) in Suburban Family Magazine, Volume 1, Issue 10 (December, 2010).
For more info on Suburban Family, click here.
For information about advertising in Suburban Family, click here.
To find out where to pick up your copy of Suburban Family, click here.