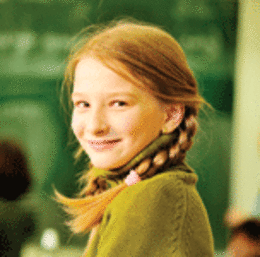 Huntington Learning Center
Building confidence for a better future
Huntington Learning Center empowers children, providing a lasting education and, more importantly, the confidence to succeed today and in the future. For more than 30 years, Huntington Learning Center has promoted an individualized ap­proach to each student's needs, combined with a focus on learn­ing and not simply memorizing facts.
"When asked by parents what to look for when their children complete a program at Huntington Learning Center, the easy reply might be to say better grades or test results," says Richard Bernstein, Executive Director of the Centers located in Cherry Hill and Turn­ersville. "However, to me, it is the child's confidence and smile that really is the difference!" The first of its kind, Huntington Learning Center has a well-defined and re­spected program with proven results. It is based on the premise that no two students are the same. Children learn faster and more effectively when they have a plan devoted to their individual needs.
The first step in the Center's individualized tutoring program is a diagnostic evaluation to identify your child's strengths and needs. Using this personalized plan, the Huntington Learning Center tutors devote your child's tutoring sessions to his or her key learning areas. They provide one-to-one instruction at each student's pace. Huntington Learning Center recognizes the importance of communication and meets regularly with you and your child to share an update and outline the course ahead. If you like, the Center's staff can discuss these efforts with your child's teachers, guidance counselors and coaches to collectively provide the attention and guidance your child deserves.
Preparation at all stages
Whether your child is just entering the first grade or preparing for college, Huntington Learning Center offers personalized programs designed to teach students how to think, learn and succeed. For children ages 5 to 17, the Center's tutoring programs can address needs in the basic areas of reading, writing and mathematics. Phonics and vocabulary skills are also evaluated and offered for those students who might need a boost. A key component to any learning plan is ensuring that your child has the study skills to help him or her work independently.
Huntington Learning Center is also well known for its programs designed for both high school entrance exam and SAT, PSAT and ACT test preparation. It is based on two main principles: preparing students for every question type they will see on test day and working one-on-one to master test-taking skills and subject matter.
Students preparing for college entrance exams begin by taking an actual SAT/PSAT or ACT exam in the Center under test-like conditions. From the results, the Center's directors build a personalized learning or test prep program for each student. Known as The Huntington Advantage, the use of full-length SAT/PSAT and ACT tests enables instructors to analyze students' progress and pinpoint areas requiring further attention.
"Since confidence is such a key factor in success, pre­par­ing students for exactly what they will see on the real exam gives them an unsurpassed advantage on test day," Bernstein explains. "Com­bine this with the independence instilled at every step, we not only help students get into the schools of their choice, but also develop the academic skills to succeed on the college level."
The learning environment
When it comes to learning, quality teachers and an environment conducive to success are important factors. Huntington Learning Center recognizes that, and makes sure your child is in the best possible hands. Hunt­ington Learning Center carefully selects its tutors so you can be assured that they are professional, caring and qualified to raise your child's grades in any subject. Each certified and college-educated tutor is required to complete the Center's intensive training program as well as participate in monthly training sessions focused on Huntington teaching methods and curricula.
Within the learning environment, there needs to be a combination of privacy and interaction. Huntington Learning Center is designed provide this perfect blend of personalized attention for one-on-one study and small group learning with a maximum of four students. This environment is also a precursor of what lies ahead in higher education, work and life. "While the tutor is working with another student, your child is able to learn, solve and succeed on his or her own," Bernstein adds. "The result is a true sense of accomplishment and a confidence boost."
Huntington Learning Center has two convenient locations in South Jersey. The Center in Cherry Hill is located at 1990 Route 70 E. in the Tuscany Marketplace. The Turnersville Center is at Lakeside Plaza, 860 Route 168 in Turnersville. Both are open Monday through Friday, 8:30 a.m. to 10:30 p.m. and Saturdays, 8:30 a.m. to 5 p.m. For more information or to schedule a consultation, call (856) 795-1933 (Cherry Hill) or (856) 227-0033 (Turnersville). Additional information is available online at HuntingtonLearningCenter.com.
Published (and copyrighted) in Suburban Family Magazine, Volume 1, Issue 10 (December, 2010).
For more info on Suburban Family, click here.
For information about advertising in Suburban Family, click here.
To find out where to pick up your copy of Suburban Family, click here.