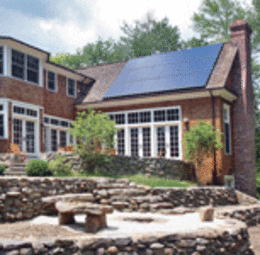 Seeing the Light
A new Aztec Solar program trims customers' energy costs with ease and assurance.
Energy conservationists tend to summon a number of glow­ing adjectives when describing the advantages of solar power: renewable, non-polluting, maintenance-free and, of course, cost-effective. To hear Stuart O'Neal tell the story, a new lease-based program now available to local homes and small businesses has made solar power not only more affordable but also more convenient than ever before.
O'Neal's employer, Wayne-based Aztec Solar Power, has devised a remarkable method for delivering the benefits of solar energy without customers having to spend thousands of dollars on installations, equipment and upkeep. Essentially, Aztec Solar now enables a customer to lease a roof-mounted 10-kilowatt solar-power system—enough to supply the energy needs of a 2,500-square-foot building—capable of reducing monthly electrical-energy costs by 50% to 60% every year for the next two decades.
"It's a 20-year lease, and what we're doing is stabilizing volatile, variable energy costs over that time," says O'Neal, Aztec Solar Power's finance director. "The cost of the customer's energy lease payment would be in the range of $85 to $100 per month, depending on the size of the home or building. If we use that 'magic number' of $85, and multiply it by 240 months, that's $20,400, which is well under the $55,000 to $60,000 it would cost to purchase the same system outright.
"I think we have to make the assumption that [traditional] energy costs will be going up," he continues. "With solar power, you avoid any increases in taxes, delivery costs and the raw costs of energy, because the sun's always going to be there. … What we're doing is stabilizing energy costs over the next 20 years."
Another convenience de­sign­ed to make the installation as painless as possible: Aztec Solar handles all of the permitting, so customers need not worry about wrangling with the township over construction approvals.
O'Neal notes that each customer must qualify for the 20-year lease program. First, the qualifying customer must have stable employment. Second, he must have a credit score of 700 or better, which, statistically, accounts for 52% of the U.S. population. And third, the customer must own the home upon which he wishes to install the panels, although there are no minimum requirements in terms of home equity. Finally, pro­spective customers would pay a one-time-only application fee of $50.
Aztec Solar intends to start installing leased systems in the second quarter of 2011, in homes in Delaware, Maryland, New Jersey and Pennsylvania. O'Neal expects as many as 2,000 area homes to qualify in the "first wave" of the lease program, dictated primarily by the supply chain and manpower.
"Of course, this is no barebones system," O'Neal pro­mises. "The [equipment manufacturers] will supply a 25-year warranty, which is longer than a customer would need it because it's a 20-year lease. Also, Aztec Solar provides a five-year, bumper-to-bumper warranty as well. … We're doing everything we can to get the cost to the client as affordable as possible."
Aztec Solar Power
701 Lee Road, Suite 200, Wayne
877-SUN-6066
AztecSolarPower.com
Published (and copyrighted) in Suburban Family, Volume 1, Issue 9 (November, 2010).
For more info on Suburban Family, click here.
For information about advertising in Suburban Family, click here.
To find out where to pick up your copy of Suburban Family, click here.