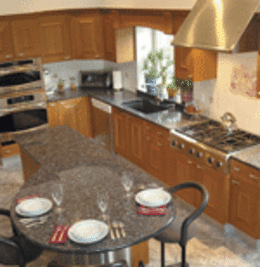 Hard and Soul
Gleaming counters in granite, marble or quartz turn your kitchen into the soul of your home.
Interior home design fads come and go but the look of natural stone is here to stay. Whether it is an exotic Kalahari Desert granite design with a full bullnose edge or more traditional marble such as Bottichino Fioritto, finished with a pencil edge, the selection is virtually endless when it comes to designing a custom counter area for kitchens – both indoor and outdoor. "We believe that clients deserve a unique, elegant and enriched kitchen to complement their style," says Kenan Kol, owner of KOL Marble and Granite. "As a full service design, fabrication and installation company, we are able to provide this luxury at an affordable price."
Rocks and hard places
KOL offers a wide variety of choices in marble and granite, and plenty of expertise to help homeowners make the selection that is right for them. "At Kol, educating clients about their choices and learning as much as possible about their lifestyle is the key. Questions such as, 'Is this for an interior or exterior kitchen,' or 'Will the space be used often or infrequently,' can help determine the alternative best suited for the household," Kol says. Over the past decade, granite countertops have continued to grow in popularity. The natural stone is beautiful and unmatched in terms of its unique character. Granite is also resilient and its hardness is second only to diamonds, so will not scratch or dent. Specifically in the kitchen, granite will withstand heat. Some stones require a minimal amount of maintenance with sealants so they won't absorb stains.
Marble is another natural stone well-liked within the home. It is more often used as an accent rather than full counter area. Marble is beautiful with its inherent natural color and veins as well as is both water- and heatproof. "Within the home, clients want something beautiful but the need for durability in the busiest of households is a big factor in selecting the right material," Kol explains. "We also offer a number of quartz stone products to meet these needs without losing the impact of natural granite or marble."
One such product is well known to many and ideal for kitchen countertops. Made from natural quartz stone with a bit of epoxy resin, Cambria's natural stone surfaces are stronger than granite and are non-porous. Similar to a stainless steel countertop, it is highly safe for food preparation plus stain resistant and maintenance free. Zodiaq® by DuPont™ is another quartz-based product that consists of 93 percent natural quartz stone plus its own binding polymer and pigments to create a unique material that combines aesthetics and strength.
"These are just two of the product lines we carry," Kol adds. "For example, Silestone is a sophisticated alternative that is multi-dimensional in functionality and can reinvent itself to constantly stay 'on trend' with styles to meet people's changing interests and attitudes. Like other quartz surfaces, it is scratch- and stain-resistant for great durability."
Even the kitchen sink
When it comes to the kitchen, the importance of having a sink that is resilient and easy to clean cannot be understated. Accord­ing to Kol, "A stainless steel sink is the most common of stainless materials inside the house. It is practical, durable and rust-free. It also won't stain or fade." Stainless steel sinks are made to be used and can withstand daily wear and tear. The tougher material won't chip or crack, and therefore is often a better choice than porcelain or cast iron for the kitchen. It also absorbs shock and can act as a cushion to reduce damage or breakage of dishes and glassware. And, adding to the convenience is that homeowners can use common household cleaners and a soft towel to retain the sink's original luster. But, says Kol, "Clients also want a kitchen sink that looks nice. Available in both satin and matte finishes, we are able to find the right option to complement any décor. The inherent clean lines and cool texture will reflect the surrounding countertop color and further enhance its natural beauty."
Before you make your decision, Kol suggests having a look at all the materials in person. "Since words can only say so much, we encourage clients to visit our showroom but more importantly our warehouse. They are able to see the actual slab and all its striking variances before making their selection. We want to design the countertop to be as unique as the material and the individual's home."
KOL Marble and Granite is located at 1970 Old Cuthbert Road in Cherry with showroom hours Monday through Friday from 8:00 a.m. to 7:00 p.m. and Saturdays from 8:00 a.m. to 5:00 p.m. Clients may also visit Kol's other New Jersey location at 8 Canale Drive in Egg Harbor Township. For more information or to schedule a complimentary in-home estimate, call (856) 857-1430 or KolGranite.com.
Published (and copyrighted) in Suburban Family, Volume 1, Issue 9 (November, 2010).
For more info on Suburban Family, click here.
For information about advertising in Suburban Family, click here.
To find out where to pick up your copy of Suburban Family, click here.