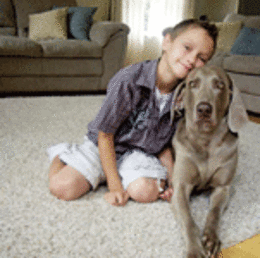 For on the Floor; Grande Floor Covering
…Special Advertising Section from the pages of Suburban Family…
When it comes to flooring, the right product for each room of the home varies and every home is different. For lively households filled with family, friends and pets, the choice of flooring is particularly important. The good news is that there are many options. According to John Grande, owner of Grande Floor Covering in Voorhees, "What might be great in a room with little activity may be far less ideal for stairs or family rooms. Consulting with a professional is a good first step to finding the most suitable flooring." He adds, "At Grande Floor Covering, we like to partner with clients—sharing our knowledge and experience as we learn their unique needs. With more than 20 years experience and a team that has been together for more than half that time, we look to provide helpful advice and guide the decision making process.
More than a feeling
Carpeting is one of the most widely used floor coverings in the home. Between the choice of color, texture and style, it is easy to become daunted. Says Grande, "To start, we advise clients not to judge a carpet by the feel alone. It is important to understand conditions in the room and how it relates to performance." Advancements are continuously made to improve the durability and longevity of carpets in even the most active homes. Stain resistance is also very high on the list when it comes to customers with kids and pets. Grande adds, "We encourage clients to read the flooring labels and explain warranty details to ensure they have a clear set of expectations."
Many homeowners might not realize that what goes underneath the carpet is equally important. As with carpet itself, padding is available in a variety of thicknesses and materials. There are also options with an odor guard and greater moisture resistance. Grande explains that, "The cushion affects the feel, resilience, cleaning and the life of the carpet. In fact, some warranties will vary depending on the selected padding."
Tried and true alternatives
For families large and small, carpet is not the only flooring alternative. Laminate and vinyl products continue to be cost-effective and resilient options. Laminate floors may have the look and texture of real wood but they are far more durable and scratch-resistant plus protected from dents and burns. They are easier to maintain and installation is faster. While the majority of laminate options have the appearance of wood, some are created to resemble ceramic tile and natural stone.
"We knew a laminate floor was what would work best for our kitchen, bath and foyer. But, there were so many options," says Carol Scott of Voorhees. "At the showroom, John and his team shared a variety of the styles and wood-like alternatives yet felt it best for us to take samples home. That made all the difference."
Grande adds, "If moisture may be an issue, we offer products with warranties that cover water damage. We also carefully select those with accessories, such as air vents, that coordinate with the floor and decor."
Luxury vinyl tile, or LVT, is designed to share the appearance of ceramic tile or wood. Available in planks to provide greater aesthetics, the tiles appear grouted like ceramic tile. LVT is quick to install, highly durable and easy to maintain using the proper products.
While not for every household, hardwood and ceramic floors never go out of style. Hardwood flooring is available with either a factory finish or on-site custom sand and finish. According to Grande, "Factory finishing offers a number of advantages, including defect inspection and faster installation without the dust and odors involved with on-site finishing." Both factory finishes and on-site finishes are available in either high gloss or matte and with the newest finish innovations most require no waxing.
For ceramic tile, Grande explains that selection and expertise is critical to performance. "More than any other flooring, ceramic tile requires the proper subfloor system and setting materials. Without a sturdy base, the grout or tile may crack," says Grande. "Further, the quality of raw materials, the firing process, and the sophistication of glazing applications determine the quality of the finished product."
Taking the first step
With so many flooring options, it comes down to having the knowledge to make the best decision. Grande adds that, "There is no one floor that is right for everyone, every room or every home. That's why we are committed to offering clients everything they need from start to finish, including guaranteed installation by our own experienced employees, finance options and warranty service. We are dedicated to providing the highest level of client satisfaction and to keeping customers coming back time and again."
Grande Floor Covering is located at 1202 Haddonfield-Berlin Road, Suite A in Voorhees near the entrance to Alluvium and South Gate Plaza. The showroom is open Monday through Friday from 9:00 a.m. to 5:00 p.m. with evening hours until 8:00 p.m. on Wednesdays, Saturdays from 10:00 a.m. to 4:00 p.m. and by appointment. For more information or to schedule a complimentary in-home estimate, call (856) 719-0500 or visit GrandeFloorCovering.com.
Published (and copyrighted) in Suburban Family, Volume 1, Issue 9 (November, 2010).
For more info on Suburban Family, click here.
For information about advertising in Suburban Family, click here.
To find out where to pick up your copy of Suburban Family, click here.