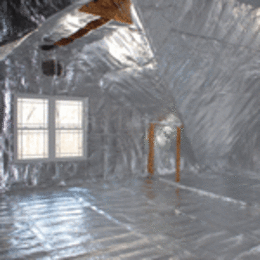 From the Moon to Your Roof
Thermal Reflective Insulation
When it comes to saving on home utility bills, people often ask many of the same questions. "Generally, homeowners want to know what is contributing to their energy loss and what is the most cost effective way to improve on these deficiencies," says Sam Litwin, president of The Energy Group. "We look at all areas of one's home to determine the best possible ways of improving energy efficiency and the ultimate savings that can result."
Starting at the top
Litwin explains that, "Many people don't realize that approximately 42 percent of a home's energy loss is through the attic due to a lack of insulation accord­ing to the Department of Energy. So upgrading this area of the house to the recommended insulation levels offers one of the greatest energy saving returns on investment."
At The Energy Group, the team of certified consultants have done their research and found that while adding insulation is one corrective measure, the choice of product is equally as important. "We are the region's exclusive installer of eShield Ultramax™ - a highly efficient energy barrier with reflective characteristics that keep a home warm in the winter and cool during the hot summer months."
After years of use in the commercial marketplace, eShield Ultramax™ has gained popularity for residential use over the past three years. Homeowners welcome the inherent qualities of this newer technology that is now a competitively priced alternative to fiberglass insulation. The eShield Ultramax™ works by resisting heat transfer through emission and reflecting radiant energy from the sun. The certified Energy Star product is a fire resistant insulation primarily used for attics, and works with the home's existing insulation to modulate temperatures within the home providing greater comfort from room to room. It is ideal for homes of any age and compliments other energy saving products and lifestyle changes. As the exclusive installer of eShield Ultramax™, The Energy Group team can complete the insulation upgrade project within one to days depending on the attic size.
The eShield Ultramax™ technology is not new. In fact, it has been around for more than 40 years and was used in the production of the NASA spacesuits when the astronauts walked on the moon in 1969. "When on the moon, the crew was faced with drastic variances of temperatures - 310° F when facing the sun compared to -240° F in the other direction," Litwin says. "NASA trusted it for our astronauts. Seems like a viable option for homes."
Viewing energy savings inside and out
Energy saving solutions extend beyond the obvious and common deficiencies found in the lack of attic insulation. That's why The Energy Group recommends a complete in-home en­ergy analysis to explore the entire home. This comprehensive re­view takes a look at the home's physical attributes but also life­style habits.
"The key is a proper examination inside and out," Litwin says. "We start by reviewing the homeowner's energy consumption, answering questions and ad­dressing concerns – no matter how small. From there, we analyze the exterior and then walk room-to-room with the client right beside us. It's their home and they should be a part of the process."
In reviewing the exterior, The Energy Group examines a home's size, its orientation, window and door conditions, plus soffit venting and any obstructions for proper air circulation. Doors and window leaks are also key areas for review from the inside along with refrigerator and freezer settings, washer and dryer usage, water heater insulation and more.
"A proper analysis generally takes about 90 minutes for a 3000 square foot home," Litwin says.
"At the conclusion of the complimentary evaluation, we provide homeowners with a detailed report that outlines our findings. Moreover a list of recommended solutions to improve upon energy inefficiencies is shared and we are here to help implement the changes needed to save on energy costs. But we just don't say our suggestions will save homeowners money. We guarantee it in writing. If clients don't see a savings of at least 30 percent in their utility bills, we will pay the difference."
The NJ-PA Energy Group, LLC corporate office is located at 301 East Black Horse Pike in Folsom and serves homeowners throughout New Jersey and Eastern Pennsylvania. For more information about their energy-saving solutions or to schedule a complimentary home analysis, call (877) 864-3030 or visit EnergyGroup123.com. NJ License # 13VH05547300 / PA License # 072167.
Quick Cost Saving Tip from The Energy Group
According to Litwin, homeowners can save on electric bills by keeping their refrigerator set at 40° F and simply changing their freezer setting from zero to 5° F. Published (and copyrighted) in Suburban Family, Volume 1, Issue 9 (November, 2010).
For more info on Suburban Family, click here.
For information about advertising in Suburban Family, click here.
To find out where to pick up your copy of Suburban Family, click here.