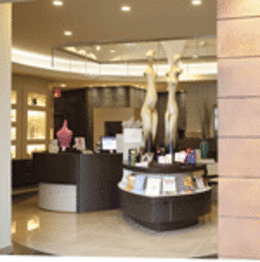 Beauty Should Be a Lifestyle
Thanks in large part to research and development, cosmetic sur­gery has evolved like many areas of medicine. However, changes in patient lifestyle have been equally as relevant. "Clients are looking for techniques that offer far less downtime and cost, without sacrificing excellent re­sults. Develop­ers have responded with a variety of non-surgical, non-invasive options," says Dr. Lyle M. Back, medical director of The Advanced Beauty Center at vir tú and founder of The Cosmetic Surgery Center of Cherry Hill.
Natural enhancements
According to Back, "For the past ten years, non-surgical treatments have outpaced the surgical procedures. We see this at our practice every day. Clearly, the No. 1, most popular product that has impacted the market is Botox®. It has changed people's lives and the world as a whole. In fact, it represents more than 50 percent of all cosmetic procedures done in the United States." Other non-invasive techniques include fillers, such as Radiesse and Restylane, laser hair removal and cosmetic peels.
Another trend that goes hand-in-hand with lifestyle is one's desire for results with a more natural appearance—detailed chang­es in place of dramatic transformations. "No one wants to have the changes be too obvious. Instead, we look to provide an appearance of wellness and do so subtly over time with age-appropriate chang­es," Back explains. "We create that artistic balance between enhancement and look­ing natural—a look that suggests you 'always looked this good' and now simply look better."
To accomplish such results, the tools have evolved greatly and these instruments are advanced to the finest point. Back says that, "Today, the SmartLipo instrument has the diameter of a paper clip wire whereas before, it was the size of a cigar. This in and of itself has revolutionized what we are able to accomplish for our patients."
"Despite the fact that approximately 80 percent of all cosmetic procedures are non-invasive, there are surgical procedures that re­main popular," says Back. "Breast im­plants are the most common and like many cosmetic treatments, the improved technology offers better and more natural results. Body contouring with liposuction as well as tummy tucks, eyelid lifts and rhinoplasties round out the top five in popularity as we see it."
Healing Partnership
After years at his practice at The Cosmetic Surgery Center of Cherry Hill, Dr. Back joined Virtua Health and opened his second location at vir tú—a Spa, Advanced Beauty Center and Wellness Institute located in Washington Township. He and his team of experienced professionals take a hands-on approach that begins with the initial consultation and offer a comprehensive menu of surgical and non-surgical cosmetic procedures using the latest state-of-the-art technology. Despite the medical nature of these advanced techniques, patients would never know it when they enter. They are welcomed into a warm, luxurious setting where comfort is key. "I have been a strong believer in the concept of proactive wellness for years," Back says. "So, when I was approached by a team of forward-thinking professionals who were focused on creating an environment of wellness versus illness, I could not resist being a part of this revolutionary destination. Three years later, vir tú was born."
"This personal oasis is a place to be beautiful and a lot more. It is a place to feel good about yourself," says Back. Beyond the services at The Advanced Beauty Center, vir tú is a full-service day spa with body and facial treatments, massage therapy, nail care and hair styling. Virtua also continues its commitment to preventative health at The Wellness Institute at vir tú. Back says, "The programs promote healthy mind, body and spirit for individuals at every level regardless of age, sex or need."
Advancing beauty like never before
So what's next? Back believes that it will be a continued trend towards newer and better techniques, offering great results at a lower cost in terms of time and money. More importantly, he feels that health systems, like Virtua, will take an even greater initiative towards both physical and emotional wellness. "Vir tú is the first of hopefully many places where clients and patients can go to experience the pleasure of a vacation not so far from home."
He adds, "As someone who has been practicing the art of plastic surgery for more than 20 years, I can truly say that people do get true satisfaction when they feel good about themselves and their appearance."
Lyle M. Back MD has two practice locations in South Jersey. The Cosmetic Surgery Center of Cherry Hill is located at 1942 Route 70 East in the heart of Cherry Hill and The Advanced Beauty Center at vir tú is located at 239 Hurffville Cross Keys Road in Washington Township. For more information or to schedule an appointment, call (800) MAKEOVER or ILoveLyleBack.com.
Published (and copyrighted) in Suburban Family, Volume 1, Issue 9 (November, 2010).
For more info on Suburban Family, click here.
For information about advertising in Suburban Family, click here.
To find out where to pick up your copy of Suburban Family, click here.