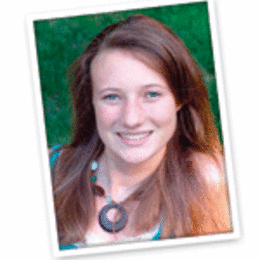 Star Citizens: November, 2010
Rachael Scott, Marlton
Rachael Scott (pictured), 17, started the "Tickled Pink" club two years ago to help comfort children in hospitals. After successfully raising money and organizing special events for local pediatric facilities, Tickled Pink recently became an officially recognized club at Cherokee High School, where Scott is a senior. The club now has more than 50 members, and continues to raise funds to organize field trips and other events.
Mollie Ward, Cherry Hill
Mollie Ward, a fourth grader at A. Russell Knight Elementary School in Cherry Hill testified before Congress recently about childhood cancer and the need for more research for pediatric patients. Mollie was honored by ABC World News Tonight as its "Person of the Week" on Sept. 17. Check out the video on our FaceBook page, here.
David, Louis and Henri McGuigan, Haddonfield
Brothers David, Louis and Henri McGuigan, ages 17, 15, and 12, respectively, volunteer their time each week to tutor students at the Kids Alley Learning Center at the Fairview United Methodist Church in Camden. Their duties include helping with homework and leading students in creative learning activities. David and Louis attend Haddonfield Memorial High School; Henri attends Haddonfield Middle School.
Joe Ehrline and Kate Morken, Moorestown
Joe Ehrline and Kate Morken founded the Moorestown Charitable Works Club in 2007 to help local families teach their kids how to develop life skills while giving to others in need. On Nov. 27, they'll hold their annual Flag Football Charity Tournament, expected to raise $15,000. So far, the group has raised nearly $20,000 for The Boys & Girls Club of Camden County.
AvErianna Wheeler, Washington Township
Averianna Wheeler, 9, runs her own pink lemonade stand to help local women with breast cancer. The fourth-grade student has raised more than $1,500 to help women with breast cancer defray their medical bills. She was recently recognized by Kohl's Department Stores in their Kids Who Care program.
Dr. Richard Simmers, Washington Township
In October, Dr. Richard Simmers was awarded the March of Dimes Born to Shine Award in honor of his outstanding care for children. Simmers is a pediatrician with Kennedy's Washington Township facility.
Emma Sauerwein and Lizzy Klump, Moorestown
Moorestown High School senior Emma Sauerwein, 17, and junior Lizzy Klump, 16, who formed their own film company, Mad Kidz, recently donated their time and talents to create free DVDs preserving the life stories of residents at the Evergreens retirement community in Moorestown.
Ellen Waite, Washington Township
Bells Elementary School special education teacher Ellen Waite has been selected as one of 41 teachers nationwide to receive the 2010 Outstanding Special Education Teacher Award from the National Association of Special Education Teachers. The award is granted annually to teachers who have demonstrated outstanding achievement in the field of special education.
Gabrielle Kenny, Voorhees
Gabrielle Kenny, a junior at Eastern Regional High School in Voorhees, was so moved by recent news accounts of bullying that she wrote and self-published a young adult fiction novel titled Invisible. It is a supernatural thriller that focuses on the impact of bullying on teens and adults.
Gisele and Mario DiNatale, Cherry Hill
Gisele and Mario DiNatale successfully campaigned in October for the state assembly and senate to declare the third week in January Teen Cancer Awareness Week. Senator Jim Beach and Assemblyman Lou Greenwald presented the bill, which was passed unanimously. The DiNatale founded the Alicia Rose Victorious Foundation in 2002 after losing their daughter to cancer.
Michael and Elizabeth, Piccinnini Medford
Michael and Elizabeth Piccinnini of Medford recently hosted a foster child in their home through the Fresh Air Fund. The Piccinis took the eight-year-old boy, who lives in an urban environment, to a local lake to boat and fish, let him experience a bonfire, and see the shore.
Ron Dempsey, Washington Township
This month, Washington Township High School Chinese teacher Ron Dempsey returns to China for the third year in a row after having been selected to join the 2010 Advanced Study and Training Program on Pedagogy and Chinese Teaching Materials program in Beijing. Dempsey will participate in various workshops and local school visits, gaining firsthand information on the latest Chinese language teaching materials and methods.
Published (and copyrighted) in Suburban Family, Volume 1, Issue 9 (November, 2010).
For more info on Suburban Family, click here.
For information about advertising in Suburban Family, click here.
To find out where to pick up your copy of Suburban Family, click here.