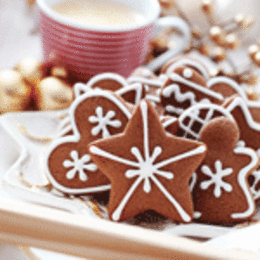 Playing with Food: Smart Cookie
Like many of us, Sue Verchio of Cherry Hill bakes holiday cookies. Unlike most of us, she bakes between 1,500 and 1,700 of them during a three-day solo marathon—as many as 12 different kinds each year.
"I've been baking for about 30 years," Verchio says.
Giving family and friends, on average, 120 cookies apiece every year, Verchio recommends packaging the cookies in simple cardboard gift boxes with tissue paper instead of tins: "It's more economical! Just make sure to tell everybody to transfer the cookies to an airtight container so they don't get stale." Here's one of Verchio's most requested recipes, handed down from her mother:
French Butter Creams
1 ½ cups powdered sugar
1 tsp. baking soda
1 tsp. cream of tartar
G tsp. salt
1 cup softened butter
1 egg
1 tsp. vanilla extract
2 G cups all purpose flour
colored sugar crystals
In large bowl combine all ingredients but flour. Mix on low speed with electric mixer for about 1 minute, until well blended. Gradually add flour and blend on low until all is mixed in. Wrap dough in plastic wrap and chill in refrigerator 20-30 minutes. Roll dough into small balls approx. 1 inch in diameter. Place on cookie sheet, about 2 inches apart. With the back of a fork that has been dipped in flour, flatten each cookie. Sprinkle each cookie with colored sugar crystals. Bake in 350-degree oven for 6-8 minutes or until cookies are lightly golden brown around edges. Cool cookies on baking sheets for 3 minutes before removing to cooling rack. Store in airtight container. Makes approx. 6 dozen cookies.
Recipe courtesy of Sue Verchio of Cherry Hill
Cream Cheese Cookies
5 cups Flour
5 eggs
5 teaspoons baking powder
1 8 oz. package of softened cream cheese
1 cup of butter, melted (two sticks)
1 cup of granulated sugar
1 tablespoon vanilla extract
Glaze:
1 cup powdered sugar
Up to 1 cup of whole milk
Colored sugar crystals
This recipe can be cut in half, just use half of each ingredient and 3 eggs.
In mixing bowl on medium speed mix cream cheese and sugar for about 1 minute or until well-blended. Add flour, baking powder, eggs, melted butter and vanilla. Mix just until dough comes together. Drop teaspoonfuls of dough on cookie sheets about 2 inches apart. Bake at 350 degrees for 10 -15 minutes or until edges are lightly browned. Let cookies cool completely. Makes about 8 dozen cookies.
To glaze cookies, spread cookies out on wax paper. In small bowl mix powdered sugar and milk, add a small amount of milk at a time until glaze becomes drizzle consistency. With spoon drizzle glaze over cookies. While glaze is still wet sprinkle cookies with color sugar crystals. Remove cookies to dry wax paper and leave out overnight. Store in airtight container.
Recipe adapted by Cherry Hill resident Sue Verchio from the Land o' Lakes Best Loved Recipes cookbook
Raspberry Almond Shortbread Thumbprints
2/3 cups of sugar
1 cups softened butter
1/2 teaspoon almond extract
2 cups flour
1/2 cup seedless raspberry jam, or other flavor
Glaze
1 cup powered sugar
1 1/2 teaspoon almond extract
2 to 3 teaspoon water In large mixing bowl combine sugar, butter and almond extract. Beat at medium speed, scraping bowl often, until creamy (2-3 minutes). Reduce speed to low; add flour. Beat, scraping bowl often, until well mixed (2-3 minutes). Shape dough into 1 inch balls. Place 2 inches apart on cookie sheets. With thumb, make indentation in center of each cookie (edges may crack slightly). Fill each indentation with about 1/4 teaspoon of jam. Bake in 350 oven for 15 to 17 minutes or until edges are lightly browned. Let stand 2 minutes on cookie sheets before removing to cooling racks.
In small bowl stir together powered sugar, 1 1/2 tsp almond extract and enough water for glazing consistency. Drizzle over cookies. Cool Completely. Makes approximately 3 1/2 dozen.
Fabulous Baker Boys—and Girls
Looking for a holiday activity to do with your teens?
Sur la Table offers a cookie workshop for beginners and expert bakers alike, ages 12 and up. Learn fast and easy tips for flawless cookies every time. On the menu: Scandinavian Rosettes, Honey Nut Squares, Chocolate Peppermint Bar Cookies and Glittering Lemon Sandwich Cookies. All recipes come from The Gourmet Cookie Book by the editors of Gourmet magazine. Sat., Dec. 11, 11 a.m., $69 per person, at the Promenade at Sagemore, 500 Route 73, Marlton. For more information, (856) 797-0098 or Cooking031@surlatable.com.
Published (and copyrighted) in Suburban Family, Volume 1, Issue 9 (November, 2010).
For more info on Suburban Family, click here.
For information about advertising in Suburban Family, click here.
To find out where to pick up your copy of Suburban Family, click here.