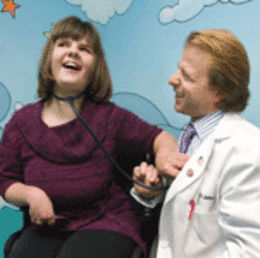 Pediatricians We Love
Readers share their stories of pediatricians who go above and beyond the call of duty.
Readers share their stories of pediatricians who go above and beyond the call of duty.
A Friendship Forged in Tragedy
Dr. John B. Tedeschi, Cherry Hill
"My daughter, Caitlin, 15, has known Dr. Tedeschi for 14 years. She met him when she was a year old; at the time, he was a resident at Cooper University Hospital, where she was admitted with suspected shaken baby syndrome. She had been airlifted to the trauma unit there because of injuries she'd sustained at her babysitter's house. It's very upsetting and difficult to talk about this. It was a very long time before we could see Caitlin. She had suffered severe brain damage, fractured shoulders and dislocated hips.
Later, the doctors determined that she'd also sustained a retinal fold and was blind in one eye. They had to put her in a drug-induced coma because her brain was so swollen, it was too hard for her little body to do its basic functions. She was so fragile. She was hospitalized from May through October. Dr. Tedeschi didn't just care for my daughter—he cared for me, too. He always asked how I was doing, and spent time talking to me constantly. He and some other doctors made sure my family had a room at the Ronald McDonald House in Camden.
The doctors didn't think that Caitlin would make it, but today, she's a normal sized 15-year-old. She doesn't function like one—she doesn't have speech, but she almost has full vision back. Now Dr. Tedeschi is her regular pediatrician for normal kid stuff. If I have questions about anything, he will always talk to me as a friend. A lot of times, I will hear things that I don't realize I am not understanding at the time, and so I need to call him again once I get home. He always takes my calls and is patient with me until I understand. I feel like Caitlin is special to him.
Now, she has other siblings and he always makes sure to take time with them, too. He understands how it's tough to have a sibling like that. And he still always makes sure to ask how I am, too. He's like an angel when he reminds me of the tiny details of her progress that matter, but that I sometimes miss. He is sincere. He is funny. I would never, ever change pediatricians. He treats all my kids with such respect. You can tell he really loves kids."
—Kimberly Bray, Medford Lakes
This Doctor Makes House Calls
Dr. Terri L. Murphy, Medford
"Whenever we visit Dr. Murphy's office, we rarely have to wait, even when she has a full schedule. I always feel like Dr. Murphy listens not just to whatever my husband and I have to say, but also what our daughter, Kelly, 5, tells her. Dr. Murphy has been our family's pediatrician for four and a half years now. That might not sound like a long time, but when you're talking about your kid's health, any amount of time is important. We've made many trips to see Dr. Murphy, whether it's been for well-visits, immunizations, or treating ear infections, but one story stands out.
When Kelly was one and a half, she fell on a toy and couldn't put any weight on her right foot. We called Dr. Murphy, who immediately came so see us at our home. Dr. Murphy thought it best for Kelly to go to Children's Hospital in Philadelphia, where they determined that she'd broken her tibia. The experience of having the cast put on her leg had really upset our daughter; after that, she was too was scared to return to the doctor's office. So, Dr. Murphy suggested we bring her in a few times, not for an examination, but so that she could sit with Kelly in the lobby and just read to her. The idea was to get her to stop associating doctors strictly with pain. Dr. Murphy didn't charge us a cent for this, but that's not what was most important. It's that she was willing to take the time necessary in order to make our daughter feel comfortable again.
I know that I am not the only one who has had such positive experiences with Dr. Murphy and her entire staff. Sometimes, when talking with my friends who are parents, a good "Dr. Murphy story" will come up because we are all so grateful for her service. I have referred every one of my friends and family members with children to Dr. Murphy."
—Krista Carbone, Tabernacle
Worth the Trouble … and the Meatballs
Dr. Eric Dorn, Washington Township
"We just clicked with Dr. Dorn right away. We love everything about him, especially his demeanor, which is non-threatening. My daughter, Francesca, 5, is very shy with adults that she doesn't know, but she took to him right away. I think it's because it's clear he really cares. He never makes us feel rushed and he always takes the time to put my daughter at ease; he doesn't just launch right into the examination. For example, he might show her his stethoscope and then let her play with it while he makes conversation with her.
The gentle way he talks to her is also how he talks to me whenever I am in a panic, and you know how moms can sometimes get into a panic! Once, Francesca fell and was just covered in blood. I called Dr. Dorn's office kind of hysterical, but they were just closing. Dr. Dorn stayed after though, so I could bring her in. It turns out that Francesca was fine, but it meant so much to me that I could take her over to see him immediately and that he would be there. After that, I started cooking for him and his office staff, who I also love, on a regular basis. The first time, I brought them meatballs, next it's baked ziti. Last month, I made them sausage and peppers. They're worth it. You don't want your kids to be sick, but if they do need help, you want to take them to someone like Dr. Dorn. Both he and his whole staff—they're such warm and wonderful people. I love them all."
—Teresa Gatta, Washington Township
Dr. Michael Goodman, Cooper University Hospital Head of Pediatrics
"Dr. Goodman is awesome! My daughter, Annie, 14, had a concussion earlier this fall. Her regular pediatrician was concerned about her recurring nausea, headaches and dizziness, and suggested we see a neurologist, but the only appointments we could get were months away. When I called Dr. Goodman, who also specializes in pediatric neurology, he saw us the next day—and it was his day off! He was the best doctor I think I have ever seen. He explained everything without talking down to us, and really listened to us. He confirmed Annie had a serious injury and gave me a sense of what to expect. She's better now. I just cannot possibly say enough good things about Dr. Goodman."
—Melinda Cooke, Marlton
Dr. Reynaldo Velasco, Cherry Hill
"Dr. Velasco just has an energy that is infectious. He's fabulous with my kids, Nikolas, 4, and Ava, 1. He's bubbly, energetic, warm, and always has a smile on his face—and he really knows my kids. My son has a lot of medical issues. Once, Dr. V actually called me a couple of days after a sick visit just to see how Nikolas was doing. You just don't get that one-on-one kind of care from a lot of doctors any more. Both of my kids have seen him from the very beginning. I can't say enough fine things about him. He's just a really, great, great guy."
—Stacy Tuttle, Marlton
Dr. Aditee D. Leskowicz, Marlton
I'm a new, young mom, so I can get overwhelmed. When my son, Simeon, 2, gets sick, it can feel like the end of the world to me, especially because I am somewhat over-protective. Dr. Leskowicz is really calm, though; she always reassures me. I connected with her from the very beginning—she's been my son's doctor since he was born. I definitely trust her. She remembers everything I say, and is very attentive to my son. He's very comfortable around her, which is important, because normally, he's very shy with others."
—Athena Poulathas, Cherry Hill
Dr. David Bruner, Washington Township
"Dr. Bruner is very personable and approachable, and talks to me and my boys, Alexander, 10, Danny, 8, and Matthew, 1, without confusing or overwhelming them. One time, Danny scratched his eye, and rather than go to the ER, Dr. Bruner saw him in his office after hours. He took care of everything there, including giving us antibiotic drops, so we never had to go to the hospital, and Danny was fine. Dr. Bruner is always able to find a solution. I would recommend Dr. Bruner in a heartbeat to anyone with kids of any age."
—Dina Meddings, Washington Township
Dr. James Kaltenbach, Cherry Hill "I have known Dr. Kaltenbach for a long time. He was my doctor when I was a kid. He just takes all the necessary steps to make sure each of my kids, Ryan, 17, Maggie, 15, Andy, 14, and Erin, 11, all get the attention they need. Andy is a type-one diabetic and Dr. Kaltenbach educated himself a lot about the disease for my benefit; he always makes sure to read the latest information and to have copies of articles waiting for me to make sure that I know the latest. I love that he pays such close attention. When Andy, who loves playing sports, was diagnosed, Dr. K. made sure to tell Andy the names of professional athletes who also have the disease. That meant so much to my son, to hear from a doctor that people like Bobby Clark are also diabetic. Dr. K. told Andy how important it was for him to keep playing sports, which helped my son keep up his spirits."
—Peggy Rust, Haddon Township
Dr. David Chasen, Voorhees
"When I was still in the hospital after giving birth to my daughter Alessia, now 12, Dr. Chasen was there and asked who my pediatrician was. I hadn't even thought about that yet! I asked him to be, and he started taking care of my daughter that day. Since then, my daughter has only felt comfortable with him. His personality and friendliness towards her always make her feel safe."
—Laurie Weiner, Washington Township
Dr. April Douglass-Bright, Washington Township
"When my daughter, Lelah, now 8, was 2-and-a-half years old, she was admitted to Cooper with pneumonia. The doctors told me my daughter could die. Dr. Bright is our pediatrician—she didn't need to be at the hospital with us, but she visited me there and let me cry on her shoulder. She is like an extension of our family."
—Shia Tekhna, Lawnside
Dr. Robert Weitz, Medford
"You can tell pediatrics is Dr. Weitz's life. He is just so into it. I always get the sense that he is compassionate, but sees the bigger picture. For example, my daughter, Gianna, 3, is having night terrors right now. I might think it's awful and will go on forever, but he always is able to see past things and help you to realize you and your kid will come through it. But he does it in a way that still makes it clear he takes your concerns seriously. He just has such a nice manner about him."
—Heather Mooney, Medford
Dr. Allison S. Fanelli, Marlton
"I actually grew up seeing other doctors in the practice where Dr. Fanelli is. Now, as a mother, I wouldn't trust anyone else with my baby. When my daughter Layla, 14 months, was born a month early, Dr. Fanelli came to visit me in the hospital and reassured me that it was going to be OK. She treats me kindly and listens to what I have to say."
—Jackie Chain, Haddonfield
Dr. Bruce Gooberman, Merchantville
"Dr. Bruce Gooberman is a one-of-a-kind doctor. He is always willing to go the extra mile for my three children, Deanna, 15, Brendon, 13, and Natalie, 4, and also for me. He is very thorough, and he always makes the time if I have any added questions, which I normally do. Dr. Bruce has been my family's doctor since 1995 and I have never second-guessed his decision. His waiting area is also thoughtfully designed so that there are different sections for sick visits and well visits."
—Cheri Jackson, Delran
Dr. Florence Pandit, Voorhees
"Over the last 20 years, because we've had lots of health issues to deal with, my family has gone through six pediatricians, but Dr. Pandit is the best. I just love her and have never met any other doctor like her. I have three kids who have seen her—Evey, 7, Riley, 13, and Jamey, 16. If I go with one to see Dr. Pandit, she always asks about the other ones. She remembers things about them, and it's clear she really cares. She is a good listener."
—Donna Bell, Cherry Hill
Dr. Melissa Chase, Cherry Hill
"Dr. Chase never makes me feel rushed. I get the sense that she is very educated, but she speaks to me as an equal. And, I love that as a D.O. (doctor of osteopathy) she thinks in terms of the whole body. Plus, she's very gentle and calm with all my kids, Lilly, 4-and-a-half, Ella, 2, and my 3-month-old twins, Luke and Gabriel. Dr. Chase called me once from her vacation to check on my daughter who was ill, because we didn't know yet what was wrong with her and we were still waiting on the tests to come back. That meant something to me."
—Kristin Davis, Cherry Hill
Published (and copyrighted) in Suburban Family, Volume 1, Issue 9 (November, 2010).
For more info on Suburban Family, click here.
For information about advertising in Suburban Family, click here.
To find out where to pick up your copy of Suburban Family, click here.