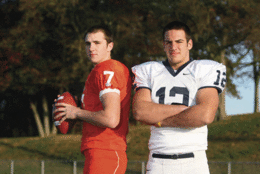 Turkey. Tradition. Tackling.
South Jersey sports fans live for heated rivalries—and this fall brings plenty of hotly contested games both old and new among on-field opponents. Here's your guide.
Turkey isn't the only tradition being served up across South Jersey this Thanksgiving season. This month is also the time when high school football traditions come to the fore. With excellent coaching staffs, tremendous talent among current stars and up-and-coming athletes—and lots of history at stake—there's plenty to cheer about.
Take Cherry Hill East and West. No matter the sport, when the two meet it's a notable event. "All the sports teams [at both of these schools] look forward to playing each other," says Cherry Hill West athletic director Dr. Ira Kosloff. East and West both have teams worth watching, but the intensity of the fans is also worth the price of admission.
"The atmosphere is intense, passionate, and fanatical. The Cougar Countryman dressed in all red; the West fans in their purple," says Cherry Hill East assistant boys' basketball coach Dave Allen. "The anticipation leading up to the East-West game is immense," Allen says. "It is great for the fans, but a challenge for the coaches who are always trying to come up with a wrinkle that the other hasn't seen."
Shawnee vs. Cherokee
Shawnee was the consensus No. 1 team in South Jersey in 2008; Cherokee was the top team in 2009. And both were ranked within the region's top 10 when they met earlier this season at Cherokee on Oct. 22. Cherokee won, 29-15. Unsurprisingly, Shawnee is thirsty for a rematch.
"It's the game of all games," says Shawnee senior linebacker Nick Suriano. "I remember going to bed the night before [the Oct. 22 game], having just a different feeling."
"It is a lot bigger than most games," agrees Cherokee fullback-safety Mike Zeuli, who has emerged as one of South Jersey's top defensive players. "It's two traditionally great teams that compete hard against each other and make each other better."
Although both teams play several so-called "big" games, this one is the juggernaut. "Walking down the stairs to the field, the feeling is unexplainable," Suriano says. "It's nuts." Or, as Cherokee quarterback Andy Martin says, "Intense—that would be the best way to describe it." Regardless of the score, the intensity never lets up. "You always figure that to be the best you have to beat the best, which is why you look forward to playing Cherokee," says Shawnee linebacker Dillon Lucas.
But it's a rivalry without rancor. Shawnee coach Tim Gushue and Cherokee coach P.J. Mehigan have a great relationship. "There is a lot of mutual respect among the coaching staff and players," Gushue says. "Both teams have great competitors, but are able to keep things in perspective and we really respect each other."
Each team has won its share of these games—which is, of course, what makes for a great rivalry. It all depends on the strength of the team in a given year. Shawnee won in 2008, but Cherokee has captured the last two wins.
The two will play other teams this Thanksgiving, but it's the annual Shawnee-Cherokee face-off that garners the most tension. We'll be watching next fall to see who comes out on top.
Paul VI vs. Camden Catholic
These two parochial schools have been rivals almost since their first game, back in 1968. Camden Catholic coach Rick Brown says, "The price [of the two schools' tuitions] is identical and the location is close, so there is a lot of pride when a youngster chooses one school over the other."
Camden Catholic and Paul VI have become two of the most respected football programs in South Jersey. Paul VI entered the season with three consecutive division championships, and once again the Eagles have been ranked among the top five in South Jersey. Camden Catholic also spent time in the rankings this season; the Irish hold a 26-15-1 lead in their rivalry with Paul VI.
At their annual Thanksgiving match-up—either on the actual holiday, or the night before—fans show up early to ensure they'll get a seat in the packed bleachers. Paul VI senior wide receiver Chris Hutton says, "It's two of the best Catholic school teams, the green vs. the blue. It is always such a big game and brings out great energy. When you see the big crowd you have to be pumped up and ready to play because everybody and their mom is out there."
Brown goes one step further: "I can't imagine another rivalry that is bigger at this point in time, because of what Paul VI and Camden Catholic have become."
Camden Catholic senior linebacker Ryan Graves has been a varsity starter since his freshman year, and says the players approach the contest with a focused mindset. "You go into the game thinking that losing isn't an option. It's a game that we're so passionate about."
Washington Township vs. Williamstown
How, one asks, can there be a rivalry in a series that is really just starting? With this year's formation of the 65-team West Jersey Football League, Williamstown and Washington Township are now in the same division and will meet on Thanksgiving Day. Before this year the two never met in the regular season: Williamstown competed in the Tri-County Conference, while Washington Township was in the Burlco/Olympic Conference. Now, Williamstown and Washington Township—both big Group 4 schools from Gloucester County—find themselves together in the American Division.
"This certainly marks the start of a serious rivalry," says Washington Township coach Mark Wechter. Although this season will be the first Turkey Day meet-up between these programs, a postseason game laid the groundwork for the competition. Two years ago, in a South Jersey Group 4 playoff game before a capacity crowd on Washington Township's field, the hometown Minutemen scored an improbable late-game comeback to beat Williamstown, 28-24.
Vince Kowalski, Williamstown's senior two-way lineman, who played in that game two years ago, says that Washington Township has replaced Delsea at the top of Williamstown's rival meter. "It's a game for pride because they are the next town over and we want the bragging rights," says Kowalski, who has accepted a football scholarship to Villanova. Kowalski says that the playoff loss to Washington Township two years ago still hurts. Now, he's hoping Williamstown will take home the prize.
Haddon Heights vs. Haddonfield
As South Jersey football series go, this one is nearly as old as it gets. The longest-running rivalry, Vineland vs. Millville, dates back to 1893. Haddonfield first played Haddon Heights in 1902.
The two Colonial Conference schools have been playing continuously since 1922, and this Thanksgiving rivalry tugs at the emotions of the players and coaches, regardless of either team's record.
"The game is bigger than all of us," says Haddonfield coach Frank DeLano. "Your responsibility is to put on a tremendous show, treat the game with respect and class." Haddon Heights coach Tim George is in his fifth year guiding the Garnets, and his school lost the first four meetings with Haddonfield.
"We haven't won one yet, but I still look back and see how special it has been to be part of it," George says.
Of course, a victory would make it that much more special, and George looks forward to the day where he leaves the field with some hardware.
That's because the winner of the game receives the Mayor's Trophy and gets to keep it for the next year. "It's a Kings Highway rivalry," George says. "It's such an emotional game to walk up and talk to the seniors playing their last game."
Actually, it's not always the last game. Last season Haddonfield advanced to the South Jersey Group 2 championship, falling to Delsea, 40-22. The sectional championship game is played the week after Thanksgiving. Even though Haddonfield still had to prepare for a title game the following week, the Bulldogs treated the Haddon Heights matchup as their own championship.
"Both teams want to put on a great show for the respective alumni," DeLano says.
"When you are playing for pride and merely for that, there is always something special that drives you in the course of the game."
"Our rivalry is filled with such tradition," he adds. "The generations that have played in this, it becomes each team carrying on the school tradition."
Cherry Hill East vs. Cherry Hill West
It doesn't matter what the records are, there is always something at stake when Cherry Hill East and Cherry Hill West square off in their annual Thanksgiving football game. The winning team actually gets the boot—an old high-top bronze football cleat, known as the Al DiBart Memorial Trophy. "You can't imagine how good it feels to win the boot," says Cherry Hill East coach Tom Coen, himself a 1986 graduate of East, where he starred as a running back-defensive back for the Cougars.
"East-West is as big as any rivalry around," Coen says. "In a very large township, it creates excitement and both teams try to build it up in a healthy passion."
That is the key about this rivalry. The teams want to win that boot, but they're able to keep things in perspective.
"There is a lot of excitement, but the teams respect each other and show great sportsmanship," West athletic director Dr. Ira Kosloff says about all Cherry Hill East-West sports.
The game offers a lasting impression to those who have been fortunate enough to participate. Coen says he can still vividly remember the details of his final East-West game as a player, which his team won, 6-0, in 1985.
"I remember walking out for the coin toss, being overwhelmed with emotion, trying to hold it all back," Coen says. "Then you hear that first whistle and it goes away and it becomes a surreal experience, knowing it will be your last high school game."
This is a series that started in 1969 and East leads 29-12, but West has won the last three, including a 14-0 victory in 2009. "The game has everything a big game would want," Coen says, "tradition, drama, good crowds and, of course, playing on Thanksgiving makes it even more special."
Published (and copyrighted) in Suburban Family, Volume 1, Issue 9 (November, 2010).
For more info on Suburban Family, click here.
For information about advertising in Suburban Family, click here.
To find out where to pick up your copy of Suburban Family, click here.