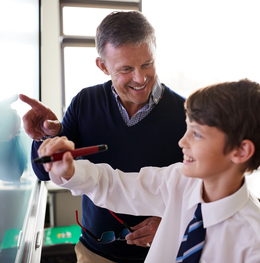 Private High School Report Card
The key stats and data to know from some of the area's premier private schools.
In the education world, there seems to be constant debate on the merits of a private education. But ask any parent of a child attending one of the schools, or the students themselves, and they'll have plenty of reasons why they love it. Whether it be the smaller class sizes and more individualized attention, perhaps a faith-based curriculum, unique extra-curricular opportunities or the increased number of AP and honors courses, there's seemingly something to appeal to everyone.
This year, Suburban Family has once again collected several of the most requested statistics from local private high schools, including tuition costs, percentage of graduates going on to four-year colleges, the student-to-teacher ratio and more. We also included some quotes from various school leaders to get a better idea of what helps them stand out in the crowd.
Archmere Academy
ArchmereAcademy.com
Tuition: $32,400
Student enrollment: 532
Student-to-teacher ratio: 9:1
Number of honors classes: 20
Number of AP classes: 23
Percentage of graduates attending 4-year colleges: 100%
"From the time when new students enter the main gates through commencement, Archmere Academy focuses on the whole person through academic excellence, faith reflection, social development and service to others. The Archmere experience provides preparation for college and beyond through a strong academic program, global studies, a variety of internship programs and more. Schedule a tour or shadow visit to experience Archmere Academy today!"
– Fred Voelker, marketing and communications manager
Moorestown Friends
MFriends.org
Tuition - $36,250
Student enrollment - 262
Student-to-teacher ratio - 6:1
Number of honors classes offered - 24
Number of AP classes - 17
Percentage of graduates attending 4-year colleges 100%
"For one week each March, regular classes are suspended for 'Intensive Learning,' when Middle and Upper School students and teachers engage in an in-depth study of a specific subject, often involving off-campus research at locations near and far. Upper School international trips this year include: China - Language and Culture; Paris and Southern France Homestay Immersion, Authentic Northern Norway: Saami Culture in the Arctic; Service and Culture in Ecuador; Language and Service in the Dominican Republic; and Exploring Belize. This long-standing MFS tradition – which dates back to the mid-1970s – allows teachers and students to break out of the structure of formal class periods and traditional study for a time of experiential learning. Both students and teachers are encouraged to view themselves as life-long learners and students of the world around them."
– Mike Schlotterbeck, director of marketing and communications
Padua Academy
PaduaAcademy.org
Tuition -$16,175
Student enrollment - 418
Student-to-teacher ratio – 13:1
Number of honors classes - 26
Number of AP classes - 21
Percentage of graduates attending 4-year colleges – 100%
"Padua Academy empowers young women to live Christ-centered lives of leadership and service through rigorous academic programs encompassed by a supportive and enriching learning environment and extracurricular opportunities that instill confidence, genuine sisterhood, and diversified resumes of our graduates. Our school spirit is a vibrant reflection of our faith and love for one another. The Padua sisterhood is palpable and you feel it upon entering the building."
– Emily Heagy, director of admission
Paul VI High School
PVIHS.org
Tuition - $11,995
Student enrollment - 1,045
Student-to-teacher ratio - 14:1
Number of honors classes - 17
Number of AP classes - 21
Percentage of graduates attending 4-year colleges – 90%
"If I had to pick one word to summarize our school, it would be 'balanced.' Paul VI students possess many different interests and talents, and it's important that we acknowledge and support as broad a range as possible. To that end, our Catholic education encompasses a multitude of electives, a full complement of sports, usually with multiple squads, and an extensive arts program. Each aspect is supported by the appropriate instruction and environment, whether it's the dance classes in our beautiful studio, the computer science classes in the robotics lab or communications courses in the TV studio. We're grateful for the ways in which our students use their abilities to enrich our community, and we want to give them the best tools to pursue their goals."
– Kathleen Stewart, admissions director
Published (and copyrighted) in Suburban Family Magazine, Volume 14, Issue 5.
For more info on Suburban Family Magazine, click here.
For information about advertising in Suburban Family Magazine, click here.
To find out where to pick up your copy of Suburban Family Magazine, click here.