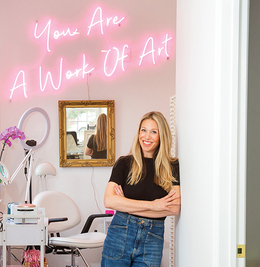 The Skin-Care Therapist
There's such a demand for Beauty by Biba's highly individualized, luxury services that the small studio opened a second Burlington County spa location this year—and continues to expand its team and services.
Biba Vernon describes her youth as an unusual one. The Los Angeles native grew up with experiences that don't typically punctuate one's formative years, like an airline attendant mother's experiential wisdom and a musician father's famous bandmates making frequent visits.
And she wouldn't trade that upbringing for the world, especially since it put her on the path of becoming the impassioned skin-care professional she's been for 20 years.
"My mother was always really into her skin—she didn't even fly international trips for a long time because her colleagues who flew international looked older," Vernon remembers. "Flying is horrendous for your skin: It's dehydrating, you have that really germy air and, back in the '80s, people could still smoke on the plane."
To combat frequent flights' effect on her skin, Vernon's mother headed to the Beverly Hills spa of Mila Moursi, "a French aesthetician with a huge cult following who, to this day, works on many celebrity clients, like Jennifer Aniston."
That lush, welcoming experience left a lasting impression on Vernon, who would often tag along to her mother's treatments. And it's exactly what she had in mind when she opened Beauty by Biba's new Moorestown spa, where Vernon and her hand-picked team of expertly trained aestheticians deliver individually customized luxury skin care and cutting-edge, age-defying treatments, all tailored to each client's needs and goals, complete with "the biggest, most beautiful beds that are like floating on a marshmallow."
"I remember Mila's creams and serums, and I remember Mila's big, white duvet covers," she says. "As an aesthetician, you work in so many places that you start to gather ideas, so my facials are this culmination of luxury and what I love. When I do a facial, I do it how I would want one: I give a scalp massage—that's included, that's not an extra cost—I clean out every pore, I don't leave the room, and they're 90 minutes long."
Those pampering signature facials that clients effusively liken to a religious experience are a huge reason why Beauty by Biba is often booked out months in advance—and helped Vernon ensure that her brand stands out in a crowded market. But she admits that creating such an in-demand luxury experience and having such a loyal, ever-growing following means that it's not always easy to schedule an appointment and realizes how frustrating it can be to find an open slot in Beauty by Biba's jam-packed bookings.
The answer, of course, was expanding, and Vernon credits lead esthetician Stephanie Controvich for finding the perfect Moorestown location to complement the smaller, more intimate boho-chic Medford flagship studio—right on down to the previous tenant's "crazy bathroom" adding some character all its own to the cozily, thoughtfully redesigned space that pairs perfectly with a pre-treatment flute or two of champagne.
A brand-new location demands state-of-the-art amenities, and Vernon spared no expense investing in the medical-grade product lines and high-tech machines that deliver showstopping results.
"It is a formal facial and waxing spa, so we have the most advanced oxygen therapy that's standard with all of our facials, which involves a dome going over you," Vernon says. "We have our mega-peel microderm machine, which gives you a choice of regular or medical-microdermabrasion, as one of our advanced treatments, as well as our advanced ProCell microchanneling and our microcurrent for getting a facelift overtime without surgery."
With its physical expansion comes an expanded menu of services, too, like educational teen facials, as well as a renewed dedication to the Brides by Biba bootcamp for your skin that gets every bride – and now their grooms, too – wedding-ready and picture-perfect for the big day.
And to keep delivering exceptional, attentively customized service, Vernon has spent months training every one of the five estheticians on her team, having them work on both her and a handful of clients she trusts to offer honest, constructive feedback. It's one way she's ensured that the bespoke services Beauty by Biba stakes its reputation on are always delivering above-and-beyond results and a truly luxurious, blissed-out spa experience.
"If anyone wants to book with me but can't, this team is still going to give you the best facial of your life," Vernon affirms. "Some very loyal clientele were hesitant to try anyone else, and they came back to tell me that they're just amazed these girls are giving them the signature Biba facial to a T. The whole staff has wonderful personalities, and they're so warm and passionate about making clients feel welcome."
After all, staying at the forefront of the beauty world starts with client care that blows the competition out of the water.
"There is no in-and-out in 60 minutes here," Vernon promises every Beauty by Biba client. "People want to feel like someone really cares and that someone is really invested in them. You're not just a number to us, and we're not going to sell you things that you don't need. We're going to develop a relationship with you, truly clean out your skin and help you get the glow you're after, help you understand the ingredients that need to be in your skincare at home, and we're going to remember your life events: When you're going on vacation, when you had your first grandchild—and we're going to want to see a photo next time you're here."
Beauty by Biba
The Studio: 1 North Main St Suite 1B, Medford
The Spa: 113 West Main Street, Unit 2, Moorestown
BeautyByBiba.com
Published (and copyrighted) in Suburban Family Magazine, Volume 14, Issue 5.
For more info on Suburban Family Magazine, click here.
For information about advertising in Suburban Family Magazine, click here.
To find out where to pick up your copy of Suburban Family Magazine, click here.