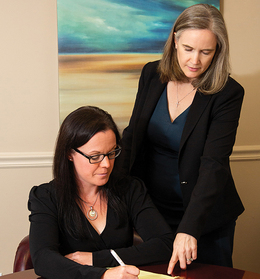 Family First
Whether dealing with clients or colleagues, the elder law firm, Rice & Quattrone, PC keeps the focus on what's most important.
Families come first at the law office of Rice & Quattrone, PC. The boutique elder-law firm with offices in Cherry Hill and Linwood, focuses on caring for aging loved ones, from estate planning to Medicaid eligibility, special needs trusts to guardianship issues –and everything in between. But in addition to offering this high level of expertise to client families, the Rice & Quattrone team also understands the importance of putting its own families first, too.
Balancing life from the beginning
When Nancy M. Rice was working for a large law firm in the early '90s, she was finding it difficult to find balance in her life as a full-time working mother of young children. She needed more flexibility, and with that thought and the help of a personal computer, she left to start her own firm.
Rice's goal was to produce high-quality work for clients while still being able to both take care of and nurture her own family – and this philosophy is still what drives Rice & Quattrone today. While her partner Pamela A. Quattrone has now taken over the day-to-day business of the firm, Rice still serves as managing partner. The two are joined by associate attorneys Sarah L. Cranston and Kerry L. DiJoseph.
Quattrone joined the firm in 2012, shortly after her first child was born. In fact, the family-first philosophy is what sold her on the job.
"My son was 6-weeks-old. I had an interview scheduled with Nancy and no one to watch him. She said to bring him along," Quattrone recalls. "That set the tone for everything else. We're great at what we do, but family comes first still."
It was this myriad of working-mom responsibilities that inspired Cranston to find a firm that aligned with her life priorities, too. She joined Rice & Quattrone two years ago.
"Trying to figure out how to raise a family and be in that world, and also be an attorney during the day – and sometimes late at night, depending on what's going on – I think it makes us better attorneys in a lot of ways," Cranston says.
Guiding clients
Attorneys at Rice & Quattrone are licensed in New Jersey and Pennsylvania, and Nancy and Pamela are nationally certified elder law attorneys. Services include all aspects of elder care, from basic estate planning to complex tax and long-term care planning, Medicaid applications, as well as special needs law, guardianships and estate administration.
"Our practice is completely centered on families and coming up with a plan for their loved ones," Quattrone explains. "We have older parents ourselves. We've personally experienced long-term care needs for some of our parents or in-laws. We've had parents or loved ones pass away. We've been in our clients' shoes and we use these personal experiences to become better at what we do."
Clients also don't need to worry if an emergency keeps their attorney out of the office. That's the beauty of a small firm – everyone knows what needs to be done and works to ensure clients are helped quickly, efficiently and in the best way possible.
"We're a team and we work together to serve our clients like we would help our own families. I think that helps with the balance. It takes the pressure off one person," Cranston says. "Even if I'm not able to give 100% today, the client is still going to get 100%. I know someone at the office is going to fill in when needed. We have that kind of relationship."
A safety net
The attorneys at Rice & Quattrone have their fingers on the pulse of all things elder law. They stay on top of the frequent changes in Medicaid, and specializing in one area of law ensures they know the ins and outs of all its aspects.
"We're not distracted by multiple areas of law," Quattrone says. "You couldn't possibly keep up with multiple areas of law and be an expert in all of them."
As active members of the New Jersey chapter of the National Academy of Elder Law Attorneys (NAELA), Quattrone and Cranston also have access to an entire state of elder law attorneys (and if needed, elder law attorneys all across the country). This relationship is invaluable for when twists and turns come up during a case.
"The elder law community in New Jersey is really collegial. Anybody who's a member of NAELA is incredibly willing to help other elder law attorneys," Quattrone explains. "It's like an extension of our firm. That's a huge resource for us and a huge benefit to our clients."
The strong support in the office and beyond ensures clients get what they need, but also that the employees at Rice & Quattrone get what they need, too.
Cranston says having it all and doing it all is what women are told to strive for, and while she doesn't think that's exactly realistic, she does think they come pretty close at Rice & Quattrone.
"Nancy and Pamela's family-oriented, woman-owned business worldview manifests in a super supportive, fun, yet challenging place to work and that ultimately benefits our clients," Cranston says. "I think it's smart on their part."
Rice & Quattrone, PC
Cherry Hill and Linwood
(856) 673-0048
www.RiceElderLaw.com
Published (and copyrighted) in Suburban Family Magazine, Volume 14, Issue 5.
For more info on Suburban Family Magazine, click here.
For information about advertising in Suburban Family Magazine, click here.
To find out where to pick up your copy of Suburban Family Magazine, click here.