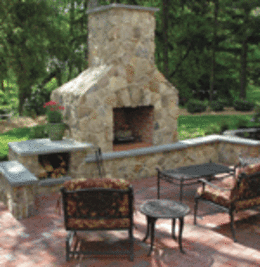 Young's Landscape Management
Falling Forward into Spring
Young's Landscape Management's suggestions for how to maximize your back yard in spring and summer by planning for it this fall With summer a distant memory and the kids back to school, this is the ideal time of year to get your home in shape for the upcoming holidays and even next spring. This may involve refreshing your home's exterior with lawn care maintenance and new plantings. It can also include designing an entirely new outdoor environment or simply enhancing the existing hardscape with lights and other amenities. The fall is great for adding more livability to your home "At Young's, we encourage clients to think ahead and take advantage of the many benefits of starting warm-weather projects now," says Dan Young, owner of Young's Landscape Management, a full-service firm specializing in all aspects of landscaping, hardscaping and lawn care for nearly 20 years. Fall is for planting
Many homeowners don't realize that fall is the best time for planting. There is a greater selection of ornamental trees and shrubs as well as perennials. In cooler weather, soil nutrients are more available to feed roots and do so more quickly. Shorter days, cooler temperatures and falling leaves also contribute to a well-established root system, supporting the rapid and active growth in spring. Falling leaves signify that plants are not putting their energy into limb or leaf growth; instead, the stored energy is being used to enhance root growth and general survival. A similar process exists for lawns, in which blade growth slows yet root systems continue to develop. "Specifically in South Jersey, the best time to plant spring-flowering bulbs is in October and November when nighttime temperatures are in the mid-40's," says Young's landscape designer, Ellen Foose. "It is good to have plantings complete approximately six weeks before the ground freezes." Planning now and planting hardy trees, perennials and shrubs in fall means all your favorites are in place at the first sign of spring. Yet, there is no need to wait months for natural beauty. Fall is also a wonderful time for ornamental grasses. Easy to maintain, natural grasses offer year-round grandeur but the fall seems to bring out their best; like leaves, the seed heads change hues and create a colorful collage of red, gold, orange, purple and blue. Hardscaping adds warmth and texture
To complement the natural beauty of plantings, hardscaping, lights and water features can be incorporated into landscape design. "At Young's, we view ourselves as interior designers for the outside of your home," Foose says. "We enhance the outdoor rooms and space in the same manner, bringing together nature with structures, surfaces, textures and elevations. These connected spaces add depth to the home's exterior but also a level of comfort with grand space for entertaining and small areas for more intimate conversation." Widening a walkway will seem more welcoming to guests; adding a pool or outdoor kitchen area for entertaining family and friends now means you will be ready when warm temperatures return. The fall season is also the right time to think about enhancements that will extend your time outdoors even as the days get shorter. Lighting can create a sense of warmth, accentuate a specific area or set an overall mood. Whether it is to highlight a silhouette tree or enhance the safety of a walkway, light fixtures should be professionally installed, hidden amid the landscape, rather than distracting from or dominating it. "Some homeowners like to change their lighting throughout the year," says Foose. "Depending on the season, there may be a need for different settings, colors and areas to highlight. Also, perhaps you entertain outdoors often and need appropriate lighting to do so. Such discussions are important in creating the best plan to meet your entire family's needs." Other popular additions include outdoor fireplaces, built to simulate the same coziness of an indoor hearth, or masonry fire pits for a true open-air campfire appeal. Fake is beautiful
One of the latest trends in year-round outdoor environments is the installation of synthetic turf. No longer the rough and plastic-feeling sports turf of the past, the synthetic yard surfaces installed by Young's Y-Turf Division are lush, vibrant and life-like with a fresh cut appearance and feel. Whether for the backyard, side yard or poolside, these beautifully landscaped lawns easily blended into a home's natural landscape and complement any type of hardscaping. They are durable and virtually maintenance free, requiring no water, fertilizers, mowing or weeding. According to Dan Bailey, Young's Y-Turf division manager, "Synthetic turf is great for families with children and pets because it is both safe and clean. The advantage for families is the elimination of grass stains and muddy paw prints tracked through the house." Besides being beautiful, synthetic turf products can be the base for entertainment and sporting environment in your backyard. From a premium putting green or full golf practice area to a bocce court or ultimate playground, the possibilities are limitless and all available with unparalleled quality, durability and performance. Y-Turf works with a range of synthetic surfaces to fit different types of applications. "It's been two years since I installed a Y-Turf putting green and practice area at my home," say Brian Bohling of Moorestown, NJ. "I worked with Young's and designed the area just as I wanted it. There are three sand traps and four tees: one at 60 yards, another at 25 yards and two more in between." "The convenience of being able to practice at virtually any hour or on any day has improved my putting and chipping skills have greatly. But, what I truly underestimated was how much my family enjoys it, too!" Maintenance matters
For completed landscaped exteriors, fall is also the time to focus on maintenance, key to keeping a well-manicured appearance year-round. "One of the first things we want to do is to increase air, water and nutrient movement to the root through what is known as core aeration," Young says. After months of activity in the yard, the soil is compacted. If not addressed, there is a greater likelihood of lawn deterioration. In addition, the process can improve drainage, ensure proper fertilization and increase drought tolerance. Seeding in the fall is also important and it should involve two methods: slice seeding and hand seeding. The benefit of slice seeding is to create an optimum environment for grass seeds to flourish. With hand seeding, bare areas of the lawn are raked then seeded. This is followed by an over-seeding of the entire lawn area. The result is a lush and balanced grass-filled landscape. According to Young, "Another important step is a comprehensive lawn de-thatching to protect against disease and insects." Extend your investment with professional advice
Whether it is a comprehensive landscaping and hardscaping project or fall maintenance program, the first step is a detailed discussion and consultation. This is your home and truly needs to be about your vision, timeline, budget and all other relevant factors that may impact the final result. Ideally, the meeting will take place at your home in order to explore the current environment and see first-hand the area for enhancement. Specifically for landscape design, details regarding character, lifestyle and motivation must be part of the conversation. "At Young's, we become a partner in creating your outdoor living space and vow to do so with the highest level of craftsmanship and skill. More than that, we are committed to maintaining its beauty throughout the year with various products, services and advice," Young says. "Coming home should be the best part of your day." With locations in Moorestown and Lumberton, Young's professional team regularly offers consultations at clients' homes throughout South Jersey. For more information or to take the first step in the planning process, call (609) 654-5441 or visit YoungsLandscape.com. Helpful Tips For Fall
* Since spring bulbs need time to root, the best time for planting is October or November. They should be watered after planting.
* Clumps of spring-blooming perennials should be divided and pruned in the fall; fall-blooming varieties should not be divided and pruned until spring.
* Daffodils, poisonous to rabbits and other critters, are an attractive natural deterrent to animals that disrupt your garden.
* On-going removal of fallen leaves, branches and other debris will help maintain the lawn and planting beds.
* For the final cut of the season, mow the lawn shorter than usual to retain better color throughout winter.
* Apply mulch to the planting beds to maintain soil temperatures and help retain moisture through out the winter.
* Winterize all outdoor water supplies, including irrigation systems and hose bibs.
* Fluctuations in temperatures can lead to the expansion and contraction of clay pots; to avoid your containers from cracking, bring them indoors for the winter.
* Drain fountains completely and either store them indoors or cover with a tarp. If you remove the pumps, store them in a bucket of water to keep the seals moist.
* When purchasing ice melt products, consider those with calcium, magnesium and potassium chlorides. They are less harmful to plants and hardscaping than rock salt Published (and copyrighted) in Suburban Family, Volume 1, Issue 7 (September, 2010).
For more info on Suburban Family, click here.
For information about advertising in Suburban Family, click here.
To find out where to pick up your copy of Suburban Family, click here.