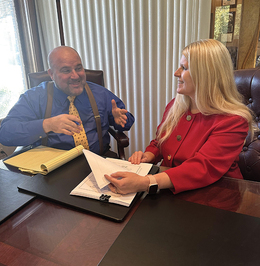 Putting Families First
Connecting with attorneys who genuinely care about the long-term well-being of their clients has made Karen Ann Ulmer, P.C., an in-demand choice for those in need of compassionate family-law representation.
Karen Ann Ulmer, P.C., is a family law and matrimonial law firm whose values and experience demonstrate an empathetic approach that prioritizes each client and restoring peace to their lives by finding – and fighting for – a clear path through an emotional situation. Karen Ulmer, the firm's founding partner, created the now six-attorney practice over 20 years ago on a guiding principle of "We are on Your Side" to reinforce that client-first approach to assure them there's someone on their side in a profoundly difficult time. When someone's life is falling apart, they a strong advocate who knows how to help them piece it back together. Three of the six attorneys are licensed to practice in both Pennsylvania and New Jersey.
Terrance Annese, who handles many of the firm's New Jersey cases, has an established track record of leading with humanity. He has both worked with special-needs youth and clerked in Trenton during the criminal trial surrounding the Megan's Law case, fostering a unique sensitivity to children's needs. Annese also helped Washington, D.C.'s, marginalized communities who were facing abusive situations or custody cases during his first clinical. He both lives and practices in New Jersey taking the lead on many of the matrimonial cases for the firm as well as custody, support and domestic violence cases. He is a skilled litigator who is able to bring closure either in the courtroom or by agreement and has himself, over 20 years of experience but in and out of the courtroom. He is a long-standing member of the New Jersey State Bar Association as well as the Pennsylvania State Bar Association.
Suburban Family spoke with Annese about how to navigate the modern complexities of family law in New Jersey.
What are your backgrounds and passions?
Terrance Annese: I started law school in 1993, and I came in at a very interesting time in litigation… I worked in the attorney general's office for a while, and after that I went into private practice. I had my own firm for about a decade pre-COVID. Coming out of COVID, I made a decision that I no longer wanted to operate my own firm, and now work with the law firm of Karen Ann Ulmer, P.C. handling family and matrimonial matters.
What is family law like today?
TA: In addition to meeting via Zoom, we can meet at locations that are convenient to clients—We meet them in various locations to try to make their lives easier. Zoom has helped that tremendously because if we have an immediate need, we are able to meet with them more readily. We give as many options to the client as possible, we give them a chance to have their case heard and try to figure out how we can best help them. The courts have also done many trials virtually making it more convenient for clients who otherwise would have to travel.
Family law has gotten a much sharper edge post-COVID… I used to see a little bit more co-parenting cooperation, and that seems to have diminished quite a bit post-COVID…I can't remember a time pre-COVID where there were this many families and children trying to access therapeutic services to deal with what should just be co-parenting cooperation.
What are some of your main principles in practicing family law?
TA: It's a self-empowering part of that process to take control of your situation and your life. You're dealing with people whose lives may be on a downhill trend or they might just be just careening out of control. By getting them involved in the process, to take control over their own cases, they're inadvertently also taking control of their own lives to move forward.
You have somebody who comes into this in a chaotic, helpless state that they're thinking they are not capable of achieving an outcome that will be beneficial to them and their family, and they're maybe on the edge of falling into the abyss. Then you get them to see that they can help themselves. All of a sudden, you're putting people back on that path where they are living a productive life and taking care of their families.
Karen Ann Ulmer, P.C. practices in both Pennsylvania and New Jersey and handles matters related to domestic violence, custody, support, divorce, prenuptial agreements, estates, wills.
The firm offers a discounted introductory consultation as well as a case assessment prior to engaging a client usually by phone or Zoom but the option to meet in person is also available.
Karen Ann Ulmer, P.C.
Serving N.J. and Pa.
(866) 349-4117
UlmerLaw.com
Published (and copyrighted) in Suburban Family Magazine, Volume 14, Issue 5.
For more info on Suburban Family Magazine, click here.
For information about advertising in Suburban Family Magazine, click here.
To find out where to pick up your copy of Suburban Family Magazine, click here.