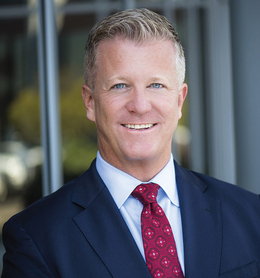 A Focus on Family
Michael Weinberg of Weinberg, Kaplan & Smith brings experience, knowledge and a drive to succeed to the table for his clients
Family law is anything but simple. No two cases are the same, and the highly personal nature of divorce proceedings, child custody arrangements and spousal support determinations mean emotions run high and logic does not always prevail.
This is why it's important to retain an experienced and knowledgeable attorney with a client's best interest at heart—and this is exactly where Weinberg, Kaplan & Smith comes in.
For more than a decade, the Marlton-based family law practice has been finding the best resolutions and outcomes for its clients and their families. At the heart of the team is understanding the need to listen to their clients to help guide them to the best solution.
"It is a very challenging area of practice," Michael Weinberg says. "You're dealing with high conflict and emotion, but you can really make a difference in the lives of your clients and leave them in a better place than where they were when you first met them."
Weinberg joined Weinberg, Kaplan & Smith in 2019, although the experienced attorney is rounding 30 years in family law, a career that drew him in after he was exposed to the industry from an early age.
While Weinberg was growing up, he spent his Saturdays handling filing and other administrative tasks at his father's law firm. Initially, he focused on commercial litigation. He joined his father's boutique matrimonial firm around 1998.
"And slowly but surely, my practice converted from more of a civil practice," Weinberg says, "into a family practice. And then it just continued to increase.
"I found that I enjoyed the work. I found that I enjoyed helping others," he continues.
In 2005, Weinberg joined the matrimonial department of Archer & Greiner, eventually becoming co-chair of family law at the practice before leaving for Weinberg, Kaplan & Smith nearly five years ago.
The unpredictable nature of family law, while challenging, is what piqued Weinberg's interest and kept it growing through the years.
"Every case has its own unique set of facts and its own challenges and rewards," Weinberg reflects.
Finding the right path
When Weinberg and his colleagues at Weinberg, Kaplan & Smith meet a client, they understand that they are meeting them at what is undoubtedly a difficult – f not the hardest time in their life.
"They're coming to me for guidance, for strength and for assistance in navigating through one of the more challenging periods of their life," Weinberg explains. "They're coming to me to listen to them, to prioritize what's important to them and to assist them in accomplishing their goals in an effective and meaningful way."
According to Weinberg, mediation continues to be a part of any family law practice.
"The court system in New Jersey, in particular the family court system, is set up in such a way that it provides ample opportunity to amicably resolve a matter before you find yourself in a trial," he says.
"I use mediation as part of my practice and it can be a very helpful tool," Weinberg continues. "It certainly doesn't replace litigation, but it's a good alternative to work effectively and amicably to reach a resolution."
He adds that while there has been an uptick in arbitration in recent years, he doesn't see it replacing traditional litigation.
Weinberg has also broadened his practice over the past few years to serve as a mediator or arbitrator in family law cases when someone comes to him with counsel, too.
Best interest at heart
For prospective clients dealing with a divorce or another family-related matter, Weinberg stresses that it's important to select an attorney in whom the client has complete confidence.
"Someone who you feel is knowledgeable and experienced, who can listen to you and work cooperatively with you while providing guidance through the process," he says. "It's important to have a good fit."
Weinberg's experience helps him know how to prioritize what is important to his clients.
"I advocate for my clients," he says, "and I guide them in trying to make an informed decision rather than an emotional decision."
If the need is there, Weinberg is fully prepared to defend his clients as strongly as necessary. He also, however, recognizes the benefit of resolution and will attempt to find common ground.
"If that's not possible—and while I welcome that opportunity—I am prepared to advocate and litigate for my clients in order to protect their interests and accomplish what's important to them," Weinberg says.
Weinberg, Kaplan & Smith
8000 Sagemore Drive, Suite 8301, Marlton
(856) 795-9400
WKSNJLaw.com
Published (and copyrighted) in Suburban Family Magazine, Volume 14, Issue 5.
For more info on Suburban Family Magazine, click here.
For information about advertising in Suburban Family Magazine, click here.
To find out where to pick up your copy of Suburban Family Magazine, click here.