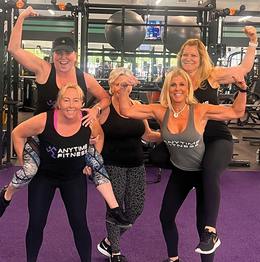 A Dream Come True
After 20 years in the exercise realm, Sue Gallagher Holton has found her calling as the owner of Anytime Fitness in Medford, where guests can pursue their health goals in a family atmosphere.
The local watering hole is probably not the first thing that comes to mind when researching which gym to join, but as someone with 20 years of experience in the fitness industry, Sue Gallagher Holton knows how important an inviting and supportive environment can be to achieving goals. For that reason, when she opened a Medford location of the national Anytime Fitness chain earlier this year, she aimed to create the kind of community that would open its arms to any and all types of guests, no matter where they were on their path to getting into better shape.
The result is a gym, after just 10 months of business, that is reminiscent of a certain TV bar from the 1980s where everybody knows your name.
"Everyone here is the nicest person in the world, both staff and members. It's like Cheers without the alcohol—everyone is so friendly and welcoming," Gallagher Holton says with a laugh. "It's exactly what I always wanted. I didn't even know I would like it as much as I do."
A Medford Lakes native who was a standout athlete at Shawnee High School, Gallagher Holton learned the value of sweat equity from a young age. She eventually became a student at the National Personal Training Institute in Philadelphia—which provides enrollees the education and tools to become a certified personal trainer—and later returned as an instructor before becoming part owner of the school for 15 years.
At the same time that she was acting as a mentor to aspiring trainers, Gallagher Holton was building her own loyal base of clients as a personal trainer herself, working at gyms throughout the Medford area for two decades. When COVID struck and gyms were forced to close their doors in 2020, she helped people stay in shape on the outdoor deck at her home.
"I had people knocking down my door to train," she says. "I was training nine to 10 hours a day, six days a week, and I had to turn people down. I had always wanted to open a gym, and that's when I really started to think about it. I liked certifying trainers as well, but it wasn't my passion. I know now that my passion was to open a gym."
Teaming with Anytime Fitness after the lockdown ended was a no-brainer because of the resources the company provides. The Medford location is the largest of the brand's 5,000 gyms across the country at 9,000 square feet and contains brand-new, state-of-the-art equipment. True to its name, it is open 24/7, perfect for those who work odd hours and need to exercise late at night or early in the morning.
Gallagher Holton has only the most committed and experienced trainers on her staff, and they offer everything from small and large group training to individual or partner sessions. Anytime Fitness also has a wide range of classes, including Zumba, Tabata and cardio kickboxing. No matter what kind of workout someone is interested in, they are sure to find it here.
"I think motivation is what gets you started, and habit is what keeps you going," Gallagher Holton says. "The serotonin after you work out just makes you feel so much better. Physically, mentally, you have to work out."
Gallagher Holton hopes to open a second or third Anytime location in South Jersey in the future, and the support of her family will continue to inspire her. Her husband James is a local doctor, while her son Sean works at the gym as a personal trainer and is her "eyes and ears" on those rare occasions when she is not in the facility herself.
The success of the Medford location certainly shows that she has found her calling, as it ranks No. 1 in sales nationally over the past three months and already has more than 1,100 members. In addition to Gallagher Holton's stellar reputation in the area, the draw has been the family atmosphere and the positive community that supports each other on their fitness journeys.
"Day in and day out, you see the same faces," she says. "I thought I already knew everyone in Medford until I opened this gym, and now I know so many more. Not a day goes by that someone doesn't come and thank me for opening. But I say, 'Don't thank me, thank you for coming.' I get up every morning and realize how amazing this all is."
Anytime Fitness
200 Tuckerton Road | Medford
(609) 388-4143
AnytimeFitness.com/gyms/5214/Medford-NJ-08055/
Published (and copyrighted) in Suburban Family Magazine, Volume 14, Issue 5.
For more info on Suburban Family Magazine, click here.
For information about advertising in Suburban Family Magazine, click here.
To find out where to pick up your copy of Suburban Family Magazine, click here.