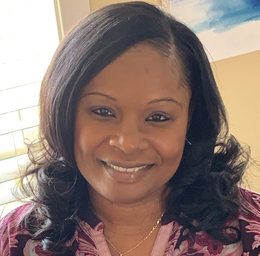 An Exceptional Education
GCIT welcomes its new principal Sybil Girard and her plans to continue to make the school a place for all to learn.
Sybil Girard is excited to be Gloucester County Institute of Technology's newest principal.
Girard's love for education grew from her own experiences as a sixth-grader. After facing some unkind classmates, her teacher pulled her aside and gave her a bit of advice. She told her that it didn't matter where she came from, her current situation or otherwise—she belonged in that school and she could achieve her dreams if she just stayed the course; so Girard did just that. After majoring in biology and chemistry at the University of the West Indies, she was offered a job working at a middle school in California where she continued to work for the next two years.
"This interaction with my sixth grade teacher made an indelible impact on my mindset," says Girard. "Every time I was told that I was not good enough—whether in others' actions or words—I remembered my teacher's genuine conviction that I should set my own limits on my life and ignore the limits that others imposed on me. I wanted to be that teacher to my students."
While attending a conference on education reform, Girard was offered a position at a high school in New York, so she packed up her stuff and moved to the East Coast to teach biology, chemistry, health and algebra.
While she loved teaching, she still felt her ability to advocate for her students was missing something. In an effort to rectify that, Girard set her sights on education administration and enrolled in an administrator certification program at Baruch College while serving as a school administrator intern. Once obtaining that certification, she was assigned the role of assistant principal—a role she held for 13 years.
Girard then moved to South Jersey and after commuting four hours into New York each day, she obtained her school administrator license and started a new role as the director of curriculum and assessment at Gloucester County Vocational Technical and Gloucester County Special Services School Districts while pursuing a doctoral degree in educational leadership focusing on vocational-technical high schools. Two years later, she became the principal of Bankbridge Elementary School.
When the position of principal of Gloucester County Institute of Technology became available, it was a perfect fit for her and she went for it.
"My goal is to continue the successful trajectory of GCIT where students take career and technical education (CTE) courses, which will vastly contribute to their post-secondary success," Girard says. "By closely monitoring labor market demands and working with industries and local businesses, the goal is to prepare GCIT students for their post-secondary plans using a curriculum of robust academic courses integrated with practical industry-valued skills."
At GCIT, students are immersed within their learning and career goals. As a vocational high school, the student's curriculum is balanced between state standards on subjects like mathematics and English along with hands-on training. GCIT boasts numerous programs for students from construction technology and business management to cosmetology and performing arts, with each program allowing the students to physically and intellectually engage with the material as early as their freshman year.
"Vocational education plays a vital role in the development of society's human resources by creating skilled workers, increasing employees' productivity, strengthening the economy and enhancing citizens' quality of life," says Girard.
The school also hopes to change the narrative that vocational education ends at graduation. Students exit the program with college credits achieved through a partnership with Rowan College of South Jersey's Gloucester County campus. In some cases, students are able to enter a four-year university at a junior level—all because they were able to get a jumpstart on their college education while in high school.
For those eager to enter the workforce, GCIT works with local partners help students build their résumé. Through their school-to-work program, students are afforded supervised work experience in exchange for class credits. GCIT's cooperative education office assists students with finding employment and tracking their progress throughout their experience.
"I am excited to be a part of an educational institution that works collaboratively with local businesses and higher education organizations to prepare students for their post-secondary plans," says Girard.
Girard wants GCIT to continue to be a place for which students from all walks of life can come together and achieve. As a part of the leadership, she strives to lead with strength, direction and an advocacy for students and their educational goals.
"I believe that high-quality teaching is the most powerful tool for helping students become life-long learners and achieve high scholastic standards," says Girard. "With students at the heart of my educational leadership philosophy, I believe that a prosperous school community is only built and sustained through setting clear results-driven goals, creating a school culture of high expectations, leading with a sense of urgency and promoting collaboration amongst all school stakeholders."
Gloucester County Institute of Technology
Sewell | (856) 468-1445
GCIT.org
Published (and copyrighted) in Suburban Family Magazine, Volume 14, Issue 5.
For more info on Suburban Family Magazine, click here.
For information about advertising in Suburban Family Magazine, click here.
To find out where to pick up your copy of Suburban Family Magazine, click here.