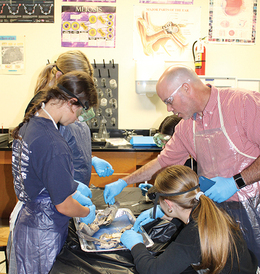 Preparing for the Future
At Padua Academy, a focus on STEM education is helping students excel well into their future
In the heart of Wilmington, Delaware, Padua Academy stands as a beacon of educational excellence, particularly in science, technology, engineering and mathematics (STEM) education, fostering interest and excellence in STEM fields. The school recognizes the importance of preparing its students for the ever-evolving job market and the increasing demand for STEM professionals. Padua's STEM initiatives show their students how to interface with information in textbooks and beyond, and spark future careers.
Padua Academy offers a robust STEM curriculum, featuring advanced courses in mathematics, biology, chemistry and physics, as well as a variety of information technology courses. These courses are designed to challenge students and provide them with a strong foundation across STEM disciplines. Additionally, STEM classes are core components of three of Padua's four cross-curricular Academic Pathways: Creative Connections, Improving the Human Condition, and Insights and Innovation. These pathways recognize meaningful cross-curricular learning and reflection, encouraging students to deeply engage in their chosen focus areas.
Lessons in Padua's Biomedical Engineering class include learning about scoliosis and diagnosing the severity of the disease using actual X-rays and recommending treatment based on their data. After students completed a unit on suturing techniques used for Achilles tendon repair, they practiced using a pig's foot, nylon monofilament suture, and a pair of Kelly locking forceps. These real-life examples spark further interest with the students.
Beyond the classroom, Padua Academy offers a plethora of STEM extracurricular activities, such as the Dissection Club, Coding Club, Robotics Team and more. These hands-on experiences allow students to apply their knowledge and explore their interests, and many are driven forward by student leadership.
Recent graduate Daryl Fernandez reflected on the impact of the dissection club, saying, "I was fortunate enough within my four years at Padua to participate in the school's remarkable dissection club. I was given the opportunity to educate myself on the anatomy and physiology of dozens of different organisms which even spiked my interest in the medical field. Joining the dissection club was the turning point for me when I realized I needed to dedicate my life to science and helping others."
Padua's Mathematics and Science Department have responded to student interest in STEM with a deep investment in purposeful partnerships. Their department members welcome inspirational STEM professionals, including many alumnae, into their classrooms as guest speakers. Last school year, thanks to the leadership of Grace Trerotola ('24), the STEM club hosted guest speaker Ellen Kullman, former CEO of DuPont and Carbon 3D, who spoke about her career path in engineering and business, along with how to empower young women to pursue careers in traditionally male-dominated fields.
During Engineering Week in March, a full panel of alumnae currently working in engineering fields discussed their careers and actively engaged with students in Q&A. These partnerships with professionals across STEM fields are just a few examples of the many ways that Padua exposes students to the possibilities of science, technology, engineering and math in their future studies.
In addition, the school's STEM educators also invest in institutional partnerships. These partnerships expand student learning from the classroom into academic and professional settings. Dr. Jenni Buckley, professor of mechanical engineering at the University of Delaware, has a partnership with Padua that has blossomed into an exceptionally fruitful program. Padua's Discover Engineering students annually visit the university's department of mechanical engineering to start rapid-prototyping toys they design in class, and work in the design studio. Students attend National Biomechanics Day on the University of Delaware's STAR campus and rotate through various biomechanical labs, and participate in interactive activities identifying different aspects of the study and application of biomechanics. Padua students also carry their learning beyond the classroom thanks to partnerships with the Delaware Museum of Nature and Science, and with 10 medical professionals through the medical shadowing program.
Padua Academy is setting the standard for STEM education among all-girls Catholic high schools. With its comprehensive curriculum, extracurricular opportunities and dedication to empowering young women in STEM, Padua Academy is shaping the future of STEM professionals in the region. The school's emphasis on critical thinking, problem-solving and teamwork has prepared its students to excel in any STEM discipline they choose.
As we look ahead, we can expect Padua Academy to continue inspiring and equipping its students to lead in the dynamic world of science, technology, engineering and mathematics.
Padua Academy
Wilmington, Delaware
(302) 421-3739
PaduaAcademy.org
Published (and copyrighted) in Suburban Family Magazine, Volume 14, Issue 5.
For more info on Suburban Family Magazine, click here.
For information about advertising in Suburban Family Magazine, click here.
To find out where to pick up your copy of Suburban Family Magazine, click here.