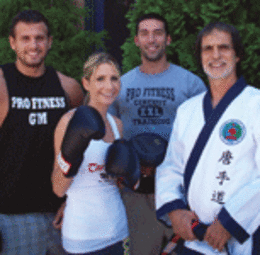 Pro Fitness Tang Soo Karate Academy
Strong Bodies, Balanced Minds
"From the first day we opened our doors, Pro Fitness Tang Soo Karate Academy has been more than a training facility. It is a place for creating successful and balanced lives," says Grandmaster Dominick Giacobbe, owner of the dual facility that includes a full-service gym, located in Gloucester Township. "As we at the Academy all search for the balance between self, family, career and advocacy, we strive to provide our clients and students with the skills to living healthy lives. What may seem an insurmountable challenge can be overcome with a strong, positive mind," says Giacobbe. Pro Fitness Tang Soo Karate Academy offers a variety of martial arts classes, personal training, body sculpting, and other integrated programs designed to meet each student's skill level, busy schedule and personal goals.
Best of the East and West
Giacobbe, who was among the very first in the nation to see the wisdom of combining Western-style weight training with Eastern-style flexibility says that, "Over the years, I have seen people look for alternative workouts. They no longer go to a gym for aerobics or weights. The variety we offer allows our students and clients the ability to have options and try something new yet all within the confines of a place where they are already comfortable. I am often asked 'is this class right for me?' They trust that the answer will be in their best interest." For athletes, the Academy has a comprehensive sports circuit-training program to improve fitness, speed, strength and endurance. The one-hour workout combines weights and other fitness equipment with plyometrics for a complete program. Giacobbe, who is the trainer for Bishop Eustace Preparatory School, says the program is ideal for those who play any sport, but especially those requiring speed and agility, like football and basketball. "Sports circuit training is also great for weight loss and management, but due to the intense nature of this training, we generally will not accept anyone under the age of 13 or 14 years old," Giacobbe says. Additional programs at the facility include Kick Fit, a kickboxing class for men and women, and a boxing class that offers a traditional workout regimen--without getting hit. There is also an abs class and a stretch and flexibility training class. For those who are looking to improve their inner focus, the Academy offers yoga chi classes – a power yoga that combines the principles of yoga, tai chi and chi gong that emphasizes strength training and flexibility. "We have created a convenient schedule geared toward families, by offering adult and child classes that run concurrently. Parents can train at the same time their kids do," says Giacobbe. "We have children as young as 4 years old taking karate while their parents are in the adjacent studio for yoga, boxing or working out in the weight room. It is a great way for families to do something together that is healthy for the mind, body and spirit."
Individual paths to personal power
Along with the group classes, the Tang Soo Karate Academy provides body sculpting with a personal trainer. These programs generally include training three times a week for 45 minutes each session. The customized training allows the individual to achieve personal goals in a healthy, manageable manner. Recognizing that a well-rounded approach to body sculpting is most effective, the Academy offers a comprehensive package that combines the three weekly personal training sessions with full use of fitness gym and weight room, plus entry into any class listed on the schedule, for $200.00 per month. "Just as people look to balance their lives, I have also noticed a clear trend towards finding alternative fitness programs that combine mind and spirituality with the body. No longer is being fit just about a toned abdomen. People are looking for ways to improve their full self," Giacobbe says. "This is why any of the classes or personal training programs offered at the Academy are created to be both mentally and physically challenging. For me, to live a powerful, successful life, it is necessary to meditate, maintain physical health and follow other ancient martial arts philosophies. While these are tied to my training in martial arts, the principles, such as conquering fear, overcoming pain and setting and obtaining goals, are applicable to anyone interested in living a harmonious, healthy life."
World-renowned master
Giacobbe is a world-renowned 8th degree Grandmaster of Tang Soo Do Korean Karate and is a direct student of Grandmaster Jae Chul Shin, founder of the World Tang Soo Do Association, as well as other respected grandmasters of this art. After years of being an avid and top tournament competitor on the East Coast, Giacobbe traveled to Korea in order to refine his study of the ancient techniques of mind power through meditation and breathing exercises derived from internal chi energy. In the late '70s and early '80s, Giacobbe gained national respect in the areas of physical fitness, weight training, flexibility enhancement and exercise program development; pro-athletes came to him for his integrated workouts. As a pioneer in the technique of combining martial arts with western-style fitness, he has trained several members of the Philadelphia Eagles and NFL stars, including Mike Quick and the late Reggie White. In addition, Giacobbe was a physical trainer in 15 World Championship boxing bouts, working with Evander Holyfield, Pernell Whitaker and Sugar Ray Leonard. "From this experience, I developed programs for those who may not be professional athletes but have an interest in challenging fitness programs and circuit training," Giacobbe explains. "Something that works for everyone."
History and application of Tang Soo Do
According to Giacobbe, "The art of Tang Soo Do was developed on the southern beaches of Korea by a group of Hwa Rang Warriors (similar to Japanese Samurais), who created a five point code of honor that instilled 'the way of the warrior' concept to never retreat when faced with adversity. These warriors preached strength of mind and spirit. They became strong from within." The World Tang Soo Do Association describes the art as unique in relation to other forms of martial arts. While physical strength is key, the complete practice is based on five virtues: humanity, righteousness, etiquette, wisdom and trust. When the ultimate level of the art is achieved, there is a perfect harmony between life and the laws of nature. All of the classes offered at Pro Fitness Tang Soo Do Karate Academy, from karate to yoga classes to personal body sculpting, has this belief in self is at the core. "I like to say that we are modern day warriors who are confronted with battles each day. In such instances, we need to be strong, positive and never retreat from facing them. I've been training for more than 40 years and have never looked back," Giacobbe says. The new Pro Fitness Tang Soo Karate Academy, a dual facility offering a full range of classes and complete gym, is located at 1405 Blackwood Clementon Road in Gloucester Township—minutes from its previous location and adjacent to the Wachovia Bank. The Academy is open seven days a week—Monday through Friday from 7:30 a.m. to 9 p.m., Saturday from 8 a.m. to 4 p.m. and Sunday from 8 a.m. to 2 p.m. Classes are offered throughout the week. For more information or to find detailed class schedules, call (856) 627-2323, (856) 346-8700 or visit TangSooKarate.com.
Benefits of Tang Soo Do
• Self defense techniques
• Greater level of confidence
• Enhanced physical fitness and strength
• Improved coordination and flexibility
• Increased cardiovascular development
• Greater mental concentration and self-discipline
Published (and copyrighted) in Suburban Family, Volume 1, Issue 7 (September, 2010).
For more info on Suburban Family, click here.
For information about advertising in Suburban Family, click here.
To find out where to pick up your copy of Suburban Family, click here.