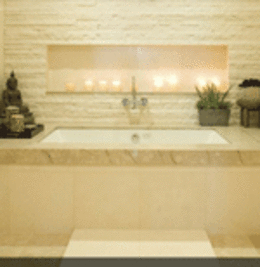 Stone Galaxy: Set in Stone
A passion for stonework leads two brothers to emigrate to South Jersey and build the business of their dreams The sons and grandsons of Polish monumonument carvers, third generation stone masons Ray and Jacob Sroka brothers moved to the United States from Poland in 2000 with the dream of growing a successful business that would allow them to carry on their family tradition of stone work. The brothers say they work with stone not because it was expected of them by their forebears, but because they are passionate about the art. "When we came to this country 10 years ago, we knew that we would have to work hard," says Ray. Serving all of South Jersey and offering a variety of stones for nearly every residential purpose, the Srokas brothers pride themselves on finding quality stones and transforming them into exceptional pieces. "We have a passion for creating something new and doing it better," says Ray. "Every kitchen, fireplace or barbecue is unique. Our goal is to do it right when your budget is tight." Quality not quantity
Stone Galaxy keeps prices affordable by doing all the work in-house. They work with 10 regional suppliers for a steady supply of inventory and keep all stones in their raw form at their fabrication facility in Folcroft, Pa. Customers are invited to the facility to peruse stone options and choose the section that would work best for their home. Stone Galaxy options include all traditional and modern stone types, including marble, granite, soapstone and quartz. Their team custom-creates countertops, bathroom vanities, fireplaces, Jacuzzis, tabletops, outdoor barbecues and more. While many area businesses offer stone countertops, the Srokas brothers say their dedication and workmanship set them apart. "We focus mainly on quality, not quantity," says Ray. "There's a big difference." That quality shows in the finished product, which the Stone Galaxy stands proudly behind. All pieces undergo thorough inspections and are finished with the highest quality sealers to protect the beauty of the stone. Even the most complex jobs are handled with ease. "Seams between countertops are the biggest fear for most customers," says Ray. "But that is not a problem for our company. Every seam is so tight, what's left is only a shadow." Service and craftsmanship
Stone Galaxy's quality extends to its customer service and installation teams, who work one-on-one with the homeowner. There are no subcontractors, unlike in many big-box stores. "The so-called 'big-box' stores actually subcontract smaller companies like us," explains Ray. "There are too many people involved in one project, so it is almost a miracle if everything goes smoothly and on time. Besides, we can beat every written estimate from them." Ray says that all this results in very happy customers. "From fabrication to installation, our customers' experiences are always the same," he says. "They are fully satisfied with our service. We know how difficult the world of remodeling can be and our goal is to make that process as easy as possible. Our customers always come first and we stand behind our product." If you are in the new market for a new natural stone counter, the Srokas brothers advise doing your research first. "Every customer, before making a decision, should get as much information as possible about their countertop project from knowledgeable company representatives," says Ray. "Ask about the type of stone, its porosity, how often the stone should be sealed, how the stone is cut and how is the edge profiled. Also ask if there is any machinery involved or is it simply done by hand?" Stone Galaxy makes sure their clients are fully informed on their choice. "Our customers know everything about the product they purchase before signing the contract," says Ray. "They know that our stone is cut on huge machines and the edge is profiled on a router machine. They know that every seam edge is cleaned free of chips in order to get best result." It's important to understand not only the type of product you want, but how the company you are considering operates. "Talk with a customer who did a countertop with us four years ago and ask how the job looks now," says Ray. Ask how the installation process went, if a service call was ever needed and, if so, how the company responded. Stone Galaxy is proud to respond to such calls in one to three days, depending on the distance of the home. Says Ray, "People claim that they choose Stone Galaxy because of our knowledge about the stone industry, our honesty and our price." says Ray. Stone Galaxy's showroom is located at 612 W. Clements Bridge Road in Runnemede. Visit the showroom or call (856) 812-0202 to schedule a free estimate and experience the Stone Galaxy difference Published (and copyrighted) in Suburban Family, Volume 1, Issue 7 (September, 2010).
For more info on Suburban Family, click here.
For information about advertising in Suburban Family, click here.
To find out where to pick up your copy of Suburban Family, click here.