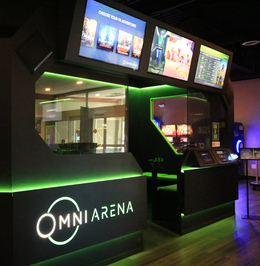 Abundant Entertainment to Spare
Family-owned-and-operated for 35 years, Laurel Lanes Bowling & Entertainment Center is an in-demand South Jersey amusement staple guaranteed to bowl over guests of all ages.
It's difficult to find an all-encompassing entertainment center offering not only a variety of activities but also a restaurant—let alone one with a bar, house-made ice cream with a rotating menu of unique flavors, or a rentable luxury suite with a DJ booth. Laurel Lanes and Splitz Bar & Grill include every element imaginable for any individual's idea of excitement, packaged together with plenty of food for a full day of fun.
The 60-lane bowling center allows for different timed, unlimited play packages, and is perfect for multiple guests, leagues/clubs or group events. The venue is always cognizant of providing opportunities for youth bowlers that encourage a multi-generational affinity for the decades-established facility.
"We have a kids' program on Saturday morning, our junior league, where we have 50 to 60 kids bowling every Saturday and they can earn scholarship money through a SMART program. We do a lot here for the kids and families," says Kathy Clay, director of operations at Laurel Lanes.
Laurel Lanes strives for community involvement, demonstrated by its participation in local events such as, most recently, the Maple Shade Business Association's Pizza Fest. The entertainment center and restaurant are recognized for continually great experiences in all areas it specializes in, which is why reservations are recommended. It is the preferred choice of several local school groups and camps for its accessibility and personalization options, too.
A testament to Laurel Lanes' success is how well it pairs the latest trends, such as virtual reality games, with classic, intergenerational attractions like bowling and billiards. Visitors can feel either a sense of nostalgia while playing a classic Pac-Man arcade machine, or as if they stepped into the future with a large, projected-screen display, multiplayer Pac-Man. The arcade also includes photo booths, win-every-time crane games, classic pinball, skee-ball and of course, prizes.
Laurel Lanes also frequently incorporates new specials, such as participating in the national "Kids Bowl Free" program over the summer. If the plethora of attractions weren't enough to make boredom impossible, Laurel Lanes hosts themed events with even more special surprises. Weekly events include Wednesday trivia and karaoke and beer pong on Fridays. Encompassing the true local spirit, there are additional specials during live Phillies games, too. It's currently gearing up for a Halloween party that will feature a DJ, dance contests, cosmic bowling, costumes and a safe place for kids to trick-or-treat.
Laurel Lanes prioritizes creating a safe space for children to enjoy a memorable experience, as well as ensuring that guests of all ages have a great time uniquely tailored to the entertainment they're looking for—an asset undoubtedly guided by being a family-owned-and-operated business.
"We're not corporate driven. We're really more about providing great service, providing a nice, safe environment for the families in our community. … We care a lot about our families, it's more personal," Clay explains.
With its reputation of versatility and dependability in the community, Laurel Lanes is frequently the designated location for pivotal life moments: birthdays, graduations, corporate events, bar and bat mitzvahs, reunions, anniversaries, wedding rehearsals—anything imaginable that is destined to be unforgettable. The various packages are adaptive to any type of guest capacity and group preference. Just this past June, for example, 500 kids were met with a graduation surprise at Laurel Lanes in a full day of games, food, and music with both a DJ and karaoke.
The VIP room offers an exclusive experience, located in an area separate from the bowling center with six cherrywood lanes, billiards, foosball and a Pac-Man machine. From there, event organizers can book a DJ and add a proprietary bar. Events can be further customized with a full catering menu made directly in Splitz Bar & Grill's kitchen. Staff members also help to host and to serve throughout so every party-goer can focus on the fun.
To top it off, "Lickety Splitz" ice cream is often a coveted element to any party at Laurel Lanes. With both "sweet" and "sinful" flavors as an option, parents can enjoy an ice cream cocktail such as the "drunken coconut" or "adult birthday cake," while their kids choose from a range of non-alcoholic flavors with dietary accommodations available.
"We have something like 25-to-30 flavors that we completely create and make here. They're all handmade from all fresh ingredients, and we do seasonal menus. We have some alcohol-infused flavors, and we have a bunch of other fun flavors in addition to the classics," says Clay. "We have butter pecan, s'mores, unicorn cotton candy, cannoli ice cream … a bunch of different, really creative flavors. We do contests for our customers to come up with a flavor and then they win a prize if their flavor is selected."
Laurel Lanes has entertainment covered, and everything else, too—from food to safety to sanitation, leaving guests with nothing to concern themselves with except having a great time.
Laurel Lanes Bowling & Entertainment Center
Maple Shade | (856) 778-7467
LaurelLanesNJ.com
Published (and copyrighted) in Suburban Family Magazine, Volume 14, Issue 4.
For more info on Suburban Family Magazine, click here.
For information about advertising in Suburban Family Magazine, click here.
To find out where to pick up your copy of Suburban Family Magazine, click here.