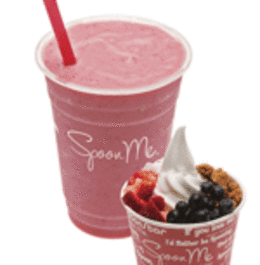 Spoon Me Voorhees
The first of its kind anywhere in the northeast, Spoon Me Voorhees is a fusion of nutrition and taste without the guilt. "Built on a philosophy that combines love of body, environment and community, we are excited to bring this unique healthful eatery to our area," says Christina Pinizzotto, marketing consultant with Spoon Me Voorhees. Located within the Ritz Center and steps from the Rave movie theater (formerly the Ritz Showcase), Spoon Me offers a selection of natural frozen yogurt, sweet smoothies and fresh juices. The upbeat modern café is great for those on the go, but also welcomes guests to visit with friends, do some work or simply relax. According to Pinizzotto, "Spoon Me frozen yogurt and smoothies are not just for summer. Filled with nutrients, they offer a great protein boost before a big game and a post workout or after school alternative. The fresh juice bar and selection of morning treats offer a healthy jump-start to the day." Spoon Me Voorhees will open its doors on Saturday September 24th with fanfare. "As part of the grand opening, we want others to taste the Spoon Me difference so much so that the first 50 guests will get their treat for free," Pinizzotto says. "We will also be offering $1, $2 and $3 yogurts plus 50% off smoothies between 10 a.m. and 2 p.m." Self-serve frozen yogurt
Whether tempted by green tea yogurt topped with kiwi and coconut or natural flavored yogurt doused with granola and almonds, Spoon Me guests are literally the artist of their own creations with the café's self-serve frozen yogurt station. Made from nine all natural ingredients, Spoon Me frozen yogurt is a blend of vitamins, calcium and minerals without artificial flavoring or sweeteners. The delicious, refreshing treat is low in calories and fat-free. Pinizzotto says, "Spoon Me frozen yogurt is real yogurt, filled with live active cultures, which help improve digestion and boost the immune system. Its nine base ingredients are all gluten free and the sweetness is all-natural—no table sugar is added. Spoon Me treats are also kosher." The soft serve cup is less than 85 calories per serving yet an excellent source of nutrients. Spoon Me features 14-16 tempting flavors, including its standing favorites—Natural and Acai, a berry harvested in the Brazilian Amazon—plus a selection of other tropical-style tastes. Smoothies, juices and more
Spoon Me offers more than just frozen yogurt. The café boasts a full service smoothie and juice bar with plenty of health conscious pick-me ups. Spoon Me smoothies are made with all-natural frozen yogurt and each guest's choice of fresh fruit. The perfectly blended result is naturally sweet, smooth, and tasty. Says Pinizzotto, "Like our frozen yogurt menu, guests are able to customize their smoothie just the way they like it and try something new each time they visit." For those who want something a bit heartier, Spoon Me has fresh oatmeal, healthy muffins and other breakfast treats. Guests can also choose from a selection of fresh juices, including orange, vegetable, wheat germ and other refreshing options. Triple goodness
According to Pinizzotto, "At Spoon Me, our mission is three-fold —love the body we live in, the people we live with and the earth we live on. It starts with a focus on a healthy product. For the body, Spoon Me and its all-natural ingredients create a frozen yogurt that is good for both the digestive and immune systems, plus all the nutrients needed to give an extra bounce to one's step." Spoon Me is also committed to the environment, using only cups, straws and spoons that are 100% biodegradable within 90 days. Additionally, says Pinizzotto, "Spoon Me merchandise, which includes clothing, hats and the like, are made from fully recycled materials." Building community is a big part of the Spoon Me mission. Instead of tipping workers, Spoon Me patrons are asked to "Keep the Change for Charity." Each month, the program highlights a different organization and collects change to donate to the particular cause. "For the month of October, we are pleased to feature the Alicia Rose 'Victorious' Foundation (ARVF) and its mission to provide activities, programs and events that enhance the quality of the lives of adolescents with life-threatening illnesses," Pinizzotto says. "In addition to the monthly program, we will be encouraging guests to donate age-appropriate gifts for the ARVF Teen Centers as part of 'Make A Difference Day' on October 23rd." Located within the Ritz Center in Voorhees, Spoon Me dishes its healthy specialties seven days a week, welcoming guests Monday through Thursday from 8 a.m. to 10 p.m., Friday and Saturday from 8 a.m. to 1 a.m. and Sunday from 9 a.m. to 8 p.m. For more information, call (856) 324-3544 or visit SpoonMe.com. Published (and copyrighted) in Suburban Family, Volume 1, Issue 7 (September, 2010).
For more info on Suburban Family, click here.
For information about advertising in Suburban Family, click here.
To find out where to pick up your copy of Suburban Family, click here.