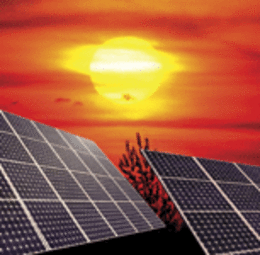 Solar Designed Systems
When a Trend Becomes a Need: Solar power has come a long way from the choice of a few to a viable mainstream power source
When a Trend Becomes a Need: Solar power has come a long way from the choice of a few to a viable mainstream power source Walter Mrozinski started Solar Designed Systems in 1987 with the hope that solar electric would become a viable option for consumers in the near future. "We named it that with a vision that one day the price would come down enough that people would be able to afford it. And in the last three years it has," he says. Eco-friendly products have gone from trendy to essential as homeowners are increasingly more concerned about the environment, the cost of energy, and the long-term value of their homes. Solar Designed Systems helps homeowners alleviate such concerns by offering solar electric energy systems, insulated windows and doors, and siding. Getting outfitted to save
Converting to solar energy greatly reduces the CO2 and other harmful gases produced when generating traditional electricity, resulting in a reduced carbon footprint, which creates a cleaner air environment. Clients interested in converting to solar electric can turn to Solar Designed Systems for a full audit of their home and the type of system that would be most beneficial for their needs. A conversion includes the installation of solar electric modules-the roof or ground mounted pollution-free, photovoltaic mono-crystalline panels- and an inverter. "The solar electric modules change the UV and white light rays of the sun into electric power," says Mrozinski. "The inverter then changes the direct current received into an alternate current, which is what your home is using." This current is used to run everything from your television to your hair dryer, meaning you no longer need to rely on the local power company. The solar panels have a 25 year manufacturers' warranty and a life expectancy rate of up to 40 years. The inverter has an expected life of at least 15 years, with a warranty of 7 years. Mrozinski says nearly any home can be easily outfitted with solar power. South, southeast, and southwest light is best, "but as long as you have an east or west facing roofline, you are capable of using solar electric," he says. Spending a little to save a lot
The initial price tag of a new solar electric system is more than a traditional system-prices range from $24,000 to more than $100,000, depending on the amount of power generated-but Mrozinski says the investment always works out for the homeowner in the end. "You can save 100 percent of their electric costs with it," he says. "So you have no electric payments, and you are also going to get a state rebate along with a federal tax credit (of 30 percent)." New Jersey residents will begin receiving Solar Renewable Energy Certificates (SRECs), which enable them to make additional income off their new solar electric system, each time 1000 kilowatts of power are generated through their system. Homeowners can then sell those certificates through a broker to businesses looking to go green and use renewable energy. The most popular purchasers of SRECs are actually power companies, who are required to obtain a certain amount of energy from renewable resources. Mrozinski says that SRECs are currently going for more than $700.00, providing an effortless way for solar energy owners to help recoup the cost of their investment. "If you are a homeowner and you can get 12 in a year, that's a substantial amount of money," he says. In addition, SRECs are non-taxable. Choosing the right products to install
Whether or not you are ready to invest in a full solar electric system, Solar Designed Systems can still help you improve your home and save on energy costs by replacing your windows, doors, and siding. "Homeowners who have low-e-argon windows, which are foam-filled and vinyl, can save 30 percent of their total heating and cooling costs, if they replace them all," says Mrozinski. Solar Designed Systems sells Thermal Industries windows, which have fully welded frames and sashes, and come in a variety of colors and sizes to fit any home. Thermal Industries gets extra green points, too-in addition to their products being eco-friendly, their production process is too. They extrude their own lead-free PVC for the manufacturing of their sustainable vinyl windows, and use an infrared heated oven in production, that reduces energy consumption by 75 percent. Along with this they recycle all scrap materials such as vinyl, glass, and aluminum, by selling them to companies outside their industry, thereby keeping them out of landfills. Doors from Household Metals Incorporated, the premier steel security and door manufacturer in the tri-state area, are available in 80 styles and 30 colors. With over 200 glass options and custom configurations you can create a distinctive, top-of-the-line entryway for your home. Made of 20 gauge galvanized steel, 40 percent thicker than most home center doors, the Safeguard door is guaranteed not to rust, shrink, split, or delaminate for a lifetime. Installing siding with insulation can help homeowners save up to another 15 percent off their heating and cooling costs. Solar Designed Systems uses Charter Oak Premium Vinyl Siding, which comes in a variety of colors and two distinct styles. Rated for level 5 hurricane-force winds, it is also highly impact resistant to dents and dings common around a house, and is manufactured with certain properties to withstand outside elements, such as UV rays, heat and humidity. Charter Oak Premium Vinyl Siding is designed to combine a lifetime of beauty and performance, with durability and low maintenance. Charter Oak offers a full line of accessories to complement the exterior of your home. All windows, doors, and siding installed by Solar Designed Systems are Energy Star rated and qualify for the current federal tax rebate-ending on December 31, 2010-for homeowners upgrading to energy efficient materials: 30 percent of up to $1500.00. The addition of a cost-saving solar electric system helps raise a property's value. According to the Association of Realtors, for every $1.00 saved on home energy costs, another $20.00 is added to the worth of the home. Mrozinski says that in light of the current economy, more people are thinking about the value of their home, and how it will stand up in resale. Solar Designed Systems is there for all your energy saving needs. We are a fully licensed, insured, and experienced company, willing to help customers learn about their new system and how to take care of it. All products include manufacturer warranties. With more than 30 years of experience, excellent reputation, superior craftsmanship and attention to detail, you can rest assured that Solar Designed Systems will meet your highest expectations. "We're not there just to put the system in," says Mrozinski. "We back up what we're selling. We're there for the long term." To get a custom quote on lowering the energy costs of your home, call Solar Designed Systems, at 856-296-7939 or visit www.solardesignedsystems.com Published (and copyrighted) in Suburban Family, Volume 1, Issue 7 (September, 2010).
For more info on Suburban Family, click here.
For information about advertising in Suburban Family, click here.
To find out where to pick up your copy of Suburban Family, click here.