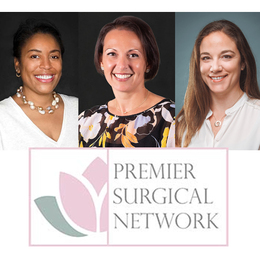 A Personalized Approach
At Premier Surgical Network, it's about more than treating cancer. It's about treating the whole patient.
With a major focus of the practice on breast health, the highly skilled team at Premier takes a patient-first approach to treat the disease on an individual basis in order to produce favorable outcomes.
Here, we get to know some of the talented surgeons who are known for going above and beyond to care for their patients.
Anjeanette T. Brown, MD, FACS
Dr. Brown is a board-certified general surgeon and fellowship-trained breast surgeon, who specializes in breast health. She is a member of the American College of Surgeons, Society of Surgical Oncology and the American Society of Breast Surgeons. While serving in the United States Navy, Dr. Brown worked onboard the USNS Comfort, which offered support during rescue operations in New York City after the 9/11 attacks.
After her military service, Dr. Brown completed surgical training at Hahnemann University Hospital and completed a Society of Surgical Oncology Breast Surgery Fellowship at Bryn Mawr Hospital. She is passionate about patient care, as well as educating others about the detection, diagnosis and treatment of breast cancer.
As a fellowship-trained breast surgeon, "we are taught to navigate a patient's care from diagnosis to surgery and surveillance. Once a patient has been informed of their cancer medical oncology, radiation oncology and MRI appointments are scheduled," says Dr. Brown.
Dr. Brown also follows the philosophy that the patient is always first. "Phone calls are returned by me personally, and when I can, I do not require the patient to come to the office to get relevant information such as an explanation of results or answering questions, etc. We can do that via Telemed to make it more convenient for the patient."
Desiree D'Angelo-Donovan, DO, FACS
Dr. D'Angelo-Donovan is a general surgeon, board-certified by The American Board of Surgery. She specializes in the care of breast cancer and breast-related diseases. She has special certifications from The American Society of Breast Surgeons in ultrasound and stereotactic breast biopsies.
After completing her undergraduate education at West Chester University, she attended medical school at The Philadelphia College of Osteopathic Medicine. Dr. D'Angelo-Donovan went on to complete her general surgical training at Christiana Care Health System in Delaware.
"I take a lot of time with the patients explaining all the ins-and-outs of their treatment path. I want patients to fully understand all their options so they can make the best decision for their care. Knowledge is power, so once we know something is happening, then we can work toward a goal for treatment and make a plan," she says.
Seeing patients feel better is very fulfilling for Dr. D'Angelo-Donovan. "Whether that is treating a breast cancer patient and following them for years and celebrating another year of being cancer free or seeing a sick patient in the hospital and taking them to the operating room and then getting to watch them recover and get back to day-to-day life; seeing my patients doing well is the best part of the job for me."
Lisa Iucci, DO
Dr. Iucci is a general surgeon specializing in the treatment of breast diseases and skin cancer. She is board-certified by the American Osteopathic Board of Surgery and a member of the American Society of Breast Surgeons. After completing her bachelor's degree at Syracuse University, Dr. Iucci went on to obtain her medical degree at Philadelphia College of Osteopathic Medicine and completed her residency at Rowan University School of Osteopathic Medicine. She has participated in many community service efforts, including a medical mission trip to Haiti.
Dr. Iucci is known for being very compassionate and for taking the time to listen to her patients, answering their questions without ever making them feel rushed.
"The diagnosis of breast cancer or breast disease can be very stressful for the patient. To allow them to discuss all their concerns, I encourage the patient to bring someone with them to the appointment for support and to help voice any fears or anxieties the patient may be unable to voice themselves. I encourage open communication between the patient and myself, as well as our office staff. We all work as a team to treat the patient and help them along their journey both physically and emotionally," she says.
Having the opportunity to educate and guide a patient is not only the most rewarding aspect of the job for Dr. Iucci, but at times it can also be the most challenging.
"Not only are you treating the patient, but you are also guiding their family and friends through the journey together. It is worth it all to see the patient through the treatment from beginning to end and become lifelong partners in their health," she says.
Premier Surgical Networ
Multiple locations
(833) 615-2566
PremierSurgicalNetwork.com
Published (and copyrighted) in Suburban Family Magazine, Volume 14, Issue 2.
For more info on Suburban Family Magazine, click here.
For information about advertising in Suburban Family Magazine, click here.
To find out where to pick up your copy of Suburban Family Magazine, click here.