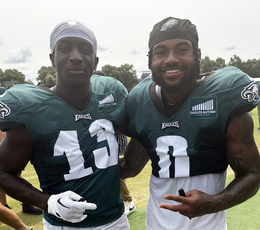 Achieving Greatness
Alumni love to return to St. Joseph's Preparatory School. They, along with students, parents, faculty and friends, see the Prep as their "home." As John Marinacci, president of St. Joseph's Prep, says, "It is a place where you are seen, loved and challenged to be the person you were born to be."
This fall, two outstanding alumni are returning home: PIAA Championship football players D'Andre Swift '17 and Olamide Zaccheaus '15 will return to the area to play for the Philadelphia Eagles.
"It is an amazing time for our program; to see two of the best players in our school history returning to the city that they love to play for the team that they rooted for when they were kids," says current head football coach Tim Roken. Roken was the offensive coordinator when Swift and Zaccheaus were Prep students and worked closely with both.
"I am beyond blessed to have an opportunity to play in front of my hometown where the love and support is truly unconditional," says Swift, whose father Darren continues to serve on the Prep's coaching staff, handling strength and conditioning.
"Being back playing in Philadelphia is a blessing," adds Zaccheaus. "When I signed, it felt like I had the whole community behind me. I can't wait to make plays in familiar territory!"
The philosophy of "mens sana in corpore sano"—"a healthy mind in a healthy body"—has long been a part of Prep education. Students strive for excellence in all that they do—in the classroom, in co-curriculars/athletics, in service to the community and in growing a relationship with God. In striving for excellence on the field, the members of the Prep coaching staff endeavor to impart the qualities of leadership, loyalty and sportsmanship. The student-athlete learns to cope with winning and losing, to be humble in victory and proud in defeat.
The Prep is Philadelphia's Jesuit high school, with an education based on a 500-year legacy and pedagogy. Jesuit education celebrates finding God in all things and celebrating all of the success and learning that come from God's gifts.
"D'Andre and Olamide are outstanding young men who have been blessed with talent and an incredible work ethic," says Roken. "To have them held up as role models for our current players will be an incredible opportunity."
Maxwell Roy is a shining example of a current player. The junior from Delran is a three-sport athlete: football, wrestling, and track and field. More so, he is an example of the service-oriented leader that the Prep helps to develop.
"Maxwell is the type of student that can walk into a room and instantly change the environment for the better," says computer science teacher Teresa Hoffman who was in a retreat group with Roy and taught Olamide Zaccheaus. "He has a humble confidence and a friendly smile and makes other students instantly feel at home in a potentially intimidating environment."
Roy states that, "Football gives me the discipline to succeed," and while sports were a major draw for him, as the son of a teacher, he's also grown to love the academic opportunities on campus as well as the bonds he's formed with his peers.
"I've gained friends I know I'll have for the rest of my life. The connection you have from being in this school, it's something you can't find anywhere else," he says.
Athletic director Dan DiBerardinis states, "Hallmarks of our program are identifying exemplary coaches and ensuring that they believe in developing young men. Our students get the best education and are seen and cared for as individuals, ensuring personal growth."
This attention to building students into the best versions of themselves has led to successes in many areas, including six state championships in the past decade for the Prep's football program. And, most recently, the crew program won the national championship, competing in the world's most prestigious regatta in England this summer.
"There is an amazing legacy of excellence at the Prep," says DiBerardinis. "Many young men from South Jersey have made the short trip into Philadelphia and made an incredible impact on our school." He adds that recent Prep athletic stars John Reid (Penn State University/Seattle Seahawks), Steve Vasturia (University of Notre Dame/overseas basketball), Jon Daniel Runyan (University of Michigan/Green Bay Packers) Kyle McCord (Ohio State University), Jeremiah Trotter (Clemson University) and Josiah Trotter (West Virginia University) all hailed from New Jersey.
"Many might fear that our city location would be a detriment to the athletic experience. However, our mission supersedes facilities and offers a unique opportunity to enjoy all of Philadelphia's resources, from the Schuylkill River to Franklin Field."
The Prep is also excited about recent upgrades to their home, refurbishing many internal athletic facilities, including the indoor track, not to mention the creation of a weight room that can accommodate 100 students, a cardio fitness center, and a transformed multipurpose room that will house a new wrestling gym and an indoor turf field. In addition, the Kelly Fieldhouse is being refurbished with a new court, banners and more.
"We love the grit that comes from using all of Philly as our training and battleground, but we are so happy that our student-athletes will get the space and equipment they deserve on campus," DiBerardinis says.
The Prep likes to say, "Philly is our campus," and Philadelphians will be cheering on both hometown teams, the Prep Hawks and the Philadelphia Eagles, this year.
Athletics at The Prep
• 20 varsity sports
• 70% of students participate in athletics
• 3.4 avg. student GPA
• 31% of athletes are multi-sport
• 40 seniors recruited by Division I
• 80% of freshman participated in athletics
• 13 teams do not cut players
• 9 State Championships since 2013
• 3 PCL Champions 2022-23: Football, Tennis, Crew
• 14-time Prestiguious Henley Royal Regatta competitor
Athletic Spotlight: Maxwell Roy, Junior
What have you learned from participating in
athletics that will benefit you in life?
Hard work, you know, just never giving up and giving 100% through everything. Through sports, I've been in tough situations and wanted to give up, but because of the teaching I got from my coaches, I pushed through it. That's something I think I could use my whole life.
How do you balance all three sports and academics?
It's a tough balance, but just relying on the people that are here to help you. We have so many people to help the athletes with academics and balancing everything. It's too hard to do it by yourself and there are so many people at the school to lean on.
Do you participate in anything else at the Prep
For football, we do a service trip every year. When we go for a week, we go out and do service in the area. For me, I [also] participate in a couple clubs like the Film Discussion Club and the Black Latino Culture Club.
Athletic Spotlight: Dan DiBerardinis, Athletic Director
What makes athletes at St. Joe's Prep so different?
I think it's a combination of things. First, we expect a lot of them academically and require service and reflection. Second, the city is our campus, so we are spread out. So, I think that instills a little bit of toughness, a little bit more grit, and a strong work ethic. It helps them succeed on the field but also later in life.
Why do families choose the Prep?
Tradition. It has a phenomenal tradition. Academically, we are elite. This year we are sending seven kids to Notre Dame, one of the hardest schools in the country [to get accepted into] and we are sending seven in one class. And we have something for everybody. We have a club for everybody, we have 20 varsity sports. I think that the total package of academics, activities and athletics really separates us.
What is the secret to so much success across so many sports?
We're together. We all help each other out. We're one cohesive department. Sometimes, in other schools, there is one really good team that is the focus of all of athletics, and everyone else is kind of out on their little island. We come together at the Prep. Everyone supports each other; there is no competition or friction between programs. I think that brotherhood, that tradition, that unity encourages us to be successful across the board.
What, if anything, is consistent across all the coaches you have at the Prep?
We instill the motto of "Men For and With Others." So, being a positive part of our community is important, we make sure everyone comes together for service to improve Philadelphia. Our coaches take the formation of the character of these young men as important as the development of their skills. This is something that unifies all our boys across all sports.
St. Joseph's Preparatory School
1733 W. Girard Ave. | Philadelphia, Pa.
(215) 978-1950
SJPrep.org
Published (and copyrighted) in Suburban Family Magazine, Volume 14, Issue 2.
For more info on Suburban Family Magazine, click here.
For information about advertising in Suburban Family Magazine, click here.
To find out where to pick up your copy of Suburban Family Magazine, click here.