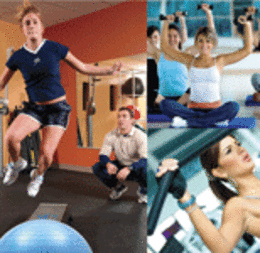 BREAKTHRU Physical Therapy and Fitness Centers
BREAKTHRU Physical Therapy and Fitness Centers offer a new approach to physical well-being.
BREAKTHRU Physical Therapy and Fitness Centers offer a new approach to physical well-being. Most people join their local gym with a particular goal in mind. Maybe it's to lose weight, tone up for an upcoming beach vacation, or strengthen the area of a recent injury. And yet, without having a team of professionals to help you meet those goals, it's easy to let your gym membership slide and the goals go by the wayside. In order to prove to members that with focus and attention, working out can be a positive experience that delivers results, Lance Knaub PT, DPT, OCS, CSCS and Jodi Goldman PT, DPT opened its first BREAKTHRU Physical Therapy location in Medford six years ago. While maintaining a focus on personalized service, BREAKTHRU now has three state-of-the-art locations in Medford, Moorestown and Voorhees. Team-approach to individual fitness
Staffing their facility with the area's best physical therapists, exercise physiologists, athletic trainers, nutritionists, chiropractors, massage therapists, and other health experts, BREAKTHRU provides a complete-body experience that brings members back for more. "We created a fun yet results-oriented space where you get access to more professionals and more attention, and you never have to wait for equipment or feel intimidated," says Knaub. "There was nothing in South Jersey where professionals were working together under one roof for one organization and with the clients' best interest in mind. The onsite team of professionals works together so that the members get the best results in the least amount of time." BREAKTHRU member Marilyn Powell of, Medford says, "BREAKTHRU is warm, welcoming, friendly and gives you all the personal attention you want. It has a great mood about it. Everyone seems to be enjoying themselves, even though they are 'working' or 'working out'." Improved health using a multitude of modalities
BREAKTHRU offers weight loss, personal training, sports performance, massage, fitness, nutrition and physical therapy services, ensuring that any potential member will find a program and an expert right for them. There are also classes in yoga and tai chi and a bootcamp program for those looking to tone up quickly. "BREAKTHRU is so much more than just a gym," says Jonathan Shur, director of marketing. "We create a personalized pathway from rehabilitation to fitness and optimal performance. Our clients achieve their goals in an inspiring and comfortable environment through individual attention and professional expertise The personalized, one-on-one attention from certified personnel differentiates us from the other gyms out there." Expert physical therapy and personal training
BREAKTHRU's physical therapy services are unique in the area. The gym's award-winning team works with patients to develop a plan for recovery and strength building using the facilities great equipment and talented staff. Says Shur, "We see people of all ages and abilities, and develop evidence-based, customized plans accordingly." Personal training is also popular. Starting with a specific and attainable goal for the member, team members use their training in anatomy and exercise physiology to develop a personal program. The result is not only a program that improves a trouble area, but helps improve overall body composition, increase strength and flexibility and helps with cardiovascular training. Enhanced training with state-of-the art equipment and nutritional support
Area athletes may also want to check out BREAKTHRU's sports performance training. Lead by Keith Scott, MS, ATC, CSCS, who has more than 17 years of hands-on experience working with athletes of all ages and expertise levels, including professional and Olympic. Scott's expertise helps members increase strength, power, speed and agility with routines tailored just for them. Prior to beginning, all participants are given a full orthopedic screening to uncover any imbalances or weaknesses that need to be focused on. BREAKTHRU also has access to specialty pieces that help athletes train at peak performance. "Our equipment includes the Keiser Functional Trainer, which is air resistant so that you can move at any speed and have the same resistance. This allows you to train for both real-life functions and for play in sports, which often are at very high speeds," says Knaub. Those just starting their athletic journeys and focusing on weight loss and management benefit from BREAKTHRU's popular eight-week Weight Management program, which includes information on how to properly navigate the grocery store to avoid unhealthy foods, choosing nutritionally balanced meals, identifying and avoiding sugar-laden products and focusing on improving protein and fiber intakes. Members can lean on BREAKTHRU's nutritional counselor for unlimited email support through the duration of their use of the program. Other popular eight-week programs include those designed to help women regain their shape post-partum; nutritional counseling for all sorts of situations; and other focuses. Chronic painful conditions alleviated using BREAKTHRU's methods Powell started her experience with breakthrough as a fitness member, but has taken advantage of the facility's other programs, as well. "I had had physical therapy treatments elsewhere in the past which were satisfactory, but short of inspiring," says Powell. "When my shoulder again became a problem (rotator cuff and bursitis), I talked with Lance Knaub one day, got an assessment from him, did a little homework which revealed that he is a well-known expert here and continued under his care." That first experience proved to Powell that BREAKTHRU's staff was made of the best people to take care of her. "Lance and others on his staff have helped me with my shoulder, knee and annoying back over the years. When appropriate, they would have me go to a medical specialist. Not only is their professional competence obvious and very effective on my problems, they are there every day when I work out -- always more than willing to give a little help even if I am not in a treatment program, she says" Since clearing up her issues, Powell continues with BREAKTHRU as a fitness member. "With the fitness center, they help me with a workout program that takes in to consideration my personal situation. I work out three days a week and can always get a tune up on my program if I need it." Highly qualified staff gives best possible service
BREAKTHRU's staff members have advanced training in their respective fields, including physical therapy, personal training, massage, orthopedics, sports medicine, balance and movement disorders, and arthritis. Several BREAKTHRU staffers even serve as adjunct faculty in physical therapy doctorate programs at area universities. "[At BREAKTHRU,] I am surrounded by staff that is professional and highly competent," says Powell. "I trust them. They are available to me without making me feel like I'm asking a favor when I need advice or a little assistance." "We pride ourselves on our extremely high level of customer service," says Shur. "We solicit feedback regularly from our customers and respond accordingly. Since our beginning, we have been customer-focused and work each day to ensure we are meeting and exceeding customer's expectations. Our retention rate for both fitness members and physical therapy patients is very close to 100 percent, and much of this is due in large part to the high level of service we provide." Shur says the detailed attention and customized work-outs are "our members' favorite thing about us. They love that they get to work out in an intimate and comfortable environment while at the same time, feeling challenged and pushed to reach their goals. It's a difficult balance, but one that we have been successful in creating here at BREAKTHRU." BREAKTHRU is moving and expanding its Voorhees location, relying on members' feedback and requests to develop new programs. Powell says it's this personal dedication and attention that makes her enjoy BREAKTHRU and suggest it to friends. "BREAKTHRU has far exceeded my expectations and continues to do so every day," she says. "That's why I am still there." BREAKTHRU Fitness and Physical Therapy
200 Tuckerton Road, Suite 17, Medford, NJ 08055 - 856-396-2250
701 Cooper Road, Suite 12, Voorhees, NJ 08043 - 856-346-0526
1273 N. Church St, Suite 100, Moorestown, NJ 08057 - 856-722-1044
www.breakthrupt.com Published (and copyrighted) in Suburban Family, Volume 1, Issue 7 (September, 2010).
For more info on Suburban Family, click here.
For information about advertising in Suburban Family, click here.
To find out where to pick up your copy of Suburban Family, click here.