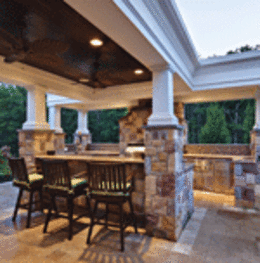 Beechwood Landscape Architecture and Construction
Inside Out: Outdoor Living Enhances "The Good Life"
According to Steve Chepurny, ASLA, CLA 898, president of Beechwood Landscape Architecture and Construction, LLC, "As more homeowners are staying in their house for an average of 15, or even more, years rather than sell, they see their home's outdoor space as a natural extension of the home itself." Outdoor living spaces, similar to areas inside the home, offer a central focal point where families and guests congregate. When creating an outdoor space, there are a variety of amenities to choose from: cook stations can be as simple as a modern-day grill and work space, to a full kitchen with refrigerator, sink and oven. Bars and beer taps make entertaining easy, as does including at least one sitting area as well—maybe a table with several chairs, high top stools beside the cook station counter, or a combination of both. Custom swimming pools and related water features bring the elements together in one's yard, regardless of how near or far the home owner actually lives to the water. Chepurny says custom pools combined with other amenities, such as terraces, kitchens and landscaping, when done in balance make for exciting home exteriors. "We take into consideration drainage, the relationship to house and patio, privacy and access to neighbors." Chepurny also says that while there are clear usage benefits for pools such as a place to swim and stay cool, "Pools can also be a passive focal point with a water wall, a raised spa and an adjacent cabana. Day or night, it becomes a true piece of art whether viewed from poolside or the inside." Fire elements such as a fire pit or a full outdoor fire place, as well as lighting, counterbalances the water. Both can create dramatic accents to any home exterior and enhance the aesthetics. "Many think of lights solely for creating highlighted areas of the landscape but it is also a great way to hide negative space," Chepurny says. "That is our job to show all the uses." Things to know about outdoor living spaces
Although there are many ways in which outdoor living spaces mirror indoor ones, there are some important differences. "First, there is no such thing as 'maintenance free' when it comes to pavers and decks. Even if cleaned regularly, the exterior will never be as clean as the home's interior," Chepurny says. Just as a lack of water can create brown colorless lawns, watering too much can saturate the soil and deplete the nutrients needed for growth. Accoring to Chepurny, "When the ground is too moist, mowing the lawn should be avoided as it may cause permanent ruts. The excess growth and inability to effectively cut the grass can also lead to more disease and insects. There are new devices on the market that can be installed to improve proper water management. They monitor all the factors that can impact the amount of water needed, including rainfall, temperature, wind, sun ultraviolet rays and seasonal changes," Chepurny says. "We have been using such systems commercially for some time but within the last year, they have become more affordable and popular for residential clients. And, it will save on the water bill, too." Creating even greater enjoyment at home
Homeowners' motivations to improve their outdoor living spaces vary according to their individual styles and needs, however, says Chepurny, "While clients do view the home exterior enhancements as an investment in real estate value, I find that the majority are motivated more by a desire to have greater enjoyment at home." "I never liked our deck in the back and we never used it," says Robert M. Stern, DMD of his home in Cherry Hill. What he truly wanted was an outdoor space that was "a true reflection of the home—basically a room without walls or ceiling. Steve and I walked through my house to the back so he would see the space from the inside out. Steve got it." Stern says that when he decided to commit to re-doing his home's exterior, he committed to Beechwood because they were flexible enough to work around his family's busy schedule and because, "Beechwood was great with communication. Not only was the information detailed, they did not shy away from text and email." Says Chepury, "In the end, it's all about enhancing our clients' quality of living—integrating their interior home with a seamless design to the outside. We create personalized landscapes that express individualism and taste for life." Beechwood Landscape Architecture and Construction is headquartered in Southampton and services South Jersey at beyond. For more information or to schedule an appointment, call (609) 801-1252 or visit BeechwoodLandscape.com to browse a portfolio of projects or request an online quote. Published (and copyrighted) in Suburban Family, Volume 1, Issue 7 (September, 2010).
For more info on Suburban Family, click here.
For information about advertising in Suburban Family, click here.
To find out where to pick up your copy of Suburban Family, click here.