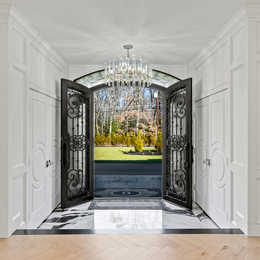 Determined to Deliver
With decades of experience and a family approach, Eco-Pure Construction goes above and beyond to ensure their customers' visions become a reality.
You could say that Mike DeLuca was destined to be in the construction business. After all, he got his introduction to the trade at a young age as he watched several of his family members work in the industry. Eventually, he would spend his teenage years working along their side and gaining invaluable hands-on experience that taught him the importance of quality craftsmanship and superior customer service.
DeLuca continued that education when he went onto college and earned his bachelor's degree in project management and business. And in 2012, he combined his years on the job with his schooling and opened up Eco-Pure Construction. With offices in both South Jersey and South Florida, the company specializes in custom-built homes as well as remodeling projects. What's more, they also help commercial clients in medical offices, retail shops and elsewhere with any number of renovation needs, from smaller updates to a complete reimagining of the space to provide a new footprint.
But no matter what type of client that Eco-Pure encounters, they can expect the same high level of service that the family-owned and -operated company has built its reputation on over the years. And that includes the reassurance that DeLuca is directly involved in every job, making sure that his skilled team is delivering on their promises and helping to surpass client expectations.
"We strive to put quality first as well as customer service. I still have a personal touch on every single project and I go out to meet the client to discuss pricing, their wish list and the overall scope," he says.
With family members working not only in the office, but also in the field, DeLuca says he's able to create a well-rounded and personalized approach that benefits both his employees and customers.
"We are truly a family company that wants to help other families. We are very attentive to emails, calls and text messages. We like to be available to our clients at all times when they have a question or comment. It's all about communication and working hand in hand with the client," he says.
In addition to helping clients see their dreams come to life, Eco-Pure Construction also focuses on making the residential and commercial properties they work on more energy-efficient. With the recent global push to become more sustainable over the last 10 to 15 years, DeLuca says there are a large variety of ways customers can be saving money these days, such as putting solar panels on the roof or perhaps installing high-efficiency windows.
"It's a little bit of a niche market and we are still educating people. Not everyone knows the value of recessed LED lighting versus a regular light bulb," says DeLuca. "It's not our main focus, as we have traditional building methods that have been used for centuries, but we are also incorporating things that won't break the bank and are more cost-effective in the long term."
With that customer-first approach and the motto, "Envision better. Build Better," it's not hard to see why so many have entrusted Eco-Pure with their construction needs.
"At the end of the day it's their home, it's their building or their office and we want to make sure we are taking their vision and making it a reality. We truly value their opinions and we take all their ideas and go through the process of what to expect," DeLuca says.
Working so closely with clients only to see the finished result is by far the most rewarding aspect of the job for DeLuca, who mentions the thrill he gets whenever he sees a customer's face light up with excitement.
"They have this vision in their mind and we take their ideas and help them along the way to deliver a project that they walk into and are proud of; that is the most rewarding thing to me," he says. "We deliver on our word and exceed not only our client's expectations, but also ours.
"There's no such thing as a perfect construction project, there's always going to be an issue. But it's about coming up with solutions and that's what makes you a good builder. It's about how you handle those issues and making sure you are doing the right thing the right way and doing right by your customers."
Eco-Pure Construction
Voorhees
(856) 528-5991
EcoPureNJ.com
Published (and copyrighted) in Suburban Family Magazine, Volume 13, Issue 11.
For more info on Suburban Family Magazine, click here.
For information about advertising in Suburban Family Magazine, click here.
To find out where to pick up your copy of Suburban Family Magazine, click here.