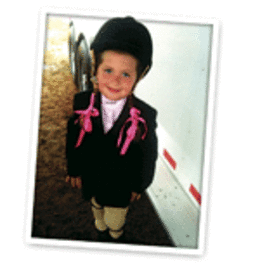 Star Students: September, 2010
Alexandra Bloom
Voorhees
Alexandra Bloom (pictured), 4, will be the youngest entrant in the upcoming Devon Horse Show, the largest equestrian event in the nation. Bloom will be competing against riders of all ages on her pony, Princess. Alexandra's mother, Danielle, credits her daughter's poise and self-sufficiency to her Montessori pre-school education at the Naudain Academy. This October, Bloom will compete in the Integrity Horse Show, also as its youngest rider, to be held at Gloucester County's Dream Park facility. Ted Barrett
Mt. Laurel
Barrett, 16, won the National Scrabble Championship in Dallas in August. He won $1,000 when he placed first in his division as one of only two contestants under the age of 18. Barrett also founded the Scrabble Club at Moorestown Friends School. Kelly Barb
Washington Township
Some college students might struggle if they were pursuing a double major in Chemical Engineering and Spanish as well as minoring in chemistry, international studies, mathematics, and Romance Languages. Barb, who maintained a 4.0 GPA at Gloucester County College, was awarded The Research & Development Council of NJ Merit Scholarship 2010. Barb also tutors, and volunteers for Habitat for Humanity. Frankie IeradI
Mount Laurel
Ieradi recently was recognized by the Boy Scouts during a Court of High Honor ceremony for achieving the rank of Eagle Scout, as well as by the Mount Laurel Township Council and Mayor Jim Keenan for his 'outstanding achievement'. Ieradi earned his Eagle Scout rank after identifying and solving a storage problem at his middle school: he built removable cubby units and bookshelves for several classrooms. Samantha Gardner
Haddonfield
This summer, Gardner, 16, was selected to attend Camp Business at Drexel University and also participated in a Model UN Conference in Beijing, China - winning the Outstanding Delegate on the Economics and Finance Committee award. She's also been chosen for the Drexel Visiting Scholars Program for this fall. David McCloskey
Washington Township
GCIT graduate David McCloskey received a scholarship at the August Freeholder Meeting for his work with green technologies. David was awarded the NJAC/PSE&G $500.00 scholarship for his work with solar panels and wind technologies and volunteering at the GCIT campus installing Smartboards. Phillip Dorsey
Moorestown
Moorestown Friends School graduate Phillip Dorsey was awarded a $1000.00 scholarship by Ronald McDonald House Charities. The ceremony, held at the African American Museum of Philadelphia, honored Phillip and fourteen others students who won the 2010 Future Achievers College Scholarship. Caroline Haeffner
Audubon
Haeffner, 13, was selected in August as one of the first recipients of the Ethel Mae Hocker Foundation Scholarship Fund from the Christ the King Foundation. She was chosen for her athletic and extracurricular involvement and her volunteer work with Kids Alley, an inner city youth initiative. Published (and copyrighted) in Suburban Family, Volume 1, Issue 7 (September, 2010).
For more info on Suburban Family, click here.
For information about advertising in Suburban Family, click here.
To find out where to pick up your copy of Suburban Family, click here.