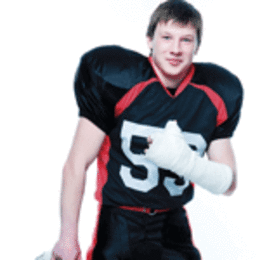 Don't Play It Again, Kid
Sports injuries are on the rise among South Jersey's young athletes
Sports injuries are on the rise among South Jersey's young athletes
At age 13, Brooke Elsworth of Mullica Hill has had the gamut of injuries from playing organized sports. But for the multi-team athlete, the worst of it occurred when, during a soccer game last year two other players slammed into her, sandwiching her in the middle. "She seemed fine," says Brooke's mother, Jennifer Elsworth. "She had an ice pack on and we went home." A day later, however, Brooke complained of head pain, stomach sickness and tingling in her legs. Brooke ultimately was diagnosed with a concussion and, for the next seven months endured migraines, memory loss, depression and anger. She also missed two months of school. "It was hard for her because she lost contact with her friends that summer. It was difficult," says Brooke's mom.
Pressure to perform
Brooke is not the only young South Jersey athlete sustaining sports-related injuries. Pediatric and adolescent sports medicine—the treatment of children and teenagers with motion-related injuries—is a growing field in this region, due in large part to kids' involvement in high-impact sports such as football, soccer, and lacrosse, says Dr. Mark G. Schwartz, co-director of Sports Medicine at Virtua, and a surgeon at Burlington County Orthopaedic Specialists. "The kids are playing multiple sports year-round now as opposed to just a season," he says. "There's no downtime like there used to be." Cooper University Hospital's Dr. Lawrence Miller agrees. "We patch people up, then we send them right back to the thing where they got hurt," he says. Miller, chief of Orthopedic Surgery at Cooper and director of the facility's Bone & Joint Institute, says this trend of sending our kids back into the fray is the result of a shift in our culture. "Forty years ago, kids could go out and play in the neighborhood and not come back in until 10 o'clock. Today, parents think it's not safe for kids to do that—there's more traffic, roads are busy, there's crime. So, organized sports have taken over the role of post-school play time." This, combined with another cultural phenomenon—what Miller calls the "super sub-specialization of everything"—means everyone has to be an expert, and at an increasingly younger age. "In order to stay competitive," says Miller, "kids have to develop their skills sooner. Another thing is that college is so expensive, the hope is that the kids are good enough at their sport to at least get some financial assistance." Thus, for a growing number of area youth, playing sports has become more than just a way to get a little fresh air and exercise: it's become a systemized means to an ends.
Injuries on the rise
According to Miller, the most common cases are meniscal tears—injuries to the cartilage padding where the bones come together in the knees; and tears to the anterior cruciate ligament (ACL), which provides rotational stability to the knee. Also prevalent among younger players are dislocations of the shoulder, although Miller says these are easier to correct: "Unstable shoulders have a better heal rate than knees." Still, injuries are not to be taken lightly. "You can repair it, but you can never replace what got hurt." Instead, he says doctors just, "explain the risks of (returning to play)." Schwartz says young athletes usually sustain their injuries upon sudden impact, such as colliding with other players, or falling. Re-injuries often stem from not allowing for full recovery. Miller says concussions also have become a concern in the student-athlete population. Although one minor head injury usually proves harmless in the long run, "the real concern is getting concussions back to back." Second-impact syndrome (SIS) occurs in athletes who return to play too soon and suffer another hit before the brain has fully healed. Because of the nationwide incidence of SIS in recent years, many high-school athletic departments, in conjunction with hospitals including Cooper,are using an on-line assessment tool called the ImPACT Baseline Test. The test measures multiple aspects of cognitive functioning in athletes, such as attention span, non-verbal problem solving and reaction time. In New Jersey, students who play high-impact sports are required to take the test before their sports season begins. Athletes who sustain head injuries are then required to re-take the test; their results pre- and post-injury are compared to help assess the extent of the damage to the brain.
Preventative measures
All four high schools in the Lenape Regional High School District, which serves Mount Laurel, Marlton, Medford, Shamong, Tabernacle and Chatsworth, employ full-time athletic trainers 12 months per year as well as assistant trainers for the school year. Both positions serve as first responders on athletic fields and maintain athlete-injury records. "We've been fortunate; last year we had a limited number of injuries. No one was hurt badly enough that they had to end their play entirely. We only had a couple of concussions, and some broken bones here and there," says Lenape High School Athletic Director Tim Walsh. Yet he says that because, "athletes today don't give themselves a chance to recuperate," Lenape stipulates that students participate in only one contact sport per season, with a mandatory 24-hour rest period between activity. Schwartz says having trainers on the scene means that parents are not alone when trying to decide if an injury warrants a trip to the emergency room, a non-urgent appointment with the pediatrician, or just some over-the-counter pain relief medication and "RICE"—rest, ice compression, and elevation. "During the school season, I get several phone calls a day from trainers," says Schwartz." Miller's own 14-year-old daughter suffered a concussion while playing lacrosse this past spring, causing her to miss a significant amount of school and her exams. "She's great now," he says, but the experience gave Miller pause for thought. "I think a great study would be to look at people in their 50's and 60's who played high-impact sports as teens and see what percentage of them are still involved in that sport. Then compare a similar group who participated in non-impact sports like rowing." Miller says he expects the study would show a higher percentage of the non-impact athletes are still playing their respective sport, and are relatively injury-free, while the high-impact group are less active now. Miller says he thinks the study would show that injuries such as blown-out knees in the latter group would likely result in a higher incidence of conditions like being over-weight or inflexible. "It'd be interesting to study and analyze which sports promote better overall and long-term health, and which ones our community rec programs should be putting their money behind," he says.
Culture not changing soon
And yet, for the time being, high-impact sports programs are where the kids are. Says Jennifer Elsworth about her daughter being back in the game, "The plus side is she's with her friends, and…I know where she is." "In general, it's a culture thing. I don't see a way to change it," says Miller. He says the pressure is too intense, not just in community sports, but particularly for schools where competitive, high-impact sports bring lots of recognition. However, Miller is optimistic that with recent attention being placed by state legislators on the effects of year-round play on student athletes, that we can "find a balance between strict criteria that make kids safe without hurting their chances for advancement."
Published (and copyrighted) in Suburban Family, Volume 1, Issue 7 (September, 2010).
For more info on Suburban Family, click here.
For information about advertising in Suburban Family, click here.
To find out where to pick up your copy of Suburban Family, click here.