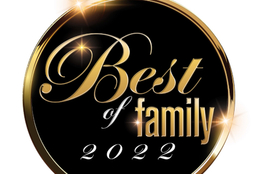 Best of Family 2022
Our annual editors' and readers' selections for the best in South Jersey, from dining out and home services to education and entertainment.
We love this time of year because it is the culmination of a year's worth of work traversing across the area in search of the best it has to offer. We are proud to present the people, places, products and more that are more than deserving of the spotlight. And in addition to our editors' choices, we are once again allowing our readers to have a voice and showcasing their favorites. Consider this your definitive guide to all the things that make South Jersey great to call home.
ANIMAL CARE
Day Care for Dogs
Camp Bow Wow
Whether dropping off Fido for day care, boarding or grooming, dog parents can rest assured that their babies are well taken care of by Camp Bow Wow's highly trained and certified staff. Cherry Hill, CampBowWow.com
Veterinary Care
Animal Hospital of Somerdale
Any owner wants the best for their pet and that especially goes for medical attention. The compassionate care you'll find courtesy of veterinarian Dr. Sheila Maier extends to every animal who comes through the door, from sick pups, felines, birds and more. Somerdale, AskTheVet.org
Dog Training
CTO Dog Training
Chris O'Prandy, the one-time leader of the Mount Laurel Police Department's K9 unit, knows firsthand about the bond one can form with man's best friend. So now the retired officer is using his unique background to train dogs in as little as two hours to become happy, obedient pets ready to thrive. Marlton, CTODogTraining.com
EDUCATION, CHILD CARE & ACTIVITIES
Before & After Child Care
Future Scholars
Future Scholars is a place where staff pride themselves on offering the best care for your child to ensure they are welcomed, challenged, comfortable and loved. Hainesport, FutureScholarsLearning.com
Catholic High School
Paul VI
Inspired by the Catholic ideal, Paul VI provides a wide variety of courses that challenge students and focus on relevant and innovative subjects that prepare them for experiences post-graduation. Haddonfield, PVIHS.org
Acting Lessons
Renee's Studio
Renee Weisband bestows actors of all ages and experience levels with the tools needed to succeed. Whether it be a high school play or Broadway, Renee uses her passion and determinaton to pass it down to the leading generation. Moorestown, Renees-Studio.com
After-School Activities
Suffolk Stables
Here students will have the opportunity to learn the ins and outs of horsemanship. Students get to learn proper use of equipment, grooming, riding and all things horse care. There's something for everyone as they offer a wide range of classes to match riders' skill levels. Shamong, SuffolkStables.com
Driving School
Teacher's Driving School
The instructors at Teacher's Driving School are devoted to providing their students with all of the tools and education they need to become safe and successful drivers. Medford, TeachersDrivingSchool.net
Career & Technology Education
Gloucester County Institute of Technology
With the help of a dedicated staff and administration, students will walk away with the knowledge, experience and skills necessary to make meaningful career choices in a variety of fields. Sewell, GCIT.com
College-Student Life
Neumann University
The four-year private university is dedicated to providing its students with an education to prepare them for their future careers while instilling in them the Franciscan tradition of the Catholic faith. Aston, Pa., Neumann.edu
Music Lessons
Old Towne Music
Whether they're taking lessons in person or online, budding musicians will learn how to read music and understand music theory at their own pace while exploring different musical stylings as their classes progress. Multiple locations, OldeTowneMusic.com
Dance 12 & Under
Tiny Tutus Dance Center
Kids age 12 and under are invited to nurture their passion for dance through the multiple different courses, class, camps and programs offered at Tiny Tutus Dance Center. Moorestown, TinyTutusDanceCenter.com
Dance All Ages
Mulford Dance Studio
From ballet and pointe to hip-hop and gymnastics, dancers have been perfecting their craft and training for pre-professional dance performances at the well-known South Jersey studio for over six decades. Mount Ephraim, MulfordDance.com
Specialty Camp
AKKA Soccer
Think you may be raising the next young soccer star to come out of South Jersey? Or maybe just looking to help your little one sharper their skills on the pitch? These trainers will help develop your child's game and refine their abilities in a variety of ways. Hainesport, AKKASoccer.com
Children's Theater
Mainstage Center for the Arts
By introducing the world of performing arts at a young age, Mainstage is creating the stage stars of tomorrow by teaching them how to captivate audiences through acting, song and dance. Blackwood, Mainstage.org
Special Needs
Occupational Training Center of Burlington County (OTC)
Driven to assist individuals with disabilities discover their maximum potential, OTC offers services for employment, day programs and residential services. Burlington Township, OTCBC.org
Tutoring
Huntington Learning Center
With K-12 tutoring and various test prep programs available, this center takes a personalized approach to individualized education, pinpointing and addressing needs while helping students excel academically. Cherry Hill, Turnersville, HuntingtonHelps.com
Robotics Program for Kids
Robotech Educational Services Inc.
For youths intrigued by robotics, electricity, engineering or coding, Robotech houses various programs that reinforce how technology can be used to bridge science and mathematics. Mount Laurel, NJRES.org
Private School
Moorestown Friends School
Leaning on its foundational Quaker values, this school offers its students (ages 3 through grade 12) the chance to grow both in and outside of the classroom with a challenging curriculum and array of activities, clubs and unique experiences. Moorestown, MFriends.org
Private Preschool
Lightbridge Academy
Understanding the importance of helping foster individual growth during a child's formative years, Lightbridge places a strong emphasis on innovative educational tools that engage and stimulate young learners. Multiple locations, LightbridgeAcademy.com
FOOD & DRINK
Food Truck
Hands Down BBQ
This husband-and-wife team take customer service just as seriously as the "low and slow" cooked meats they lovingly serve up with the goal of slinging some of the best 'cue you've ever tasted. Serving South Jersey, HandsDownBBQ.com
Italian Restaurant
Allora
For award-winning executive chef Mark Berenato, it's all about bringing family and friends together with great food. That passion—and his famous pan-seared sea bass filet—has made Allora a mainstay on the region's best-of lists. Marlton, AlloraFood.com
Gourmet Pizza
The Fat Tomato
With choices from the classic margherita to bolder options like the honey sriracha chicken with jalapeños and bacon, there's no shortage of ways to satisfy your pizza cravings here. Berlin, FatTomatoBistro.com
Distillery
Blue Rascal Distillery
Take a tour of the distillery or reserve a spot in the tasting room and indulge in brandy and liqueurs infused with fresh and delicious blueberries grown by farmers right here in South Jersey. Hammonton, BlueRascalDistillery.com
Farm Market
Springdale Farm Market
For over 70 years, the family farm has provided South Jersey with fresh fruits and vegetables, baked goods, year-round events and seasonal activities, including the annual Christmas Tree Yard. Cherry Hill, SpringdaleFarms.com
Asian Food
Akira
Akira is a cornerstone in the community, providing locals with a variety of sushi options continuously recognized for their modern take on traditional dishes and masterful sushi and sashimi. Moorestown, AkiraMoorestown.com
Bakery
Sweetsboro Pastry Shoppe
Since opening their doors in 2007, Sweetsboro Pastry Shoppe continues to offer a variety of tasty treats from cakes to croissants and one-of-a-kind baked goods for any special occasion. Swedesboro, SweetsboroBakery.com
Burgers
The POP Shop
This '50s-themed eatery offers an award-winning menu of mouthwatering burgers with a modern twist like the Mac Daddy, two classic beef patties topped with cheese and sandwiched between two grilled cheeses. Collingswood, ThePopShopUSA.com
Brewery
Lower Forge Brewery
Medford's original craft beer brewery, this local favorite introduces new flavors with their classic IPA recipes such as their Masqureade IPA, made with local grains and fermented with mango and passion fruit. Medford, LowerForge.Shop
Catering
Paris Catering
Superior customer service, satisfaction and exquisite cuisine is of the utmost importance at Paris Catering. You'll work with a skilled team of professionals to help customize a package meeting all your needs and expectations. Berlin, Paris-Caterers.com
HEALTH, BEAUTY & WELLNESS
Pediatric Dentistry
Growing Smiles
Going to the dentist can be scary for kids, but the professionals at Growing Smiles know that establishing good oral hygiene practices early means a brilliant, healthy smile for life. Mount Laurel and Voorhees, MyGrowingSmile.com
Braces
Frank Batastini Orthodontics
As one of South Jersey's leading dentists, Dr. Frank Batastini knows how much an improved smile can help boost one's self confidence and he's long been the orthodontist folks turn to when it comes time for teeth correction. Multiple locations, BracesBraces.com
Hospitals
Inspira Health
Cutting-edge technology meets a network of dedicated providers delivering a full continuum of primary, acute and advanced health care—including a patient portal that helps individuals take control of their medical needs. Serving South Jersey, InspiraHealthNetwork.org
Female-Only Gym
Jersey Girl's Female Fitness Center
For ladies looking to concentrate on their health and exercise in a welcoming environment without creepy guys lurking over them, this is the place. With specialized, state-of-the-art equipment and a knowledgeable training staff, this is where area women come to build muscle and burn fat. Multiple locations, JerseyGirlsClubs.com
Personal Training
J.E.T. Training
Sticking to your new year's fitness goals is a lot easier when you see the results of a workout routine built around your goals in an environment that can be collaborative or individually focused as you prefer. Cherry Hill, JetTraining.co
Hair Salon
Suede Salon & Spa
From a standard haircut to elegant updos, from conditioning services to endless color options, your tresses are in good hands with the artists at Suede, who are obsessed with what's hot now and what's trending next. Marlton, SuedeSalonSpa.com
Pilates
Pilates Plus
Programs are designed with you in mind at Pilates Plus, where classes never exceed four people to ensure truly individualized instruction. This comprehensive wellness center also offers fitness, dance, Gyrokinesis, yoga therapy and more. Marlton, PilatesPlusRestoration.com
Cardiology
Advanced Cardiology of South Jersey
Dr. Bahal and the team at Advanced Cardiology of South Jersey treat patients with high-quality, personalized care and education to help them better understand their medical conditions. Mullica Hill, AdvancedCardiologySJ.com
Family Dentistry
All Smiles Family Dental
Dr. Nermeen Rifai and her team deliver quality dental care and education in a comfortable and convenient location, with services ranging from routine cleanings to full mouth reconstruction. Williamstown, AllSmilesFamilyDentalNJ.com
Brain Injury Rehab
Princeton Brain, Spine and Sports Medicine
After a traumatic brain injury, the recovery process can be quite strenuous. The experienced team at Princeton Brain, Spine and Sports Medicine is here to provide individualized care and support through the entire process. Multiple locations, PrincetonBrainAndSpine.com
In-Home Care
Homewatch CareGivers
The caregiving staff here are all thoroughly vetted professionals who are passionate about tending to your loved ones with the warmth, respect and kindness of family. Haddon Township, HomewatchCareGivers.com/Haddon-Township
Orthodontics Technology
Kadar Orthodontics
Braces have come a long way in recent years. Staying on top of orthodontic innovations to deliver the best results requires a team that blends high-tech capability with old-fashioned customer service as seamlessly as Kadar has. Sewell, GoKadar.com
Cancer Care
Comprehensive Cancer
Comprehensive Cancer offers exceptional physical and mental care to patients battling cancer with a multitude of high quality services and individualized treatments best suited for your needs. Voorhees, ComprehensiveCancer.com
Orthopedics
Premier Orthopedics Associates
Since 1998, this team of skilled sub-specialists with diverse backgrounds, experience and education have been helping South Jersey's high-performing athletes and everyday people reclaim their mobility to enjoy the lives they love. Multiple locations, POASNJ.com
Invisalign
Dr. Erin Kazmierski-Furno
Dr. Kazmierski-Furno grew up around orthodontics and brings that lifetime of knowledge to her work. As an Invisalign preferred provider, she thoroughly examines every patient to determine if the clear aligners are their best option. Marlton and Medford, KazOrthodontics.com
Immunotherapy Treatment
Lindenberg Cancer & Hematology Center
In Lindenberg's tireless effort to treat the whole patient, the team delivers an immunotherapy regimen that trigger the body's defenses to fight cancer without chemo's adverse effects. Marlton, LindenbergCancer.com
HOME IMPROVEMENT
Tree Removal
Tree & Land Masters
When it comes time to remove a tree, whether due to weather damage, disease or otherwise, these experienced arborists are the right crew for the job. Berlin, TreeAndLandMastersNJ.com
Roofing
Archer Exteriors
Whether you're in need of crucial repairs or its time to rip off the old shingles and replace your roof, Archer Exteriors brings decades of experience and the credentials as a GAF Master Elite Roofer so homeowners can rest assured they made the right decision. Pittsgrove, ArcherExteriors.com
Solar Energy
AllSeason Solar
These expert professionals help homeowners go green while saving some green along the way, utilizing customized solutions to create more energy-efficient residences where the monthly electric bill is dramatically reduced. Serving South Jersey, AllSeasonSolar.net
Air Duct Cleanings
COIT Cleaning & Restoration
Your home's indoor air quality is important to maintaining a healthy and comfortable living environment for your family. COIT'S air duct services are guaranteed to remove contaminants and ensure healthy breathable air. Somerdale, COIT.com
Carpeting
Smart Carpet & Flooring
The professional flooring and design experts can help customers pick just the right carpet to fit your home's needs. From durability to style, there's something for everyone. Serving South Jersey, SmartCarpet.com
Fireplace
Rettinger Fireplace Systems
Since 1995, this family-owned business has been expertly educating homeowners about the best fireplace options for their homes, as well as providing design and installation services. Voorhees, RettingerFireplace.com
Home Organization
California Closets
Maximize your space with whole-home, individually customized storage solutions from California Closets, whose expert consultants can help you reclaim and renovate your library, garage, home office, pantry and more. Mount Laurel, CaliforniaClosets.com
Outdoor Living Design
Elite Landscaping
Elite Landscaping has more than 30 years' experience in creating beautiful outdoor spaces that highlight a home's unique architectural beauty by complementing it with perfectly, professionally balanced landscape designs. Berlin, EliteLandscaping.com
Kitchen Design Build
Matteo Family Kitchens
Family owned and operated since 1995, Matteo's story begins with expertly designed and appointed kitchens, but quickly expanded to bring that same level of attentive, customized craftsmanship to flooring and bathroom projects. Woodstown, MatteoKitchens.com
Landscaping
Gill's Landscaping, Inc.
For 34 years, Gill's has been bringing homeowners' visions to life across South Jersey. From design to construction to maintenance, its team creates show-stopping landscapes that add to a home's curb appeal and property value. Mullica Hill, GillsLandscaping.com
Masonry
Jamison Home Services
This family-run business has delivered customer service as exemplary as its craftsmanship for over 30 years. Whether you need masonry, basement, chimney or outside-space experts, Jamison's team is waiting to wow you. Serving South Jersey, JamisonHomeServices.com
HVAC
T.J. Eckardt Associates, Inc.
With more than four decades of installing, repairing and maintaining HVAC systems and providing sheet metal and insulation services, T.J. Eckardt is the first call South Jersey and Shore residents make when they need a reliable expert fast. Berlin, TJEckardt.com
Fencing
Progressive Fence & Railing
With over 20 years of experience, Progressive Fence and Rail designs and installs sustainable outdoor structures, including staircase railings to playsets, for your family to depend on and enjoy. Egg Harbor Township, ProgressiveFenceAndRail.com
PROFESSIONAL SERVICES
Realtor (Gloucester County)
Nancy Kowalik, Your Home Sold Guaranteed Realty-Nancy Kowalik Group
With a highly proven track record and expert knowledge of the marketplace, Kowalik has stayed ahead of the curve in the always-changing world of real estate and is recognized for her effective marketing campaigns as well as an unwavering commitment to her clients. Mullica Hill, YourHomeSoldGuaranteedRealty-NancyKowalikGroup.com
Realtor (Camden County)
Liz Rocco, AM Realty Advisors
Rocco and her team at this family-owned, small-brokerage firm go the extra mile for their clients, whether they are helping alleviate the stress of selling your property or dedicating themselves to finding you the next home of your dreams. Haddonfield, AMRealtyAdvisors.com
Financial Planner
Brian Walsh Oppenheimer
The father-daughter duo of Brian Walsh and Kristin Walsh Marinis is steadfast in its commitment to providing value-oriented wealthy advisory services to small business owners, families and high-net-worth clients. Haddon Twp., Oppenheimer.com/TheWalshGroup
Family Law
Archer & Greiner, P.C.
Archer & Greiner prides itself in being different from its competition, dedicated to providing aggressive representation of its clients' interests with over 30 experienced lawyers and four New Jersey locations. Haddonfield, ArcherLaw.com
Elder Law
Begley Law Group
Begley Law Group ensures that elderly and disabled clients and their families make informed choices, guiding them through the planning and important decisions involved in protecting their legacies. Moorestown, BegleyLawGroup.com
RETAIL
Dance Apparel
Attitudes Dancewear
The one-stop shop for dancers of all ages and sizes, Attitudes Dancewear has an extensive inventory of name-brand dance shoes and apparel for jazz, tap, ballet and more. Marlton, AttitudesNJ.com
Electric Bikes
Pedego Electric Bikes of Haddonfield
From specialty to city, the well-known and trusted company has the perfect bike for each customer, with options for all sizes and abilities, with a plethora of color and style options to choose from. Haddonfield, PedegoElectricBikes.com
Pet Supplies
Concord Pet Food & Supplies
For two generations, these pet-loving professionals have been providing all the supplies that the region's dogs, cats, small animals, birds, reptiles and even horses need—and all the info and services their humans are looking for. Multiple locations, ConcordPetFoods.com
BEST OF FAMILY 2022 READERS' CHOICE
Animal Hospital
Mount Laurel Animal Hospital
Mount Laurel, MLAHVet.com
Assisted Living
Brightview Senior Living
Multiple locations, BrightviewSeniorLiving.com
Bakery
L&M Bakery
Delran, LMBakery.com
Body Contouring
The Garden Medical Spa
Multiple locations, TheGardenMedSpa.com
Brewery
Tonewood Brewing
Oaklyn, TonewoodBrewing.com
Burgers & Pizza
Crust N Fire
Multiple locations, CrustNFire.com
Carpet Cleaning
Rocco's Carpet Cleaning
Glendora
Chiropractor
BeFit Chiro
Multiple locations, BeFitChiro.com
College / University
Rowan University
Glassboro, Rowan.edu
Community College
Rowan College of South Jersey
Deptford, Vineland, RCSJ.edu
Family Dentist
Staffordshire Dental Group
Voorhees, StaffordshireDental.com
Family Eye Care
Friedberg Eye Associates
Mullica Hill, Woodbury, FriedbergEye.com
Dance Education
Bowman School of Dance
Cherry Hill, TheBowmanSchoolOfDance.com
Financial Advisor
Kelli Brack/Edward Jones
Marlton, EdwardJones.com
Gym
Echelon Health & Fitness
Voorhees, EchelonHF.com
Hair Salon
Wair Studio Salon
Marlton, WairStudioSalon.com
Childrens' Hair Cuts
Kid Kuts of Voorhees
Voorhees, KidsKutsVoorhees.net
Hospital
Virtua
Multiple locations, Virtua.org
Mediation Services
Advanced Mediation Solutions
Haddonfield, AdvancedMediationSolutions.net
Orthodontist
Dr. Cara Piskai
Voorhees, PisakiOrthodontics.com
Permanent Makeup
Beau Institute
Cherry Hill, BeauInstitute.com
Personal Trainer
THRIVE @ Echelon Health & Fitness
Voorhees, Echelonhf.com/thrive
Pet Grooming
Millie's Jiggles and Wiggles
Voorhees, JigglesWiggles.com
Private School (Pre-K-12)
Doane Academy
Burlington, DoaneAcademy.org
Realtor
Joe Giletto, Coldwell Banker: The Dolson Team
Haddonfield, ColdwellBanker.com
Restaurant: Asian
Shanghai Express Chinese Food
Marlton, ShanghaiExpressFood.com
Restaurant: Casual
The Bistro at Haddonfield
Haddonfield, BistroNJ.com
Restaurant: Italian
Joe Italiano's Maplewood
Moorestown, JoesMaplewood.com
Sports Bar
The Village Pub
Washington Township, TheVillagePubNJ.com
Skin Care
Connolly Dermatology
Multiple locations, ConnollySkincare.com
Special Needs
Speech Language Associates
Mount Laurel, SpeechLanguageAssociates.com
Summer Camp
Liberty Lake Day Camp
Bordentown, LibertyLakeDayCamp.com
Physical Therapy
Specialized Physical Therapy
Cherry Hill, SpecializedPhysicalTherapy.com
Urgent Care
Patient First
Multiple locations, PatientFirst.com
Weekend Activity: Adults
Sharrott Winery
Hammonton, SharrottWinery.com
Weekend Activity: Kids
Lil Sous Chefs Cooking School
Voorhees, LilSousChefs.com
Published (and copyrighted) in Suburban Family Magazine, Volume 13, Issue 7.
For more info on Suburban Family Magazine, click here.
For information about advertising in Suburban Family Magazine, click here.
To find out where to pick up your copy of Suburban Family Magazine, click here.