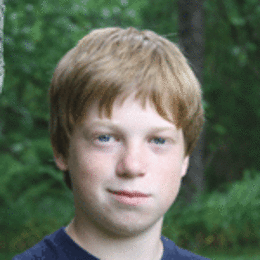 Fame is fine...
…but for this Medford celebrity teen friends and finals come first
…but for this Medford celebrity teen friends and finals come first
Trevor Heins didn't have any time to waste.

The call that came in June 11th was one the young Medford actor did not expect—a New York audition for a small role in the next installment of Disney's "Pirates of the Caribbean: On Stranger Tides," starring Johnny Depp. If the fourth "Pirates" movie was anything like the first three, it was sure to be a huge blockbuster hit. Heins, 16, had turned down the audition the first time around, two days earlier. "I have finals," the teen told his agent. So when Heins was offered the chance to audition again (finals at Moorestown Friends School, where Heins is a junior, were now completed), he had to jump on it—literally.
Heins and his mother, Jackie, hopped in the car that same day to make the drive from Medford to New York City. It was a familiar route; one Trevor and his mother had taken many times since his first acting job on the Nickelodeon show "Blue's Clues" at the age of 3. For this particular drive, Heins spent the entire two-hour ride on the phone with an acting coach, learning how to properly speak with a British accent so he could nail the part.
"You can't just act it," Hein said. "You have to feel it. You have to live it." But for this audition, the last-minute coaching didn't cut it. For whatever reason, Heins didn't get the part. As was practice whenever he didn't land a job, Heins had to let it go. In his 13-year career as a child actor, Heins has already landed more commercials, TV spots and movie roles then some kids could ever hope for—including working alongside Mike Meyers in 2008's "The Love Guru" and a three-year stint as Denis Leary's son, Connor, on the FX hit series "Rescue Me." Heins knows if he doesn't get one part, he'll land another. "You can't let not getting a job get to your head," Heins said. "You have to be persistent. You don't give up."
Finding fame
In a well-known commercial for Viva paper towels, a young, red-headed boy—Heins—is seen shaking a soda bottle as he walks across a kitchen. The bottle explodes, spraying the boy's mother with soda. The mother, in turn, grabs the spray nozzle from the kitchen sink, and shoots water back at him, laughing. "Messes are a part of life," a voice says. "Soak them up with Viva paper towels." Heins was 8 years old when he shot the Viva commercial, but even today, the commercial has more than 27,000 views on YouTube. "I actually had a tube (of liquid) going up my pant leg for that," Heins recalled. "That was weird. You would shoot the scene, dry off, get changed. Shoot the scene, dry off, get changed. I think I had 13 outfits for that one shoot, for a 30 second commercial."
At the time, Heins was on a bit of a TV commercial blitz. The Viva spot was just one of a dozen different commercials running on television at the same time that featured him. Campbell's Soup was another. "You couldn't turn on the TV and not see him," Jackie Heins said, laughing. Friends and family would call all the time to say they saw Trevor on TV.
Things weren't always this way, of course. For Heins, everything began when an agent first noticed him at a Philadelphia-area audition for extras for the movie "Beloved," starring Oprah Winfrey. Heins, then 3, wasn't auditioning. But his mother and older sister, Justine, were—they were hoping, only semi-seriously, to land small walk-on roles.
Instead, an agent noticed the adorable red headed boy in line with them. "Does he have a manager?" the agent asked. "And I had no idea what he was talking about," Jackie Heins recalled. "So we didn't really do anything at that point. I honestly didn't think anything of it." But a few months later, a different talent agent, Kathy Donahue, spotted Heins singing and dancing in front of a South Jersey Pathmark supermarket. She suggested that he do some catalog modeling. This time, Jackie was taking the hint, and Heins eventually signed on with Sam's Kids talent agency.
Casting agents loved Hein's cute, boy-next-door look—and the fact that he was a well-behaved toddler. "He did a lot of print work at first—Dillard's, Zany Brainy, toy catalogs," Jackie Heins said. "At that age, a lot of it comes down to disposition. Trevor had a great disposition." But the money—usually about $75 an hour for catalog modeling—wasn't exactly equal to the expense of traveling back and forth to New York City—sometimes for jobs Trevor didn't even get. "Seventy-five dollars an hour sounds good when you're a kid," Jackie Heins said. "But the travel expenses really add up. It actually cost me a few thousand in the beginning."
After asking around, Jackie Heins found a manager and new agent for her son—Abrams Artists Agency in New York—and Heins started landing commercials. A Kix Cereal spot, where Heins is seen taking cereal from another cart, was his first. "I was so excited," Jackie Heins said. "I taped it and everything."
Television appearances soon followed, with spots on "Hope & Faith," "The Jury," "The Late Show with David Letterman," and "Late Night with Conan O'Brien," among others. Then came an audition for a new television series called "Rescue Me." At the time, Heins recalled, no one knew it would be a hit. "I remember I went in and said the wrong line, and that made them laugh," Heins said. He got the call later that he landed the part.
Movie roles soon followed. After a few independent film projects, Heins landed a part in the VH1 television movie "Totally Awesome," co-starring Chris Kattan, in 2006, and a role the inspirational soccer movie "Gracie" in 2007. "The Love Guru" followed in 2008. Balancing fame with the everyday
For Heins, balancing everyday life in Medford with an acting career has been a bit of an adjustment at times. When shooting a film, Heins gets the A-list treatment: a first-class ticket to the set location, an apartment or hotel suite, maid service, a driver and a private tutor whenever he has to shoot during the school year. In the halls of Moorestown Friends, however, Heins blends in. Classmates know he's the kid who worked with Mike Meyers and appeared in all of those commercials. But for the most part, Heins says, no one treats him differently.
"Occasionally someone will recognize him, but it's usually when we're down the shore or in New York," Jackie Heins says. "They'll recognize him as the kid from 'Rescue Me.' So that's pretty neat." Jackie Heins says that, surprisingly, It's parents who tend to approach her with questions. "I cannot tell you how many people call me looking for advice on how to get their child into this business," she says. "I tell them it's very difficult. When starting out, you cannot have a job outside the home if you're going to do this."
"It's an exciting business," Jackie Heins says. "We were very lucky. We met a group of moms, early on, who were uncharacteristic of the business. We looked out for one another. And our philosophy always was, if it was meant to be, it will be. We can talk about why you didn't get the part, but once we got out of the car, we stopped talking about it. We moved on."
Staying grounded
Trevor Hein's bedroom wall could serve as a "who's who" of celebrities. There are framed photos of Jessica Alba, Owen Wilson, Ben Kingsley, James Earl Jones, Tracy Morgan and Denis Leary, to name a few—all posing and smiling with Heins. Heins, surprisingly, doesn't have big Hollywood dreams. He's happy to take on more movie roles, he says, but he also plans to finish high school, go to college and, someday, hopes to become a pilot.
Aside from a possible 3D film called "Digger" that is still in pre-production, Heins has no movie or television projects in the immediate future. And he is fine with that.
"I just take it as it comes," Heins says. "Most roles, you don't know if you're right for the part. There are a lot of if's." Heins plans to enjoy the school year, he says, and—just like his parents taught him—walk the balance between being a Hollywood actor and just another soccer-loving South Jersey kid (Heins played for the division winning Medford Hurricanes, coached by his father). "Even if it all ended tomorrow," Heins says, "It was a great ride."
Published (and copyrighted) in Suburban Family, Volume 1, Issue 7 (September, 2010).
For more info on Suburban Family, click here.
For information about advertising in Suburban Family, click here.
To find out where to pick up your copy of Suburban Family, click here.