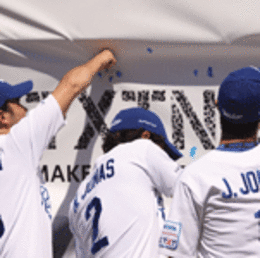 The Jonas Brothers Latest Hit A Home Run
The bro band and their softball team, The Road Dogs, visit South Jersey to X the TXT
The bro band and their softball team, The Road Dogs, visit South Jersey to X the TXT
The Jonas Brothers' recently delivered a hard-hitting message by tossing a few softballs, much to the screaming delight of the thousands of South Jersey fans gathered at Campbell's Field in Camden.
In late August, the Road Dogs—a team comprised of the brothers, their roadies and some relatives—invited fans to watch them take on the Marquis Jet Flyers. Although the bros and co. blew out the Flyers 22-7, it was a friendly game intended to highlight the dangers of texting while driving. Nick Jonas greeted fans and spoke with reporters saying,"It feels great to be here. We played here last year. We try to do our best and have a good time."
According to Bob Nehring, director of group events at the stadium, the siblings returned to Campbell's Field this year "because of the great time and excellent treatment they got here last year." South Jersey was one of only 12 stops on their nation-wide tour. The tour is part of Allstate's social initiative, X the TXT.
According to the Allstate Foundation, texting is among the most dangerous distractions facing drivers today, especially teens, of which car crashes are the number one killer. Before play began, the JoBros added their thumbprints—the symbols of their pledge not to text and drive—to a banner that is traveling with them on tour.
"The Jonas Brothers are better role models for getting involved in this cause. They will definitely help raise awareness. So many people love them."
That's the opinion of Christine Onorato, 17, a senior at Cherry Hill High School West, who attended both the game and the group's concert later that night at the Susquehanna Bank Center. Onorato, who has her learner's permit, took the X the TXT pledge, as did her friend and fellow-Cherry Hill West senior, Stephanie Denning, 17: "Thankfully, I don't know anyone who has had an accident from texting while driving. I don't drive with people who do that. It's something I make sure of." For more information, visit the X the TXT fan page on Facebook.
According to the Allstate Foundation:
• Car crashes kill an average of 11 teens each day
•Distracted driving, such as while texting, injures 330,000 people every year
•Texting takes your eyes off the road for an average of 5 seconds. At 55 mph,
•that's like driving the length of a football field—completely blind
•Drinking four bottles of beer has the same effect on a driver as the distraction of sending a text
•You are 23 times more likely to crash while you are texting
Published (and copyrighted) in Suburban Family, Volume 1, Issue 7 (September, 2010).
For more info on Suburban Family, click here.
For information about advertising in Suburban Family, click here.
To find out where to pick up your copy of Suburban Family, click here.