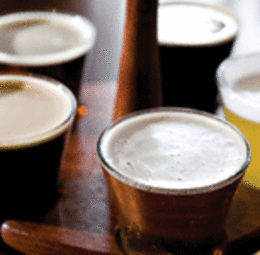 Change Is Brewing
Fine dining isn't just for wine drinkers these days. Savvy area eateries are stocking up on craft beer, pairing it with food to deliciously satisfying effect.
Once upon a time in South Jersey, there were wine drinkers and there were beer drinkers. And of the beer drinkers, there were people who drank only Budweiser or, say, Miller Lite from the local bar and people who brazenly hankered for a taste of something a little more elevated—artisanal brews they could experience only by venturing across the river to Philadelphia.
But that was then. Today, taps laden with craft beers both exotic and local are a common sight at bars and pubs across the region. In area restaurants, beer experts are earning a degree of veneration once reserved for sommeliers. And oenophiles who previously restricted themselves to the wine list are now trying the title "beer geek" on for size.
Much of this change can be attributed to the astounding increase in the quality of beers now available to a wide audience. And this evolution, says Chris LaPierre, head brewer at Iron Hill Brewery and Restaurant in Maple Shade, has to be considered in the larger context of how Americans eat and drink. "It's really not just beer that you're seeing this with," he explains. "I think we're riding a wave that encompasses a lot of food items.
"People are more into drinking local and eating local and eating fresh," he continues. "People are getting pickier about what they want to eat; they want something that's full-flavored and local and fresh. I think that's part of the reason that craft beer has been as successful as it has."
Local bars and restaurants are more than happy to tap into the sudden thirst for standout suds. Champps in Marlton, for example, home to 51 beers on draught, employs enthusiastic, well-informed bartenders and waitstaff who have begun taking advantage of the educational workshops offered by distributors such as Moorestown's Regal Wine.
The enlightened bartenders and servers, in turn, can then act as informal beer educators to diners, answering questions and providing a sense of context for the brews. Their knowledge base is especially important given craft beer's relatively recent surge in popularity.
How else would you navigate the beer menu at The Pour House in Westmont, where the brew selection is every bit as impressive as a high-end restaurant's wine list? Serving up names both comfortingly familiar and wildly exotic—from Exit 1 Bayshore Oyster Stout by local favorite Flying Fish to impossible-to-pronounce bottlings like Brouwerijt Brouwkot Netebuk from Belgium—The Pour House is a veritable funhouse for growing legions of curious beer lovers. And if there's a beer they don't have, patrons are invited to submit requests.
"We have an online setup through our Web site where you can put in beer suggestions," says Jake Karley, a beer expert with P.J.W. Restaurant Group, which owns The Pour House. "We definitely take into consideration everything the customer says."
As consumers in general have grown more familiar and comfortable with beer, its role has shifted, finding its way from tailgate parties and crowded barrooms to the dinner table. It's about time, too: Craft beers are just as food-friendly as the best wines—and often match up with food that wine can't.
That's where High Street Grill in Mount Holly comes in. Its menu is studded with dishes that enhance, and are enhanced by, beer—a decision that has brought executive chef and owner John McDevitt a measure of local acclaim.
Some of his dishes are just naturally beer-friendly; his chicken quesadilla, for one, is infused with smoky flavors that are nearly impossible to pair with wine. Others are actually cooked with beer, like the hoppy barbecue wings made with an India Pale Ale-laced sauce. And occasionally, McDevitt takes the concept of beer pairing a step further, applying brewing methods to his cooking. "We'll even sometimes get fresh hops and dry-hop our barbecue sauce," he says, a process that lends a delicious floral note to the sauce.
McDevitt, like other beer lovers, clearly takes his brews very seriously. But after all, it's just beer. Or is it?
Bill Brandt, who owns Traino's Wine and Beer in Marlton, says beer just might be the ultimate indicator of social change in the United States. "Things are changing so fast," he marvels. "The days of the guy who drank his Budweiser every day for the last 20 years are over, just like the days of the guy who worked in a factory for 25 years. People are moving and changing quickly. In a way, it's a good thing in the beer business, because it gives you the best quality of beer all the time
Haddon Township Is Hopping
Beer lovers are already buzzing about the upcoming Philly Beer Week, which begins June 4. But you don't have to cross the bridge to find great beer events; Haddon Township will be hosting its own beer festival here in South Jersey.
The Haddon Pub Fest, slated to run from noon to 6 p.m. on June 5, will take advantage of the township's reputation as a topnotch beer destination. "We have eight local establishments—restaurants, taverns, bars—in Haddon Township that have really been on the cutting edge of the craft beer scene," says Kate Burns, director of the township's business improvement district. The participating bars are P.J. Whelihan's, The Pour House, Giumarello's, Cork, Treno, Brewer's Towne Tavern, The Taproom & Grill and Tom Fischer's Tavern. Attendees are encouraged to take public transportation, as Patco will be running trolley service from the Westmont station. The trolley will run all day in between the bars and is free.
Pub Fest T-shirts are on sale now at participating establishments for $10. Wear one on June 5 for access to the trolley service, special deals and other perks. For detailed information, visit HaddonPubFest.com.
Published (and copyrighted) in Suburban Family, April 2010.
For more info on Suburban Family, click here.
For information about advertising in Suburban Family, click here.
To find out where to pick up your copy of Suburban Family, click here.