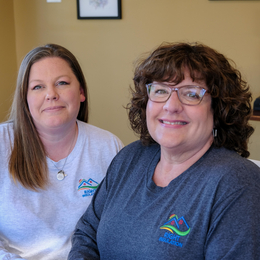 The Right Products for the Right Results
The Right Insulation team wants to ensure the region's families stay cool in the summer, warm in the winter and educated about the importance of adequate insulation all year long.
For seven years, Michele DuCoin and Stefani Eidem have fielded requests for everything from animal removal to clarification on what their company does.
It reached the point where they realized it was time to retire the Attics and More moniker and come up with a name for their company that painted a more accurate picture of its services. A few months ago, they rebranded to Right Insulation, succinctly illustrating their dedication to being the region's insulation, ventilation, and air-sealing experts.
"We do a lot of insulation removal, then sealing any cracks and crevices, and then blowing in fresh insulation and installing solar attic fans—so our name wasn't addressing what we do," explains company president DuCoin. "We liked 'Right Insulation' because it better reflects who we are and what we do."
"We use the right products in the right homes to get you the right results," adds Eidem, director of operations. "And we do insulation in more than just the attic."
In their seven years of delivering insulation services to the region's residents, DuCoin and Eidem have encountered some sobering facts about how common it is for homeowners to be casually negligent of their insulation. And since a home's insulation helps ward off the summer's heat and the winter's chill to ensure a household can enjoy optimal, efficient comfort all year long, educating their clients to reverse that trend has always been a significant part of the service.
"After my kids were taking care of themselves, I thought it would be a great opportunity to return to work, to open a business and offer a needed product backed up with exceptional service," DuCoin says. "When doing our research, we found out that about 95% of homes in the country don't have adequate insulation. We thought this would be a good business to get into to help people understand the importance of taking care of their homes and how important the attic is to the well-being of a home."
With most houses improperly insulated, there is undoubtedly a need to help the tristate area realize what a difference in comfort and energy efficiency that the correct—and correctly installed—insulation can deliver.
It starts, DuCoin says, with simply getting to know your attic better. "It's amazing how many times we'll ask, 'When was the last time you were in your attic?' and I've had someone say 'I've lived here for 35 years and have never once been in the attic.' That tells you that people ignore the attic, and you really can't. Too much goes on up there!"
Ensuring that they're doing everything right is a big part of what makes Right Insulation stand out, too, as the team is singularly dedicated to customer satisfaction. There is a process behind insulation installation, and the team treats each customer and their home with the utmost respect through it all. That means not just maintaining a clean worksite but snapping plenty of photos to document a project that's essentially invisible after completion.
"We take a lot of pictures," DuCoin confirms. "We make sure we take 'before' pictures when we do an installation. For example, if a customer is having air-sealing done: That gets done below the installation. Other companies can say that they've air-sealed adequately, but they don't show you the pictures, so you don't know. We want to show the customers that the work has been done so they can be confident today and in the future."
As part of its promise to ensure it's using the right products, Right Insulation works with 100% made-in-the-USA materials, choosing nothing but the best, most trusted brands and providing warranties that "follow the home, not necessarily the customer."
"We only use American-made products," says DuCoin. "We make sure that we use chemical-free products, and we do not use cellulose, which is a recycled-paper product that has a lot of chemicals in it to make it fire retardant. Same with spray foam: We will use it sparingly in a home because there are so many issues with spray foam. If we wouldn't use a product in our homes, we won't recommend it to a customer."
After all, for DuCoin, Eidem, and the rest of the Right Insulation team, it's all about improving the comfort and efficiency of their neighbors' homes, one installation project at a time.
"We strive for all five-star reviews, and we strive to educate the customer," says DuCoin. "The best feedback we can get is that we met their needs and exceeded their expectations."
Right Insulation
1405 Chews Landing Road - Suite One, Laurel Springs
(856) 770-2349
RightInsulation.com
Published (and copyrighted) in Suburban Family Magazine, Volume 13, Issue 6.
For more info on Suburban Family Magazine, click here.
For information about advertising in Suburban Family Magazine, click here.
To find out where to pick up your copy of Suburban Family Magazine, click here.