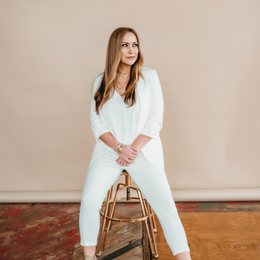 Standing in Your Power
Whether she's speaking to an audience or working one-on-one with a client, Maria Grande draws on her own experiences to help everyone she works with realize their own power through honest self-examination.
After denying her own sense of self-worth for most of her life, Maria Grande wants everyone to know how the personal liberation of learning to love yourself leads to realizing your own power and potential.
It's a personal understanding that begins with two difficult but necessary tasks: unlearning years of diligently built-up defense mechanisms, and being completely honest with and accountable to yourself.
"Everything I do revolves around self-awareness: I teach people how to self-observe," says Grande, a personal power speaker and coach. "We're taught by society and conditioning factors to judge and observe others, we're never really looking deep within ourselves. … If we're focused on other people and what they're doing, we are wasting our energy on things we cannot control, which leaves us powerless. What I've learned is that you have to call yourself out on your hypocrisy: It's not fair to judge yourself by your intentions but everyone else by their actions."
Grande knows exactly how hard these concepts are to struggle with because overcoming them marked the beginning of her own transformative journey to overcome her "shadow self"—a pale approximation of who someone really is that obscures the full breadth of their personality because they assume it's incompatible with others' expectations—through "the real and raw process of personal development."
"We can't be our authentic selves when we're trying to hide the things that we think are not acceptable to society or certain groups," she explains. "We try to hide those aspects that we're embarrassed of or feel aren't good enough. … You don't have to put a perfect self forward all the time. The process is helping you unleash the weakness as well as the greatness. It's saying 'I don't have to be perfect all the time in order to be worthy of love.'"
Bringing this to light for people empowers them in all areas of life, enabling them to be successful in communication, both in their personal life as well as in the workplace. Arriving at the core of communication breakdown is what separates Grande's leadership training apart from others. It's what helps make her an in-demand corporate trainer, keynote speaker, and one-on-one empowerment coach who focuses especially on helping women rediscover their worth.
Using her experiences, vulnerability and sense of humor to connect with her audiences, Grande demonstrates that it might seem daunting to strip away a lifetime of learned responses and defenses, but the payoff of "overcoming obstacles, both self-imposed and external" is more than worth the effort.
"The unlearning process is the hardest part," Grande says. "When I started calling myself out on my own cr*p, that's when I started changing things. One of the best things I ever learned in my life was to laugh at myself, to laugh at my imperfections rather than judge myself for them."
One of the major themes Grande focuses on is letting go of the impulse to harshly judge not only oneself but also others. She's found that it's crucial for women to realize the overall positive impact that comes from learning how to celebrate and lift up other women, which is why reaching out to and empowering girls early on is also a significant part of her work.
"It's very important for women to support other women," she affirms. "A lot of times, we don't see that, whether it's societal expectations that create tension between us or just our own issues and insecurities. I talk to women about what is holding them back, and what I really focus on is guilt and shame, because they're two of the things that can hold us back from moving forward with whatever it is that we desire."
As a continuation of her efforts to help women take back their power, Grande also hosts the podcast Worth in Progress, the second season of which she just began recording. It's where she practices what she preaches, uses real-life examples to illustrate her points and interviews guest experts while taking a deep dive into topics like moving on, letting go and mindfully living in the moment.
"I am vulnerable on there, I tell people where I've been and what I've been through," Grande says of her podcast. "It's about accepting yourself right where you are instead of focusing on what you're not and what you don't have. It's just about finding your worth even though your worth has always been there."
And knowing that she can help people embrace their authentic selves by showing them how to begin unlearning unhealthy coping mechanisms is exactly why Grande is so passionate about what she does.
"Nothing warms my heart more than all of the grateful emails from clients, telling me that they've applied what I taught them and they're seeing huge changes in their lives." she says. "We are sometimes taught that self-love and self-care are selfish and that is untrue. The best thing I could ever hear from a client is that they're learning to love themselves."
Maria Grande, Personal Power Speaker and Coach
(609) 780-7270
MariaGrandeLLC.com
Published (and copyrighted) in Suburban Family Magazine, Volume 13, Issue 6.
For more info on Suburban Family Magazine, click here.
For information about advertising in Suburban Family Magazine, click here.
To find out where to pick up your copy of Suburban Family Magazine, click here.