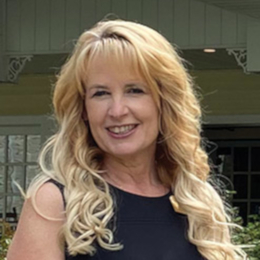 Who's Who at Brightview Senior Living
Meet the great people behind the scenes at Brightview Senior Living's Woodbury Lake Community.
Suburban Family recently spoke with some of the associates who help make it happen at Brightview Senior living in Woodbury. They told us about the community culture and how residents are like part of the family.
Tracy Gill
Position: Executive Director
3.5 years at Brightview Woodbury Lake
Tracy's responsibilities include leading a team of directors who oversee the daily operations of the community, which include ensuring residents are happy, healthy and safe. Tracy ensures residents and families are well informed with community updates, and as well as assists with marketing and sales.
She believes it is important to build a culture within the community that always puts the residents first, ensuring that associates are well-trained on Brightview's standards and expectations.
"It's rewarding to know I make a difference in the lives of residents here at Woodbury Lake," she says. "Our directors and associates alike are extended family for many of our residents. We make an impact through our words and actions—knowing all the residents by name, knowing their life stories, their likes and dislikes makes them feel loved, valued and appreciated. That's what it's all about."
Tracy continues: "I encourage our potential families or residents to spend some time in our community. Walk through the halls, sit through a meal or an activity program. It won't be long before they get a feel for the community. They soon discover it's a feeling, a vibe, a culture that sets us apart from other communities."
Michael Masiko
Position: Driver/Vibrant Living Assist/Maintenance Tech
9 Years at Brightview Woodbury Lake
Michael Masiko engages in many activities with residents, all while keeping a smile on their faces.
"I make the residents laugh with a daily joke or two," he says. "I get familiar with where they're from, their history and treat them like family because that's what they are. I apply the S-P-I-C-E model (Spiritual, Physical, Intellectual, Cultural, Emotional) into their daily activities. "
Masiko safely drives residents to lunch outings, shopping destinations and doctor appointments. He also takes them on scenic drives, whether it be looking at Christmas lights, fall foliage or driving through a historic town, and notes that, at any given time, the residents will burst out into a spontaneous sing-a-long during the trip. Masiko also ensures residents' on-site safety by assisting with light maintenance throughout the community.
"The culture is amazing here at Brightview Woodbury Lake because it is small enough that everyone knows each other, like a family—it's a culture of respect that is handed down through the directors to the associates," says Masiko.
Masiko adds that one of his favorite things about his job is the residents. "The folks, I love the folks. I can relate to them as aunts, uncles, grandparents. I spend more time at Brightview than with my own family."
Deborah Dick
Position: Senior Housekeeper
4 years at Brightview Woodbury Lake
Deborah cleans residents' apartments weekly and common areas daily.
"I love what I do each and every day for the residents: This is their home and I want them to feel as comfortable as possible here," she says. "It's very personal here, a very tight-knit community. I consider the residents my family and they treat me as such. Brightview is a great company to work for. They truly care about their associates and residents."
Deborah says some of the things she likes about her job is the interaction she has with the residents and their pets. "I'm a pet lover. There have been a few times our residents have asked my opinion on how they should decorate their apartment."
Deborah says every day is different, which is a big reason why she loves and appreciates her job.
"I am constantly told that I'm always smiling and that you wouldn't know if I was having a bad day," she says.
Brightview Senior Living Woodbury Lake
752 Cooper St., Woodbury
(856) 324-3447
BrightviewSeniorLiving.com
Published (and copyrighted) in Suburban Family Magazine, Volume 13, Issue 6.
For more info on Suburban Family Magazine, click here.
For information about advertising in Suburban Family Magazine, click here.
To find out where to pick up your copy of Suburban Family Magazine, click here.