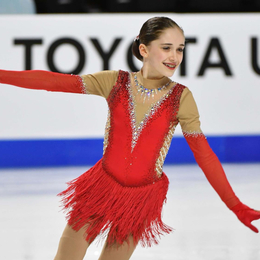 Stars
Outstanding members of the local community.
STAR ATHLETE
Isabeau Levito
Levito, a Mount Holly resident, made her senior skating debut earlier this year, and has medaled in each of those five competitions. Most recently, the 15-year-old phenom was among the Team USA members who clinched podium spots at last month's 2022 Skate America, the first stop of the International Skating Union's Grand Prix of Figure Skating Series. There, Levito's artistry and technical performance earned her a silver medal–an especially impressive feat in a ladies' event packed with older, more experienced skaters.
STAR PRINCIPAL
Dennis Perry
The Cherry Hill High School East principal was recently honored as the 2022-2023 New Jersey Association of School Councils' (NJASC) High School Administrator of the Year at last month's NJASC fall conference. The recognition began with student government officers' nomination efforts and was followed with a flurry of recommendation letters from students, teachers and administrators who all spoke of how Dr. Perry's passion for guidance, support, encouragement and making every student feel heard has fostered an environment of school spirit, student achievement and positive attitudes.
STAR SCOUT
John Reiter
The member of Bordentown's Boy Scout Troop 13 has been awarded the Presidential Volunteer Service Award gold medal, the highest rank of a national honor offered in recognition of sustained volunteer service over the course of a year. Reiter logged more than 100 hours of volunteer work in support of and with his troop, which included: manning the Boy Scout Council's booth at the Burlington County fair; assisting with numerous Memorial Day events; and participating in a day of flag placements at his local military cemetery.
STAR STUDENT
Michael Carnivale
The senior at Delran High School found a passion for philanthropy last fall while donating food to the Catholic Charities Emergency Services in Burlington as a way to fulfill National Honor Society membership and upcoming graduation requirements. Carnivale collected canned goods and monetary donations while utilizing social media to raise awareness, and his efforts brought in several truckloads of food last year. Now, he's hooked on giving back. Carnivale is currently working on his second food drive and hopes to continue his efforts to help people in need and combat food deprivation throughout and after college.
STAR VOLUNTEERS
Aaron and Andrew Meslin
The St. Augustine Preparatory School junior and University of Pennsylvania freshman hail from Medford and are the co-founders of Cleats for Camden, a non-profit organization collecting gently used cleats to give to the members of the Camden Youth Soccer Club and Tiko, a small town in Cameroon Africa. Since it was founded in 2020, Cleats for Camden has distributed over 550 pairs of soccer cleats and raised about $600 in funds. The Meslins continue to gift others with the opportunity to play the sport that they have been passionate about their entire lives.
STAR NEIGHBORS
Joanne Boden and Jill Foulk
The South Jersey residents serve as team leaders for the South Jersey Refugee Connection, assisting refugees resettling from Ukraine. Through the nonprofit organization Welcome NST, Boden and Foulk help families acclimate to a foreign environment and welcome them into their new communities. In addition to providing resources such as housing, Boden and Foulk aim to provide the families they support with ongoing assistance and the tools they need to become self-sufficient in their new residences. These charitable efforts rely on the community, which is unified through its support.
STAR REPORTER
Brenna Weick
The Mantua native, Clearview High School alumna and former Miss New Jersey is bringing her talents to NBC10 Philadelphia, joining their news team as a full-time general assignment reporter. She's credited her local expertise and understanding of the community as essential in developing her reporting career, which includes SNJ Today, Waterman Broadcasting, and an Edward R. Murrow award for her breaking news story on a tiger attack. Weick began reporting for NBC10 on Oct. 31, returning to the tri-state area after spending five years in Fort Myers, Florida.
STAR ALTRUIST
Rileigh Leighton
Through Rileigh's Rainbow, this Williamstown resident works to provide school supplies to students in the Monroe district. With a Staples partnership, Leighton donates an assortment of much-needed supplies to six schools—or more than 1,500 students a year. Her efforts have continued for eight years, even despite the challenges from the pandemic. Leighton's previous school, Oak Knoll, served as the launching pad for Rileigh's Rainbow; now attending Wagner College in New York, she continues to donate to her former community. And although this nonprofit has expanded, Leighton continues to deliver the supplies by hand every year.
Published (and copyrighted) in Suburban Family Magazine, Volume 13, Issue 6.
For more info on Suburban Family Magazine, click here.
For information about advertising in Suburban Family Magazine, click here.
To find out where to pick up your copy of Suburban Family Magazine, click here.