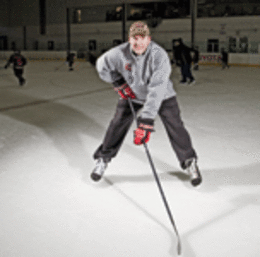 The Iceman Stayeth
His days as Flyers captain are behind him, but former NHL All-Star Keith Primeau remains a vital member of the South Jersey community—as a family man, a youth-hockey coach and a concussion-awareness evangelist.
Call it an occupational hazard: Professional hockey players don't stop being goal-oriented just because they leave the NHL. At least, that's the case with Keith Primeau.
The well-loved former Flyers captain, who's made his home in Voorhees with his wife, Lisa, and their four children since he was traded to Philly back in 2000, may have retired three and a half years ago, yet he still strives to make an impact both off and—as the area's most recognizable youth-hockey coach—back on the ice.
"It's funny," Primeau tells Suburban Family. "When I was playing, when I'd go to the rink and watch my sons play, I just wanted to see them enjoy themselves and have fun. I wasn't really concerned about how much they were developing and what they were learning. Then quickly upon my retirement, I found myself wanting to be on the ice teaching and helping them, improving their game. So I dove head-first into coaching."
All three of Primeau's sons—Corey, a junior at Neumann University in Aston, Pa., Chayse and Cayden—play the game their dad's been steeped in since he was a 5-year-old growing up in Whitby, Ontario, and their involvement made his transition from the majors to mentor a simple one.
"For the most part our life revolves around sport and the rink and the game," says Primeau, 38. "I'm at the rink seven days a week." Besides coaching Chayse and Cayden's Team Comcast travel-hockey squads at the Virtua Health Flyers Skate Zone in Pennsauken, Primeau also heads the hockey team at Bishop Eustace Preparatory School in Cherry Hill, where daughter Kylie is a high school freshman; runs kids' camps and clinics for his own hockey-school program, the Durham Hockey Institute, which operates in several locations both in South Jersey and in Ontario; and, for a change of pace, last year coached Kylie's field lacrosse team, "a really enjoyable and different experience for me."
Coach Primeau tries to instill in his young charges the experience he's garnered from a lifetime on the ice. "As a child I wanted to play in the NHL, but I don't know if I really thought that was what I was gearing myself up to do," he muses. "I feel extremely blessed that I had the opportunity to play at the highest level. And that's what it was—an opportunity that helped shape and mold me as an individual. For the kids, I want to create the opportunities—different experiences, relationships, certainly life lessons—that, for me, is what I took most out of the game. I coach the way I feel is the right way and try to teach them the lessons I think will benefit them as they get older."
One of those lessons—and a crucial one at that—is concussion awareness. Primeau's own illustrious 16-year career was cut short because of concussion-related aftereffects that rendered him unable to play, and he's now on a mission to impress upon athletes and their parents the serious consequences concussions can have.
"There's no question that we're becoming more educated about concussions; it seems to be the injury of the day, and rightfully so because it's a recurring theme in all sports and at all levels," says Primeau, who has only in the past few months started to feel like himself again since suffering the last of his four documented concussions five years ago.
"As of today, I have two kids on one of my teams out with concussions. I was talking to one of the fathers about it, and we were saying that the crazy part is, when we were kids, it wouldn't have stopped us. We would have played right through and got back on the ice and put ourselves in harm's way—and not for any other reason than we wouldn't have recognized it as being a concussion." Prevention, he says, begins with giving young athletes a preseason computerized baseline test, which acts as a marker against which brain function can be measured if a concussion is later suspected, as well as being aware of symptoms.
Primeau has fully embraced his concussion advocacy by bequeathing his brain to the Center for the Study of Traumatic Encephalopathy at Boston University's School of Medicine for research purposes after his death, in hopes that science will one day better understand chronic traumatic encephalopathy, a neurological condition caused by multiple blows to the head he's shown early symptoms of.
"It's been a long journey," Primeau says of his decision to participate in this program. "There were points in time where I didn't think I'd ever I'd be well enough to even get through a day without difficulty. I'm not a crusader… there's a long way we need to go in order to make the game safe and better, and if I can do my little part, then great."
Also great, on a much lighter note, is the unique niche he's been able to carve for himself in the area. Along with developing youth hockey as a force to be reckoned with in South Jersey, Primeau's about to open a Bain's Deli on Broad Street in Philadelphia. After his retirement from the NHL, he and his family could have moved elsewhere, but Voorhees is emphatically home.
"Earlier in my career we moved two or three times when my oldest one was in that middle-school age range," Primeau recalls. "We saw the impact it had on him—moving around and changing friends and re-acclimating. Unfortunately for him it was trial by error; we didn't want the younger ones to go through that. Besides, they were very young when we moved here, so this is where they call home.
"Being from Canada originally, and my wife being from Houston, Texas, she wasn't going north and I wasn't going south, so this is where we felt most comfortable. On top of that, you're close to Philadelphia and close to New York City and close to the shore and close to the mountains, so geographically, it had a lot to offer us. We're happily entrenched."
Keith Primeau: The Playing Stats
Position: Center
NHL teams: Detroit Red Wings (1990-1996)
Hartford Whalers/Carolina Hurricanes (1996-1999)
Philadelphia Flyers (2000-2006)
Career goals: 266, regular season; 18, playoffs
Career assists: 353, regular season; 39, playoffs
Played for Team Canada, 1998 Nagano Winter Olympics
Two-time All-Star
Published (and copyrighted) in Suburban Family, March 2010.
For more info on Suburban Family, click here.
For information about advertising in Suburban Family, click here.
To find out where to pick up your copy of Suburban Family, click here.